PM Modi chairs high-level meet as India sees COVID-19 spike: Should we worry?
India on Wednesday saw 1,134 new coronavirus cases while active cases surged to 7,026. Some experts are blaming the XBB.1.16 variant for the spike in infections, but say there is no reason to panic
India in recent days has witnessed a spike in COVID-19 cases.
Meanwhile, Prime Minister Narendra Modi held a high-level meet to review the situation and take stock of public health on preparedness.
This, as the XBB.1.16 variant continues to spread.
So, should we be worried?
Let's take a closer look:
COVID cases spike
According to Union Health Ministry data, India registered 1,134 new coronavirus cases on Wednesday, while active cases surged to 7,026.
COVID review meet: PM stresses on wearing masks, testing as cases spike
According to data, the daily positivity rate was 1.09 per cent, while the weekly positivity was pegged at 0.98 per cent.
India's toll climbed to 5,30,813 with five deaths with one death each has been reported by Chhattisgarh, Delhi, Gujarat and Maharashtra while one fatality was reconciled by Kerala, the data updated at 8 am stated.
A total of 92.05 crore tests for detection of Covid have been conducted so far with 1,03,831 being tests conducted in the last 24 hours.
According to the ministry, 220.65 crore doses of Covid vaccine have been administered in the country so far under the nationwide vaccination drive.
Delhi reported 83 new Covid-19 cases on Tuesday with a positivity rate of 5.83 per cent. The city has seen an increase in the number of fresh Covid cases over the last few days, amid a sharp rise in H3N2 influenza cases in the country.
In Mumbai, 101 news cases were reported on Tuesday while 133 infections cases were reported in Pune.
India on Monday recorded 918 fresh coronavirus cases.
That, a day after India recorded a single-day rise of more than 1,000 fresh COVID-19 cases after 129 days.
Is a new variant to blame?
Some experts are blaming the fast-spreading XBB.1.16 variant for the spike in cases.
India has the world's highest number of Covid XBB 1.16 cases with the United States in second place, according to The Times of India.
Telangana, Karnataka, Gujarat and Maharashtra have reported the highest number of XBB.1.16 cases.
Mint quoted Vipin M Vashishtha, former convenor of the Indian Academy of Pediatrics, as saying that "all eyes should be on India."
"If XBB.1.16 aka #Arcturus could succeed to wade through the 'sturdy' population immunity of Indians that successfully resisted the onslaught of variants like BA.2.75, BA.5, BQs, XBB.1.5, then the whole world must be seriously worried!" said Vashishtha, the ex-convenor of the Indian Academy of Pediatrics and consultant pediatrician at the Mangla Hospital and Research Centre, Bijnor.
But others insist there's no need to panic.
Speaking to Hindustan Times,Dr Sandeep Budhiraja, Group Medical Director, Max Healthcare & Senior Director, Institute of Internal Medicine urged caution and preventative measures such as "self-isolation if symptomatic, wearing masks in crowded areas, maintaining social distancing, washing hands, and covering sneezes."
Dr Meenakashi Jain, director of Internal Medicine at Max Healthcare, Noida, told Daily O, "You do not need to panic as the variant is not so fatal. The lung infection with this infection is not that dangerous."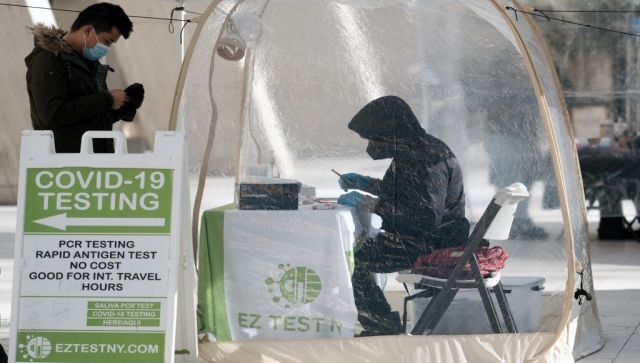 Former AIIMS director Dr Randeep Guleria on Wednesday said the new XBB.1.16 variant could be driving the recent rise.
However, Guleria emphasised there was no need for panic as long it does not cause severe illness and deaths.
New variants will keep coming as the virus keeps on mutating over the time and the XBB 1.16 is sort of a "new kid on the block", Guleria told PTI in an interview.
"… As long as they don't lead to severe illness, hospitalisation and deaths, it is alright because it helps in giving some degree of immunity to the population if they have mild illness," the renowned pulmonologist, who was part of the national Covid task force, said.
ccording to Dr Guleria, the virus evolves over time, and this happens both with Covid and influenza, and this is what is called an antigenic drift. It will gradually evolve, mutate a little bit and new variants will emerge, he added.
"If we remember when we had the Covid outbreak, it started off with Alpha, Beta,  Gamma Delta and Omicron variants. "So the virus kept on changing. Luckily, if we look at what has happened in the last one year, we have got variants which are basically sub-lineages of Omicron only. So it seems the virus has stabilized a little bit, it is not changing as rapidly as it was in the past," Dr Guleria said.
On whether XBB 1.16 has the potential to drive a fresh wave of cases in the next few days, he said, "You may see a surge in number of cases" but then they may be underreported as initially people were very concerned and would get themselves tested.
"Now even if they have flu-like symptoms, most people don't get themselves tested. Some use the rapid antigen test, and even if they are positive they do not report it. So the number we are actually reporting may be less than the actual number in the community."
Dr Guleria advised that those who test positive must report the data because that helps policy makers and government to actually to know the number of cases and take a decision and plan a strategy.
"So even if we see surge, there is no need to worry, as long it does not translate into hospitalization and deaths it is alright," he said. He said there is a need for active surveillance both at hospital and community levels to find out whether there is an increase in number of cases and hospital admissions so that containment strategies and other public health measures can be implemented on time.
Health ministry revises guidelines
The Ministry of Health and Family Welfare on Sunday issued revised guidelines for Covid-19 in the wake of the surge of cases.
COVID-19 National Task Force under Ministry of Health and Family Welfare releases revised clinical guidance for the management of adult COVID-19 patients pic.twitter.com/HvaLtE7nTh

— ANI (@ANI) March 19, 2023
"Antibiotics should not be used unless there is clinical suspicion of bacterial infection. The possibility of coinfection of COVID-19 with other endemic infections must be considered. Systemic corticosteroids are not indicated in mild disease," revised guidelines said.
As per the revised Ccovid-19 guidelines, maintain "Physical distancing, indoor mask use, hand hygiene, Symptomatic management (hydration, antipyretics, antitussive) Monitor temperature and oxygen saturation (by applying a SpO probe to fingers) Stay in contact with treating physician.
"Seek immediate medical attention if difficulty breathing, High-grade fever/ severe cough, particularly if lasting for more than 5 days. A low threshold is to be kept for those with any of the high-risk features," guidelines discussed and prepared in January said.
Additionally, in moderate or severe diseases at high risk of progression, the guidelines recommend, "Consider Remdesivir for up to 5 days (200 mg IV on day 1 followed by 100 mg IV OD for the next 4 days)".
On Thursday, Union Health and Family Welfare Ministry wrote to the state governments of Maharashtra, Gujarat, Telangana, Tamil Nadu, Kerala and Karnataka to follow a five-fold strategy of test, track, treat and vaccinations as these states witness a rise in Covid-19 cases.
With inputs from agencies
Read all the Latest News, Trending News, Cricket News, Bollywood News, India News and Entertainment News here. Follow us on Facebook, Twitter and Instagram.
also read
Explainers
Ben Roberts-Smith, a former Special Air Service Regiment corporal and recipient of the Victoria Cross, was a national hero in Australia. Now, a judge has ruled that he unlawfully killed prisoners and committed war crimes in Afghanistan
Explainers
The Twitter-like app has been given the codename PN92, Project 92, or Barcelona. It will be at least partially integrated with Instagram with users retaining their verification and handle and their followers will be alerted when they get on the new platform
India
The new guidelines on Cigarettes and other Tobacco products will come into force within three months of their publication in the Official Gazette.