Why is San Francisco's First Republic Bank in trouble? Why did the biggest US banks step in to save it?
After the Silicon Valley Bank debacle, First Republic came under scrutiny for uninsured deposits. Its shares fell, as it scrambled to reassure customers it can avoid the same fate. Now, 11 of the biggest US banks have announced a $30 billion rescue package to prop it up and stave off a bigger crisis
The upheaval in the banking world continues. It started with the collapse of California's Silicon Valley Bank (SVB) and the next to fall was New York's Signature Bank. The global financial giant Credit Suisse was in deep trouble only to be rescued by the Swiss central bank. Even as Washington reassures the public that its "banks are sound", the tension is palpable. All eyes are now on the San Fransico-based First Republic Bank, which was on the verge of failing, but has been rescued by eleven of America's biggest banks.

What is First Republic?
Founded in 1985, First Republic Bank, headquartered in San Francisco, is the country's 14th-largest bank. It is known for its private banking and private business services.
First Republic typically caters to high-end clients and firms, and its businesses include wealth management and residential real estate loans. Many of its customers are billionaires and the bank offered them generous financial terms. The Wall Street Journal reported that Facebook founder Mark Zuckerberg got a mortgage through First Republic.
The company reported more than $212 billion in assets at the end of December and generated more than $1.6 billion in net income last year, according to a report by CNBC.
What went wrong?
After the fall of Silicon Valley Bank last Friday and Signature Bank over the weekend, First Republic's stock started plunging. Like the two lenders, First Republic had a high number of uninsured deposits, which led to worries that its clients would pull out their money.
On Sunday, it had more than $70 billion in liquidity apart from additional funds it could raise from the Federal Reserve's Bank Term Funding Program. But this did not instil any faith in investors and they continued to dump the stock.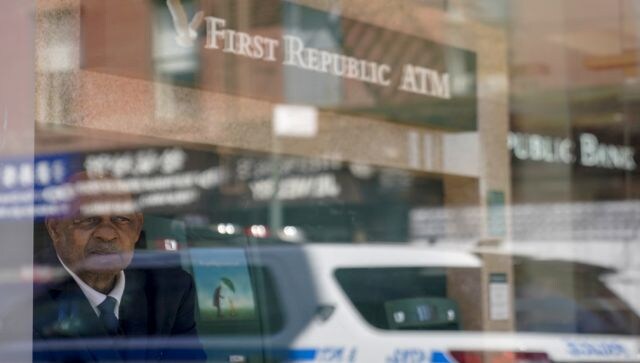 On Wednesday, First Republic was downgraded by rating agencies Fitch and S&P, citing risks to its funding and liquidity. They placed it on a negative watch, reflecting low confidence in the bank's financial strength. This affected stocks further.
First Republic has similarities to SVB – its size, the large wealthy client base and the uninsured deposits.
Also read: Silicon Valley Bank collapse: What happens to customers? Are their deposits secure?
Why are uninsured deposits such a concern?
Uninsured deposits are the portion of the deposits that exceed the insurance coverage available from the Federal Deposit Insurance Corporation (FDIC), the US government body.
The FDIC has insured up to $250,000 of deposits that anyone has kept at a federally protected bank. Anything beyond that is not guaranteed to be protected should a financial institution fail.
Silicon Valley Bank had a large uninsured deposit base. As the bank started losing money, it tried to raise cash. This is when its depositors, mostly business customers, who had more than $250,000 stashed in the bank, left and turned to other lenders.
Uninsured depositors across the US were on their toes. First Republic, which had some two-thirds of its deposits in uninsured accounts, came under the scanner.
Also read: From cocaine money laundering to fake names: The long list of scandals at Credit Suisse
What saved First Republic?
Eleven of the biggest US banks came to the rescue and announced a $30 billion rescue package. The major banks include JPMorgan Chase, Bank of America, Wells Fargo, Citigroup and Truist.
JPMorgan Chase, Bank of America, Wells Fargo, Citigroup will contribute about $5 billion apiece, while Goldman Sachs and Morgan Stanley will deposit around $2.5 billion, the banks said in a news release. Truist, PNC, US Bancorp, State Street and Bank of New York Mellon will deposit about $1 billion each.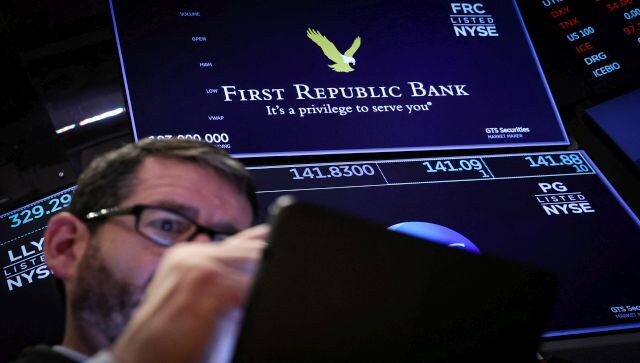 The deposits are obligated to stay at the bank for at least 120 days, according to First Republic. These new deposits from the big banks are uninsured, reports CNBC.
On 8 March, before the US banking crisis started, the San Fransico-based bank's shares closed at $115 per share. More than a week later, on Thursday, it dropped to $20 at one point before closing at $34.27 per share.
Why did the big banks step in?
The rescue package for First Republic Bank is an effort to prevent it from becoming the third to fail in less than a week and head off a broader banking crisis.
The group of banks behind the rescue package confirmed that other unnamed banks had seen large withdrawals of uninsured deposits, reports The Associated Press. The $30 billion in uninsured deposits is seen as a vote of confidence in First Republic, whose banking franchise before the past week was often the envy of the industry.
"The actions of America's largest banks reflect their confidence in the country's banking system," the banks said in a statement. "We are deploying our financial strength and liquidity into the larger system, where it is needed the most."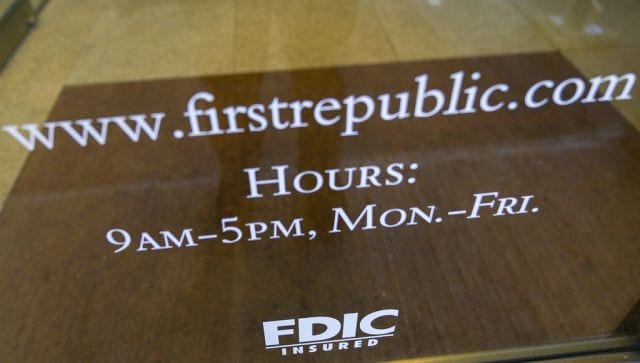 First Republic's executive chairman Jim Herbert and CEO Mike Roffler said in a statement that "we would like to share our deep appreciation" for the 11 banks.
On Thursday, the bank said that it had about $34 billion in cash as of March 15, not counting the new $30 billion in deposits. First Republic had borrowed tens of billions of dollars from the Federal Reserve and the Federal Home Loan Bank over the past week but daily deposit outflows have now "slowed considerably," the bank said. First Republic is also suspending its common stock dividend, reports CNBC.
What are authorities saying?
US treasury secretary Janet Yellen met JP Morgan CEO Jamie Dimon privately before the 11 banks agreed on depositing $30 billion in First Bank, reports CNN.
Yellen was the one pushing the plan forward from the government's side while Dimon brought other bank executives on board. Yellen first conceived of the idea of the largest US banks coming together to direct deposits toward First Republic, according to a separate source familiar with the matter, the report says.
"This show of support by a group of large banks is most welcome, and demonstrates the resilience of the banking system," Treasury Secretary Janet Yellen, Acting Comptroller of the Currency Michael Hsu, Federal Reserve chair Jerome Powell and FDIC chairman Martin Gruenberg said in a joint statement.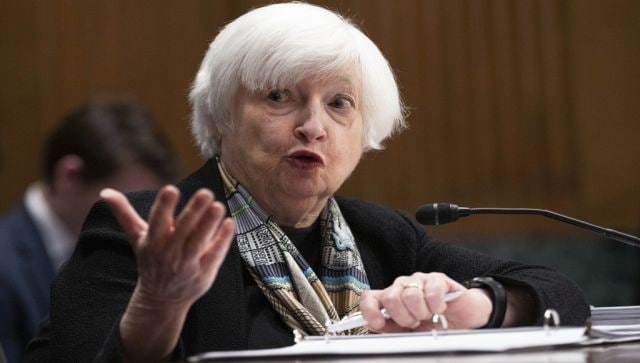 The $30 billion bet on First Republic is seen as a bulwark against future bank runs. The shares of many midsized banks were hit hard this week as investors feared depositors would withdraw their cash and run to the nation's biggest banks, reports AP.
Over the weekend the federal government, determined to restore public confidence in the banking system, moved to protect all the banks' deposits, even those that exceeded the FDIC's $250,000 limit per individual account. While the banking crisis started with Silicon Valley Bank, regulators told reporters earlier this week that it became necessary for the government to backstop the banking system because it appeared more runs were possible.
While the move by the big banks helped stablise First Republic's deposit base, it's also a signal to financial markets not only about the lender but the US financial system.
With inputs from agencies
Read all the Latest News, Trending News, Cricket News, Bollywood News,
India News and Entertainment News here. Follow us on Facebook, Twitter and Instagram.
Explainers
Credit Suisse isn't just any bank. Unlike midsize Silicon Valley Bank, which went under earlier this month in the US, it is one of 30 banks classified as globally significant because it could pose a risk of bigger trouble if it collapses
World
The Federal Deposit Insurance Corporation will launch an examination of the deposit insurance system in light of the decision by regulators to make uninsured depositors whole after SVB's collapse, FDIC Chair Michael Gruenberg told the Senate Banking Committee
World
Authorities around the world are on high alert for the fallout from the recent turmoil at banks following the collapse of SVB and Signature Bank in the US and the emergency takeover of Credit Suisse