6 deaths in 2 months, but the worst is yet to come: Why India will see more cheetah deaths
India's cheetah deaths will only rise, says South African wildlife expert Vincent van der Merwe. Since being reintroduced last year, there have already been six deaths – three adult and three cubs. What's to be expected next?
India's reintroduction of cheetahs from Namibia and South Africa has hit a roadblock. After three adult cheetahs have died since their relocation in September last year, now three cubs have died, all within a span of three days.
What's worse is that a South African wildlife expert said the reintroduction project is going to see even higher mortality in the next few months. Vincent van der Merwe, who is closely involved with the project, told news agency PTI that the cheetah deaths have been within the acceptable range and more are expected to die, raising concerns about the reintroduction programme as well as whether Kuno National Park in Madhya Pradesh is the ideal spot for the big cats.
We take a closer look at what happened to the cheetahs – why they have died, why more are expected to perish, what can be done to save them and what this means for the programme?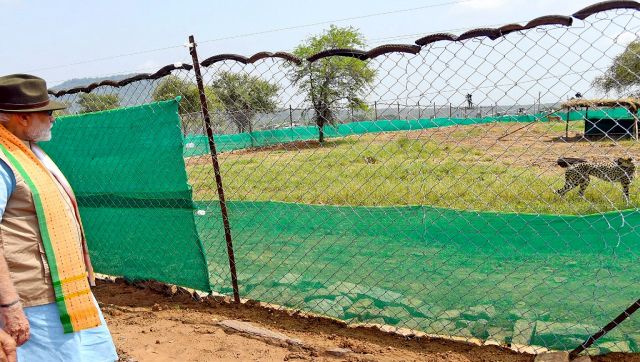 Deaths of six cheetahs
In September 2022, eight Namibian cheetahs arrived in India amid much fanfare, with Prime Minister Narendra Modi releasing them into a small fenced enclosure near the national park on his 72nd birthday. Another 12 African cheetahs have since been flown over and the plan is to release a total of 50 over the next five to 10 years.
Also read: The eight cheetahs coming to India from Namibia
The celebrations turned into shock when one Namibian cheetah, known as Sasha, died of kidney complications on 27 March. Sasha was believed to have contracted the kidney ailment during its captivity in Namibia and had been unwell since arriving in Kuno.
In April, Uday, another cheetah that was brought to Kuno from South Africa died during treatment after being found sick. Female Daksha from South Africa died on 9 May, killed in a "violent interaction" with an adult male coalition which included Vayu and Agni, also known as the "White Walkers".
Amid this news, there was a ray of hope when Jwala, one of the cheetahs from Namibia, gave birth to four cubs.
Congratulations 🇮🇳

A momentous event in our wildlife conservation history during Amrit Kaal!

I am delighted to share that four cubs have been born to one of the cheetahs translocated to India on 17th September 2022, under the visionary leadership of PM Shri @narendramodi ji. pic.twitter.com/a1YXqi7kTt

— Bhupender Yadav (@byadavbjp) March 29, 2023
However, on Tuesday (23 May) one of Jwala's cubs passed away owing to "immense weakness" and on Thursday (25 May) two others died due to "extreme weather conditions and dehydration", as per forest department officials.
The forest officials said the intense heat in the area – it was reported to be 46 degrees Celsius yesterday – caused all the cubs to be "weak and dehydrated". They were quickly rushed to a rescue centre due to the intense heat where the last surviving cub remains critical.
The deaths add up to being six in total – all within a two-month time frame, raising concerns with even the Supreme Court questioning the safety of the big cats and suggesting of shifting them to other sanctuaries.
'More deaths to follow'
South African wildlife expert Vincent van der Merwe, who is the manager of the Cheetah Metapopulation Project in South Africa, reacting to the deaths of the cubs said that this was normal. However, he added that there would be even more deaths in the future.
Speaking to news agency PTI, he said: "Very unfortunate, but not unusual for first-time mothers to lose their first litter," adding, "Cheetahs naturally have high mortality rates. And we observed these same mortality rates in Africa when we reintroduced them into unfenced systems."
He further said the reintroduction project is going to see even higher mortality in the next few months when cheetahs try to establish territories and come face to face with leopards and tigers at the Kuno National Park.
Also read: A guide on how not to confuse cheetahs with the leopard
South Africa's Department of Forestry, Fisheries and the Environment also agreed with van der Merwe's opinion on the deaths, saying it wasn't a reason to worry. In a statement, it said, "Large carnivore reintroductions are extremely complex and inherently risky operations. This is a critical phase of the project, with cheetahs being released into larger environments where there is increasingly less control over their day-to-day wellbeing. The risks for injury and mortality will be increasing and these risks are factored into the reintroduction plan."
The department added that it expects a few of the founder population to be lost within the first year after they are released. "Many of the released cheetahs will escape the boundaries of Kuno National Park and may have to go through short-term stress during the recapture process," it added. "Once the cheetahs have established home ranges, the situation will stabilise."
When asked what could be done to protect the cheetahs, with van der Merwe recommended fencing the cheetah habitat so as to protect the wild cats from any outside threat as well as protect the prey base from anthropogenic pressures such as poaching.
He also suggested moving at least three or four cheetahs to Mukundra Hills in Rajasthan, and let them breed there. "Mukundra Hills is fully fenced. We know that cheetahs will do very well there. The only problem is that it's not fully stocked at the moment. So you'll have to bring in some black buck and chinkara. And when the fencing is completed at Nauradehi and Gandhisagar, we will have three fenced reserves and then we are absolutely winning," he was quoted as saying to news agency PTI.
Explaining why he believes that India will see more deaths, van der Merwe said that "cheetahs will continue to establish territories and fight with each other and kill each other for territories and for access to females. They're going to encounter leopards. There are now tigers moving around in Kuno. The worst mortalities are still to come".
He, however, noted that this doesn't mean that the project is failing and in fact, the deaths were within the normal parameters.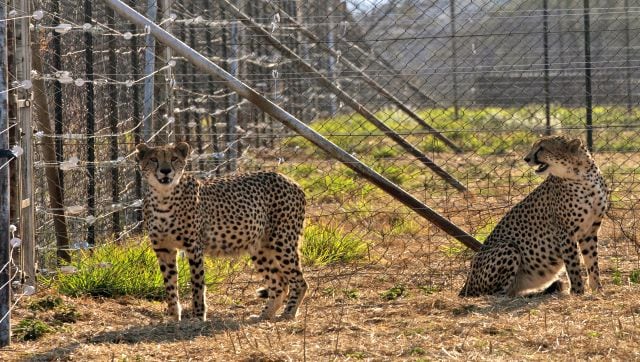 Voices of concern grow
However, even as van der Merwe said that the deaths were normal, there are other wildlife experts who are questioning the programme and its success.
Earlier, Ravi Chellam, coordinator of Biodiversity Collaborative, was quoted as telling The Guardian that the programme was "a vanity project" and said it was at best creating "a glorified safari park" that had little to do with conservation and could have a negative effect on the health of the animals and on wider conservation efforts in India.
Other conservationists have also flagged the long quarantine periods that the cheetahs are being placed under before being released into the wild.
Anish Andheria, CEO of the Wildlife Conservation Trust said to Hindustan Times, "The enclosure should be big enough, and away from human presence. Small enclosure will increase the stress burden. According to international norms, the wild animals should be kept in the enclosure for only one month because scientifically it's not good to keep animal in the enclosure for longer time. Longer time in the enclosure will reduce the survival rate of the cheetahs in the wild during reintroduction."
Veteran conservationist Valmik Thapar has in the past also questioned the relocation of the wild cat in India. Speaking earlier to The Quint, he had said: "The effort to introduce African Cheetahs is a high risk venture which India does not need." Furthermore, he pointed out that India doesn't have a natural habitat for free ranging and no prey base for a proper food cycle.
He also told India Today on 25 May, "India is not the natural habitat of the cheetah. India doesn't have the terrain the cheetah needs, the food it needs. Also, the cheetah will not be able to deal with the hot Indian summer."
Also read: From extinction to reintroduction: A brief history of India's tryst with the cheetah
The issue even prompted the Supreme Court to urge the Centre to explore the possibility of relocating the cheetahs to Rajasthan. A bench comprising justices BR Gavai and Sanjay Karol highlighted that the reports from experts and media articles indicate that the Kuno National Park may not be adequate to accommodate such a large number of cheetahs. They suggested that the Union government should consider shifting them to other sanctuaries.
"Three deaths (of cheetahs) in less than two months is a matter of serious concern. There are opinions of experts and articles in the media. It appears that Kuno is not sufficient for so many cheetahs. There is too much concentration of cheetahs at one place. Why don't you look for a suitable place in Rajasthan? Merely because Rajasthan is ruled by an opposition party does not mean you will not consider it," the bench had then said.
It is left to be seen if the cheetahs, who were declared extinct in India in 1952, can survive in India and whether they will make the jungles of the country their home again.
With inputs from agencies
Read all the Latest News, Trending News, Cricket News, Bollywood News,
India News and Entertainment News here. Follow us on Facebook, Twitter and Instagram.