Weekend Views: Watch Impractical Jokers, Stand by Me, Avengers and Poorna this April Fool's weekend
The weekend is here. Along with watching the badminton Indian Open semi-final and Avengers: Age of Ultron, here are Firstpost's other picks for what you should watch over 1-2 April.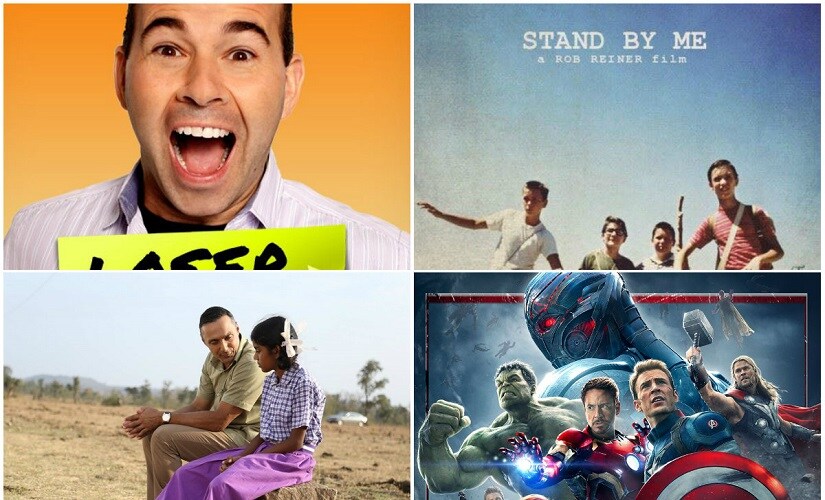 Shows on TV:
Impractical Jokers
What is April Fool's Day without some good old fashioned pranks, right? Start the first day of April with Impractical Jokers, a show where hidden cameras record practical jokes played on unsuspecting strangers. What makes this show different from other prank shows is that the person playing the prank does not know what it is and must follow the instructions of the other pranksters.
Watch Impractical Jokers at 8 am and 9 am on Saturday and Sunday on Comedy Central.
The Newsroom
This TV series, created by Aaron Sorkin, tells the story of people working in a newsroom of the Atlantis Cable News. It explores the discussions they have, the ethical issues that crop up, the controversies they fall into, as well as their personal lives. It stars Jeff Daniels, Emily Mortimer, John Gallagher Jr. and Alison Pill in lead roles.
Watch The Newsroom on FX this Saturday, 6 pm onward. 
Gigs:
Taleem Yatra: The Story and Music of Joel Veena
Indian slide guitarist Joel Veena will tell the story of his musical journey and play compositions that he created during the course of his training. He began playing this instrument 10 years ago, and has an album to his credit today. After touring in the US and other parts of India, he is now set to play in Mumbai. He will be accompanied by tabla player Shri Rakshanand Panchal.
Joel plays on Saturday from 5:30 pm to 7 pm. You can book tickets here.
Movies on TV:
Avengers: Age of Ultron
In this Avengers film, the superheroes battle Ultron, an artificial intelligence who aims to drive the human species to extinction. Ultron destroys Iron Man's AI J.A.R.V.I.S and attacks the Avengers at their headquarters, as well as building an army of drones. The Avengers team must now battle the army and destroy Ultron.
Watch Avengers: Age of Ultron at 9 pm on Star Movies.
Movies in theatres:
Stand by Me
This coming of age film explores the story of four young boys in a small town who decide to go on a hike and find the dead body of a missing child. In the course of the film, this bunch of boys steal a gun and end up in an altercation with a gang. It is directed by Rob Reiner and features Wil Wheaton, River Phoenix, Corey Feldman and Jerry O'Connell in lead roles.
Watch Stand By Me at Matterden CFC on Sunday at 12:30 pm.
Poorna
Directed by and starring Rahul Bose, Poorna: Courage Has No Limit is based on the real life story of Malavath Poorna, an Indian mountaineer from Telangana, who is the youngest girl to climb Mount Everest. It was shot in all of 11 days and features unreleased footage of Poorna's journey to the summit. This film is well-told story of an underdog, as reviews point out.
India Open 2017
After beating Saina Nehwal, PV Sindhu has reached the semi-finals of this year's India Open. She will be playing against Sung Ji-hyun of South Korea. While Sindhu is seeded third, Ji-hyun is the second seed and can potentially face top seed Carolina Marin in the final.
Watch the match here.
Updated Date: Apr 01, 2017 10:38 AM