Vijay Devarakonda asks fans to help in combating Taxiwala piracy: I request you to honour the hard work
'I perfectly understand that when you got the pirated version, you watched it out of curiosity but sharing it to several people and writing reviews is unacceptable,' said Vijay Devarakoda.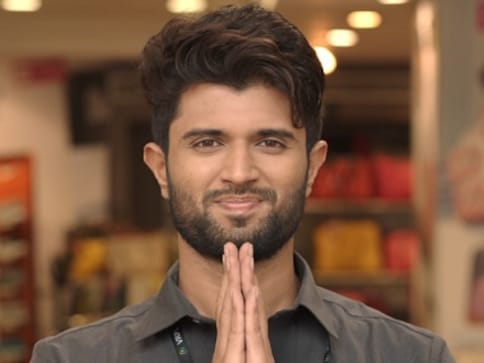 Vijay Devarakonda sounded equally emotional and confident while addressing fans and media at the pre-release event of his upcoming film Taxiwala, which is scheduled to release on 17 November. "I'm not a great dancer like Allu Arjun, who is gracing our function here yet audiences pouring unconditional love towards me because they like the kind of films I do. They like me as a person and above all. I'm also an outsider like them. My fans are celebrating my victory as theirs," said the Arjun Reddy actor who wants to bring a lot of outsiders to the industry and watch them grow.
"At this juncture, I should thank Allu Arjun and Geetha Arts for appreciating me right from Pelli Choopulu days. Allu Arjun invited me to his office and spoke in length about Pelli Choopulu and Arjun Reddy. Geetha Arts guided and took me a different track with Geetha Govindam," added Vijay, who called all the important cast and crew members to the stage in order to narrate the pain which they underwent on the sets of Taxiwala.
Introducing a new comic actor named Vishnu, Vijay said, "He is my college sub-junior. When I was clueless about life, he decided to pursue photography in college. I always loved his sense humour and when the Taxiwala script came to me, I suggested Vishnu's name to play the particular comical character named Hollywood. Just like how you enjoyed Priyadarshi's role in Pelli Choopulu and Rahul Ramakrishna in Arjun Reddy, Vishnu will tickle your funny bones with Taxiwala. With his salary, now Vishnu has built a small one-bedroom house in his native place. I wish him more success in life".
Vijay said that the film's writer Sai pledged his farmland before the commencement of Taxiwala but after signing the project, he got back his property.
Vijay addedd, "My heroine Priyanka is a proper Anantapur girl. She stayed in a hostel for three years before entering into the film industry. When the film got leaked on the internet, she was worried. I'm sure her talent will be embraced by the audiences and producers will sign her in their films".
Taxiwala director Rahul Sankrityan studied filmmaking techniques in the browsing center. "My director Rahul learned filmmaking in browsing center. He quit his engineering job for Taxiwala and his career is dependent on the film. But I'm sure his brilliant writing skills will be recognized by the audiences," said the actor.
Vijay also explained that his cinematographer Sujith had a neck sprain and doctors advised him to change to some other profession. "But Sujith didn't give up. He had a physiotherapy specialist with him on the shooting spot and I must say, Taxiwala's visuals is one of the best in my career. Sujith is also working in my next film Dear Comrade," he said.
Talking about the leaked version of the film and how music composer Jakes Bejoy tackled personal stress, Vijay said, "When our film was leaked on the internet, Bejoy's dad was diagnosed with cancer but still, he traveled multiple numbers of times from Cochin to Chennai to complete the project. I wouldn't have done it".
Hitting back at the detractors who leaked the film and spread the pirated links, Vijay said, "I request all of you to join me in showing the middle finger to those who pirated Taxiwala, by watching the film in theaters on 17 November. I perfectly understand that when you got the pirated version, you watched it out of curiosity but sharing it to several people and writing reviews is unacceptable. I don't know what you understood in the three-hour uncut version without dialogues, music and graphics. But my dear fans, I can assure that Taxiwala is a very good film and you will be entertained. I know that cinema is nothing but an entertainment avenue to most of you. But there is so much hard work behind each film and a lot of people's future is depends on it. I request each and every one of my fan to watch Taxiwala in theaters on 17 November," signed off Vijay.
Entertainment
But seriously... Ottu has Arvind Swamy, Kunchacko Boban and a couple of solid twists going for it, but none of these can save the drab, over-stretched narrative.
Entertainment
The epic drama is based on the life of Chola emperor and has many firsts to its credit including being the first Tamil film to release in IMAX worldwide.
Entertainment
Thallumaala is more provocative than evocative. It is the kind of neo-noir cinema that is designed to stimulate and steer the audiences' sensory perception into the untrodden territory.