Taxiwaala director Rahul Sankrityan on working with Vijay Devarakonda and the challenges he faced making the film
Director Rahul Sankrityan on Taxiwaala: Didn't know Vijay Deverakonda's full potential until I saw Arjun Reddy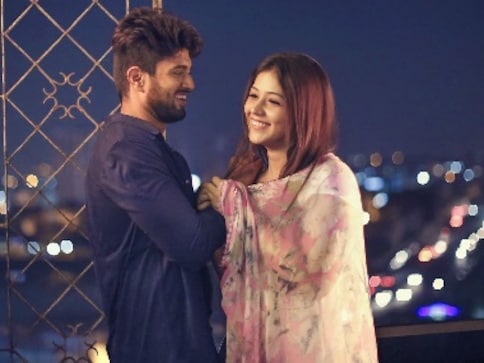 "I'm relieved that the film is going to release after a lot of twists and turns," Rahul Sankrityan acknowledges about his upcoming film, Taxiwaala, which has Vijay Deverakonda playing the lead role. Right from the time it was conceptualised to the long delay to complete its VFX, and the subsequent piracy of a significant chunk of the film, the journey of Taxiwaala has been dramatic to say the least. "There were so many rumours in the last few months, including that the film is being shelved and it could be released straight on one of the OTT platforms. I also went wrong in terms of choosing a studio to complete the VFX work, and we ended up losing a lot of time because of that. I didn't even realise that we can move to another VFX studio to get things done faster. I really had a tough time to keep calm and stay focused. It took me a while to get out of that phase and be normal. Now that the film is releasing shortly, I'm eager to see how the audience is going to react. I'm quite confident about what we have done," he adds.
A former software engineer by profession, Rahul turned director with a thriller titled The End. After the film released in 2014, it took the youngster three more years to put together his second film. Talking about what inspired him to write the story of Taxiwaala, Rahul says, "There was a long gap after my debut film and after a point, I had completely run out of all my savings. At that point, my friend and I wanted to pool in some money through different sources and buy a second hand car. The idea was to hire a driver and run a car rental service sort of thing. It was indeed a viable business couple of years ago. This whole process of checking out cars triggered the basic idea behind Taxiwaala. This is a film about a man and his relationship with a machine. I finished writing the first half quickly and everyone liked it, but it took us almost six months to finalise the second half. The first half had to be exciting in every sense and I had all the freedom to include lots of twists. But we spent a lot of time for second half because we had to connect all the threads and there had to be a logical explanation behind everything that happens in the first half."
Like the film's title suggests, Vijay Deverakonda plays a taxi driver while Priyanka Jawalkar plays his romantic interest. The team, however, spent quite a lot of time to find an actress for another significant character, and the search ended with Malvika Nair. "I had pitched the role to several actresses, but we couldn't finalise anyone. The role demands a strong performance and also, the actress has to look the part. Finally, it was Vijay who suggested Malvika's name for this crucial character. I wasn't sure if she would fit the character because I still had Malvika's appearance from Yevade Subramanyam in mind, but all that changed when I met her. She has done a tremendous job in the film," Rahul adds.
At the film's teaser launch, Vijay called Taxiwaala a 'high-concept stressbuster' because it was tough to define what exactly the genre is. "There's a bit of sci-fi, supernatural elements, comedy, drama, and suspense in the film," Rahul laughs, adding, "Because of its sci-fi and supernatural part, we had to do quite a lot of VFX work too. The interval sequence, in particular, was quite challenging, and it was Bunny Vas who suggested that we opt for pre-visualisation of the entire sequence before shooting it. I kept thinking if we really needed it, but after M9FX Studios came on board to do the pre-viz, I finally understood how significant it was. We had initially planned to shoot the scene for almost eight days, but thanks to all this work we had done, we completed shooting that part in three days."
Incidentally, Vijay Deverakonda came on board this film before Arjun Reddy had released last year and no one in the team had a clue about how things are going to change after Arjun Reddy released. "The value of the project has gone up dramatically now," Rahul smiles, adding, "The producers were ready to increase the budget of the film after Arjun Reddy. We still had about 30%-40% of the film left to be shot by then. Even while editing the film, we tried to be extra cautious and change few things, but the script of the film is written in such a way that you can't alter it dramatically without disturbing the flow of the story."
Rahul also acknowledges that his conversations with Vijay began to change after he saw Arjun Reddy, and one fine day, towards the final stretch of the shoot, Vijay had to tell him that he's not able to relate to the character. Talking about the impact that Vijay's performance in Arjun Reddy had on him, Rahul recalls, "I didn't know his full potential before Arjun Reddy happened. With Yevade Subramanyam and Pellichoopulu, I knew I was working with a talented actor. But after watching Vijay in Arjun Reddy, I genuinely felt that he's a genius who can pull off anything. We still had some portions of the film left to be shot. Prior to that, I would tell him a lot about each and every scene, but after I saw Arjun Reddy, I believed in him so much that I didn't feel the necessity to discuss so much about every minute detail in Taxiwaala. And then, one day, he told me that he's not able to connect with the character. That's when I realised that great actors are always hungry to do more. You've to keep feeding them."
Taxiwaala, starring Vijay Deverakonda, is slated for release on 17 November.
Entertainment
The biggest plus point for Vijay Deverakonda's Liger is that it is not facing any negativity on social media like Laal Singh Chaddha, Raksha Bandhan and upcoming movies Pathaan, Brahmastra and Vikram Vedha.
Entertainment
In an exclusive interview with Firstpost, Vijay Deverakonda opens up about his journey in the entertainment industry, experience of sharing screen space with Mike Tyson in Liger and more.
Entertainment
Actor Vijay Deverakonda wore several kinds of outfits in his upcoming film Liger, some of which were from his own fashion brand 'Rowdy'.