Vidyut Jammwal on working with Hollywood director Chuck Russell: Hope Junglee is 'the' film for me
Junglee, starring Vidyut Jammwal and an elephant, will be Hollywood director Chuck Russell's debut in the Hindi film industry.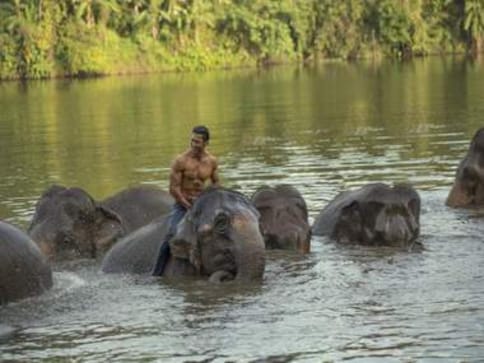 Vidyut Jammwal seems to have quite en eventful 2019 with as many as three releases in eight months. The first in the series is Junglee Pictures' Junglee which hits theatres on 5 April. Helmed by Chuck Russell, the wildlife adventure deals with the inexplicable bond between man and animal.
Vidyut essays the role of a vet who accidentally gets to know about an international poaching racket at his family elephant reserve. Jammwal feels Junglee has been his most ambitious film.
Junglee will be Russell's debut in the Hindi film industry. In a recent interview, Vidyut expressed his excitement on working with Chuck on Junglee stating that it was an honour to work with the helmer of Arnold Schwarzenegger's action-adventure Eraser and the iconic A Nightmare on Elm Street 3: Dream Warriors.
Talking about Chuck, Vidyut said that while most Bollywood actors were vying for the West, Chuck decided to place his bets on Jammwal. The actor pointed out that Russell was responsible for several actors' break, especially Dwayne Johnson with The Scorpion King and Jim Carrey with The Mask. Similarly, Jammwal hoped that Junglee would do wonders for the actor as it was Russell's dream project.
For Junglee, Jammwal had to communicate with various elephant whisperers to emotionally connect with the character on screen. "This particular relationship is built on understanding. You cannot command it." For the past 25 to 30 years, Bollywood has not come up with films specifically around animals, stated the actor and that was more reason why Jammwal has his hopes pinned on the film. "It's the kind of film that I wanted to see when growing up," Jammwal told Mirror.
Entertainment
Amitabh Bachchan's office released a statement stating that the actor has withdrawn advertising the pan masala brand and has returned his fees
Entertainment
On her 66th birth anniversary, a personal tribute to the late actor and how she continues to inspire even today.
Entertainment
"At such a young age, these boys had a great understanding of what our rights should be, what our freedoms should be. They were thinking deeply about service to humanity, and that's what attracted me to this story," says Shoojit Sircar, director of Sardar Udham