Veere Di Wedding director on working with Kareena, Sonam, Swara and Shikha: From action to cut, it was 'wow'
Director Shashanka Ghosh on Veere Di Wedding: 'I was so much in love with the pregnant version that I told Kareena (Kapoor Khan) to do it as the story will get still better'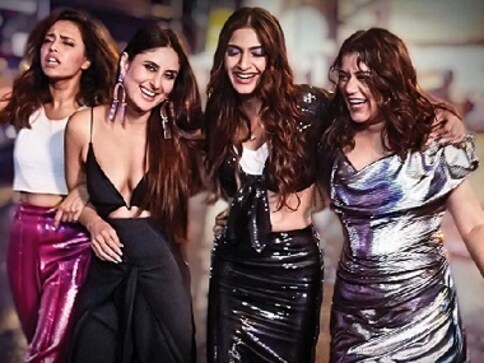 Before people even got a slight glimpse of the film, the makers of Veere Di Wedding decided to brand themselves blatantly with the disclaimer #IAmNotAChickFlick as a result of media reports that had begun referring to the film of four female friends, starring Kareena Kapoor Khan, Sonam Kapoor, Swara Bhaskar and Shikha Talsania, as a "chick flick". And just before the trailer came out with four female friends heard swearing, seen drinking and enjoying an active sex life before getting married, the film's director Shashanka Ghosh and co-producer Rhea Kapoor decided to put things straight. "It is not a chick flick in a sense that we are telling the story of four friends so it doesn't matter whether they are girls or boys. A lot of people think a chick flick is only for girls but this could have been four boys," said Ghosh.
Friends — the new family
"Rhea had asked me if I genuinely thought it was a chick flick. I clarified that I didn't. Between Rhea and me, she feels very strongly about a very correct kind of feminism, that a woman is equal to a man. That comes through in the film, and what I want to say also comes through, that friends are a new family. I wanted to approach it from there. The gender is not relevant to me at all, so in that sense, yes, I am a feminist," he said.
Also read: What Veere Di Wedding reveals about Indian films centered on women and how it can learn from Ocean's 8
"Earlier, I felt I wasn't bringing anything to the project. I couldn't have come up with Veere...kind of script. I would come up with something which is probably a very different version of friends as a new family. I have been watching since 2001 that how friends these days are playing the same role what families did in our parents' time. Rhea wanted to tell a story about four friends — four girls — but I wasn't bringing anything to the table. That's where it started and after that, it has been just polishing. Somewhere along the way, the second aspect comes in the film and as a genre we call it 'Coming of age'," said the director.
Coming of age
"In American films, coming of age happens at 16-17, and in my life I have come across people who are 30 but quite clueless or who have not taken any risk. We have a tradition of families as protectors. That is another thing I have achieved in this. I feel coming of age story wasn't the intention, you only grow up when you deal with your own fears. Those aspects have been tackled in the film," he added. Both Veere Di Wedding and Khoobsurat are markedly different from the films with which Ghosh began his career. His debut, Waisa Bhi Hota Hai Part II, was a quirky drama about a man who gets embroiled with the Mumbai underworld. Quick Gun Murugun was a feature-length exploration of the Channel [V] character, a Tamil cowboy who likes his whiskey with masala dosa.
Also read: Swara Bhasker on her Veere Di Wedding role — People assume I can only play desi characters
For Ghosh, directing the four actors was a fulfilling and positive experience. "Actually I ended up with four very consummate actors. From action to cut, it was mostly 'Wow'. They had understood their characters very well and would come up with their own ideas. There are a lot of lines that are ad lib. Since Khoobsurat, Sonam has grown a lot. I kept telling them that I hardly need to do any direction. They would also stop me from getting filmy as we get at times after having grown up on a certain diet of films, and the actors would ask: 'Are you sure you want to do that?' So when your actor controls and starts directing the director it indicates that they have got into the character totally," he said.  "But (in a lighter vein) just that I hate their entourage. There are so many people taking care of their hair, make-up, costume, it's madness. Anytime before you start working, this gaggle of women would descend. Some 20 of them would show up and I couldn't see anything through the lens. I would yell," said Ghosh light-heartedly.
The pregnant version
The film became the talking point when it got postponed because of Kareena's (she returns to the screen after two years; her Udta Punjab was released in 2016) pregnancy. The scripting of the film started sometime in April 2015 but the makers waited for about a year-and-a-half for the film to start. "Scripting carried on till May 2017 because in between Kareena got pregnant, so we also wrote the pregnant version. By the end of it, I was so much in love with the pregnant version that I went and told Kareena, 'pregnant version hi karle yaar, story aur achchi ho jayegi' (Do the pregnant version, the story will get much better) and she stared at me. Originally, Rhea and I had decided to shoot with her being pregnant, thinking the story would become more substantial. Kareena was game. But later we felt that it might be a bit delicate situation and we cannot mess around with the baby," said Ghosh.
Also listen: Veere Di Wedding title track — Kareena Kapoor and co take off to Phuket, celebrate friendship
The case for cussing
While the film has got an 'A' certificate, the makers were still battling with CBFC (Central Board of Film Certification) until last week when Firstpost met the director probably to retain certain cuss words and expletives. "But CBFC just won't allow everything. There are certain rules. They have been told to tone down. I just executed whatever they said but not at the cost of the film because I know the whole censor process so I tried to do a version without cuss words but Rhea told me that it will take away from the credibility of the film and people. She had asked me how would I want to do it without thinking about the Censors," said Ghosh.
Also read: Veere Di Wedding: Kareena, Sonam Kapoor-starrer banned in Pakistan due to 'vulgar dialogues, obscenity'
"For me, a woman sitting in Meerut might not say it but she will think this way (referring to a dialogue in the film) — 'Jitna bhi padh lo, graduation, post-graduation but jab tak BC mangalsutra gale mein nahi lagta, tab tak life complete nahi hoti'. There is a term for it called 'paraya dhan'. Can you imagine how patriarchal our country is?  This frustration has to be expressed and I told this to the CBFC members that the character is not saying this to anyone but it is the issue that is stifling her. You're frustrated to say something like that. The members were very understanding because they agreed that we have not used it in a sensational manner, we are using it for character credibility and portray reality rather than sensationalising things and I was so happy to hear that. But there are a bunch of rules within CBFC which you can't change. We can't have abuses that refers to a body organ and for that we would have to go to the Tribunal but we don't have the time. We are working on alternatives, everyday they are talking to Censor guys," said the director.
And when asked if the actors ever feared that they're being overshadowed, Ghosh replied, "All four actors would think that I was chopping off their lines and I would laugh at them saying they can think what they want to. Kareena would say, 'I'm a senior star among the four', while Sonam would say, 'I am your favourite no'? Swara would tell me straight – 'Tu mera line mat kat', and Shikha would almost issue a warning with — 'Shashank Sir, watch out haan'. But I believe that if an actor does not want to claim more, he or she is not an actor. Once Anil Kapoor asked me that why was I making that face and I told him that all four girls were chewing my brain, to which he said, 'Be grateful, these actors are still hungry and want good parts'. I agree with him totally," said Ghosh signing off. 
Also read: Sonam Kapoor on Veere Di Wedding — The film is not about women discussing men, putting them down
Entertainment
The video of the actor's gesture is going viral on social media.
Entertainment
Twitter users were furious at Jimmy Kimmel's error in calling RRR a "Bollywood" movie and immediately expressed their displeasure at the matter.
Entertainment
Rani Mukerji starrer Mrs Chatterjee vs Norway released on 17 March 2023.