Timeline of Harvey Weinstein sexual assault scandal: From New York Times exposé to arrest to $1mn bail
Harvey Weinstein, one of the most influential Hollywood producers is now facing criminal charges for raping and assaulting two women.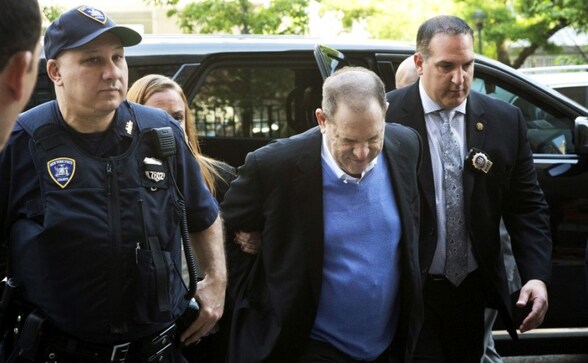 Harvey Weinstein, who has been one of the most important figures in Hollywood, is now facing criminal charges for raping and assaulting two women.
The story was first made public by The New York Times, and since then stars like Gwyneth Paltrow, Salma Hayek and more have shared their stories of being sexually harassed by the Hollywood mogul.
Here's a timeline of events:
5 October 2017: The New York Times first published an exposé detailing undisclosed allegations of sexual harassment and misconduct against Weinstein, which spanned over nearly three decades. Actresses Ashley Judd and Rose McGowan were among the accusers. The article also reveals that Weinstein had paid off eight women in settlements to prevent them from going public with their accusations. Weinstein then issued an apology and announces temporary leave of absence from his production company.
8 October 2017: The Weinstein Company, which Weinstein had co-founded with his brother Bob, fired him owing to 'new information about misconduct'. Four members of the all-male board also hand in their resignations.
10 October 2017: The New Yorker magazine published allegations from 13 more women. Three women, including actress Asia Argento, alleged that Weinstein raped them. His spokesperson denied these claims. In a follow up article by NYT, Angelina Jolie, Gwyneth Paltrow and other actresses also talked about being on the receiving end of the film executive's lecherous behaviour. Weinstein's wife, British fashion designer Georgia Chapman, announced that she is leaving him and her priority is her young children.
11 October 2017: BAFTA announced suspension of Weinstein's membership.
14 October 2017: Weinstein expelled from the Academy of Motion Pictures Arts and Sciences.
19 October 2017: Police department in Los Angeles start investigation when an anonymous accuser claims that she was sexually assaulted by Weinstein in 2013.
3 November 2017: The New York police department also announce their investigation after actress Paz de la Huerta's allegations.
14 December 2017: Salma Hayek accuses Weinstein of sexual harassment in a New York Times article. She wrote that she repeatedly denied his sexual advances. She also added, "I don't think he hated anything more than the word 'no'".
3 February 2018: Kill Bill actress Uma Thurman shared an instance with New York Times of when Weinstein tried to attack her in his hotel suite in the 1990s, but she managed to 'wriggle away'.
11 February 2018: New York state prosecutors announced that they have filed a case against the Weinstein Company because the studio failed to protect their employees against Weinstein's alleged harrassment. They also mention that the producer also made verbal threats.
20 March 2018: Weinstein's company filed for bankruptcy and also announced that it will be releasing any victims or witnesses from non-disclosure agreements which had prevented them from speaking out.
25 May 2018: Weinstein turned himself in. He was charged with first-degree rape and third-degree rape in one case and first-degree criminal sex act in the other.
He was later released on bail for $1 million. He now has to wear a monitoring device and cannot travel beyond the states of New York and Connecticut.
Entertainment
Chris Rock joked about getting slapped by Will Smith at Oscars 2022, during a stand-up show with Kevin Hart.
Entertainment
During this honeymoon period Jennifer Lopez was seen making husband Ben Affleck comfortable by putting hand on his cheek and cuddling with each other.
Entertainment
Kate Moss was a teenager when she entered the modelling world.