Harvey Weinstein surrenders to New York police on charges of rape, sexual assault; accusers applaud arrest
Hollywood film producer Harvey Weinstein, accused by over 60 women of sexual harassment, on 25 May surrendered to police here to face charges of sexual misconduct.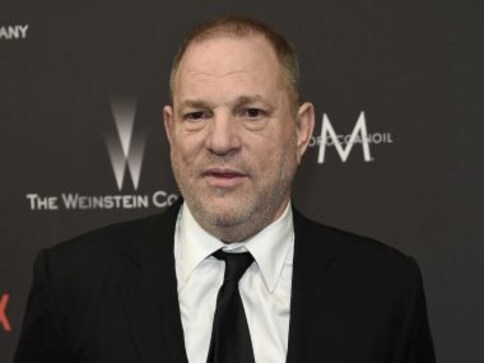 Hollywood film producer Harvey Weinstein, accused by over 60 women of sexual harassment, on 25 May surrendered to police here to face charges of sexual misconduct.
"He will be taking a mugshot and he will have prints at the precinct. He will go to court, set bail...one of the real questions is where is going to reside pending trail?" @rikkijklieman says on Weinstein, who just entered the 1st Precinct of New York https://t.co/4ZCKujyxtF pic.twitter.com/jv4093nX2w

— CBS News (@CBSNews) May 25, 2018
Harvey Weinstein walked into court handcuffed with his jeans sagging and avoided shouted questions. pic.twitter.com/5T2ev8dpBE

— Myles Miller (@MylesMill) May 25, 2018
"Harvey Weinstein always had his own private system of justice. He would hire private investigators, he would hire fancy lawyers to settle allegations... This is the first time he's facing the same justice system as the rest of us." -- New York Times' @JodiKantor pic.twitter.com/NrUECW8gwa — CBS This Morning (@CBSThisMorning) May 25, 2018
Weinstein arrived at a New York police precinct in Manhattan where he was expected to face charges involving at least one of the women who have accused him of sexual assault, Lucia Evans, law enforcement officials told The New York Times, reports theguardian.com. It is the first criminal case to be brought against Weinstein since the revelations about him erupted in October and sparked the #MeToo movement. The office of Attorney Benjamin Brafman, who is representing Weinstein, said that he would not comment on reports of Weinstein's surrender. Weinstein, 66, is expected to be taken to Manhattan criminal court to be brought on trial on the charges. He has denied all allegations of non-consensual sex. As part of a pre-negotiated bail package, Weinstein is expected to put up $1 million in cash and agree to wear a monitoring device. He will also surrender his passport, according to reports. Before Weinstein's surrender, one of his accusers, actor Rose McGowan, said: "I and so many of Harvey Weinstein's survivors had given up hope that our rapist would be held accountable by law... Today we are one step closer to justice."
Glued to the screen @CNN "Harvey Weinstein will be charged with rape" pic.twitter.com/qyj9GZcr5w

— Asia Argento (@AsiaArgento) May 25, 2018
Can't wait! https://t.co/YdHeWbDA5V — Annabella Sciorra (@AnnabellSciorra) May 24, 2018
A friend just texted me with this: "Karma NEVER loses an address." https://t.co/BOHun3cOn8

— Ava DuVernay (@ava) May 24, 2018
Lauren Sivan wrote: "It's been a long time coming and today my fellow victims and I rejoice and pray no one ever underestimates the power of women when we stand together + scream the truth."
Weinstein is known for producing movies like Shakespeare In Love, Crouching Tiger, Hidden Dragon, Shall We Dance? and Lion.
With inputs from IANS.
Entertainment
Rose McGowan's arrest came after an airport employee on 20 January found the actress' wallet with two bags of white powder, which was later tested positive for cocaine.
Entertainment
Rose McGowan helped open a national public discussion about sexual harassment and abuse when she accused Hollywood mogul Harvey Weinstein of raping her.
Entertainment
An upcoming documentary series — Citizen Rose — based on Rose McGowan debuts on E! from 30 January that details what she calls her global struggle against sexual assault and economic injustice.