Thugs of Hindostan's dismal collections prove Aamir Khan is no longer invincible at the box office
Thugs of Hindostan could as well be the first of Aamir Khan's high profile flops, after Jab Harry Met Sejal (2017) for Shah Rukh Khan and Race 3 (2018) for Salman Khan.
It would be hard to recall a high profile Aamir Khan 'flop' before this year's Thugs of Hindostan.
While one could argue that the actor's previous release Secret Superstar (2017) was not exactly a blockbuster, but unlike Thugs of Hindostan, it was far from being the typical big-ticket extravaganza. Based on Philip Meadows Taylor's 1839 novel 'Confessions of a Thug', the film was reportedly made on a ₹300 cr budget and even after 14 days of its release continues to struggle to cross the ₹150 cr mark leaving little doubt about it being an underperformer.
After Jab Harry Met Sejal (2017) for Shah Rukh Khan and Race 3 (2018) for Salman Khan, Thugs of Hindostan, in the manner of speaking, could well be the first of Aamir Khan's high profile flops.
One reason why these films find themselves in such a category even though they have been among the highest grossers of the year they released in, or enjoyed some of the biggest opening day collections, is because they appear to have failed in recovering their cost from the theatrical run.
Earlier this year, Akshay Kumar's Gold fell short of being the kind of commercial success which is a given for Akshay Kumar. In spite of the bad reviews and negative word of mouth, Thugs of Hindostan has still attracted a ₹100cr minimum guarantee from its Chinese distributor, but clutching at the straws is not something you expect from a film featuring one of the three Khans or Kumar.
Also read:  Aamir Khan on failure of Thugs of Hindostan: We went wrong; I take full responsibility for it
Although a tad unfair, stars among the younger generation of actors are often compared to the three Khans, Akshay Kumar, and Ajay Devgn as this is the industry yardstick. In this respect, most of the contemporary names might seem to fall short in terms of the collections but a different picture might appear if the return on investment were to become the measuring gauge. In other words, the smaller the investment, the greater the returns in case a film hits box office jackpot such as Anand L. Rai's Raanjhana (2013)- nearly ₹150 cr on an approximate budget of ₹25 cr, or more recently Badhaai Ho and Stree: the former was made on a budget of ₹25 cr and has crossed the ₹200 crore mark worldwide, and the latter had a budget of ₹24 crore and grossed over ₹100 crores in domestic figures.
Can there still be a film that features either of the Khans or an Akshay Kumar and still remain a 'small' film? Not anymore, perhaps. Nearly every single star of a certain stature would find it almost impossible to pull a trick like that.
In 2017, Kangana Ranaut tried to balance her films by featuring in a standard big-budget Bollywood production (Rangoon) and an indie-spirited character driver film (Simran). Unfortunately, both films failed in terms of box office as well as critical reception. Even when they do manage to cover some distance it still ends up falling in the category where it's looked upon as some sort of an experiment (Dhobi Ghat, Roy, Dear Zindagi).
In fact, when it comes to a star their presence brings a certain baggage which is difficult to shed even with the best intentions, such as Shah Rukh Khan in Dear Zindagi (2016) where he was cast well and might have even worked as far as the narrative was concerned yet, in the end, the film seem stuck between two different worlds.
For most popular stars in Hindi cinema as well as Hollywood, it might be difficult to do away with the typical tent-pole productions. It's not like Tom Cruise did not attempt a Magnolia (1999), Lions for Lambs (2007)and Tropic Thunder (2008) but off late it's nothing less than a new Mission: Impossible or loaded production like Edge of Tomorrow (2014). None of the A-list stars appear to be in a position where they could attempt something different or 'smaller' in scale, at least not in films.
Are we then doomed to suffer? Perhaps not all the way - the proposed Netflix original where Aamir Khan is said to play Bhagwan Shree Rajneesh alongside Alia Bhatt playing his personal secretary Ma Anand Sheela could be exactly what we're looking for.
Entertainment
Rani Mukerji starrer Mrs Chatterjee vs Norway released on 17 March 2023.
Entertainment
Further highlighting that everyone is running behind to become public and famous due to the wide range of opportunities in the market, Grover noted how people have lost interest in going to theatres.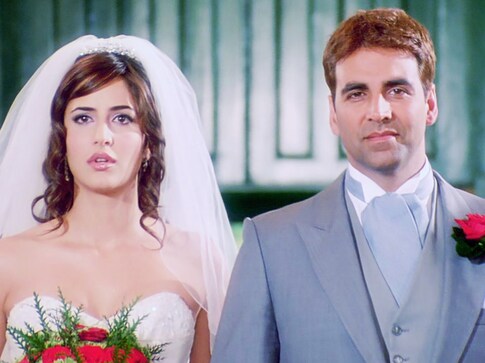 Entertainment
A story of a British girl and a Punjabi boy! Vipul Amrutlal Shah's directorial Namastey London completes 16 years