Sundance 2022: Daisy Edgar-Jones, Sebastian Stan clash in undercooked and overseasoned Fresh
For a story about the horrors of being a woman and navigating the dating industrial complex, Fresh falls some way short of its title's promise.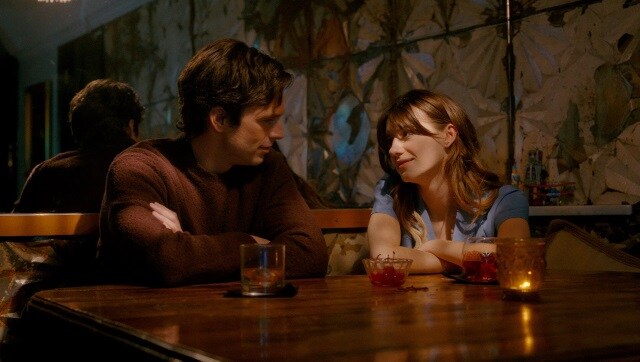 The creepiest moments in Mimi Cave's thriller Fresh are rooted in the familiar. These moments are creepier not in spite of their everyday banality, but because of it. Daisy Edgar-Jones plays a young woman navigating the dystopia that is modern dating. Like any young woman, she has become used to the idea that the onus is on her to stay on guard. Walking alone in a dark alleyway, she keeps her car key in a ready-to-jab position when she thinks she is being followed. A guy on a dating app responds to her comment on his cute cat pic with an unsolicited dick pic. The panic is writ large on her face when she can't get any bars on her phone.
If women are terrified of walking home alone at night or losing cell phone reception, it is due to the sinister forces that lurk in the darkness. The forces don't get more sinister than in Cave's debut feature, which stirs up a batch of stew from the leftovers of American Psycho and You and calls it Fresh. Marinating the film is a touch of her own creative sadism. The gristle is its conceit of how women are commodified. As the film marches on, some succumb to the commodification, one joins in, and the rest figure out a way to overcome it — and survive.
Online dating isn't working out for Noa (Edgar-Jones). Just when she is about to resign herself to a life of quiet solitude, she runs into handsome plastic surgeon Steve (Sebastian Stan) at the supermarket. They flirt over cotton-candy grapes, he makes some excuse to get her number, they bond over dead parents on the first date, and soon he is whisking her off on a getaway. If there is a red flag, it's that he has no social media presence and can't be found on Google. Noa's best friend Mollie (Jonica T Gibbs) voices some concern, but Noa writes it off as Steve favouring the old-fashioned ways just as much as he does his Old Fashioneds.
After a half-an-hour or so is when the opening credits pop up to reveal what we're watching is in fact a horror movie. The romance, like many of the beloved entries of the genre, was to wear down the woman's defences till she gave in. Steve was playing a long con — and not for the first time, as Noa soon realises. A whole network of rich, powerful men (let's call them the patriarchy) depend on him to cater to their very particular appetite. To go into any more detail will only ruin the movie. Despite the swerves, there is little doubt over how the story will pan out, or the ostensible catharsis of its inevitable conclusion.
Shape-shifting between sweet and sinister with a mere smile, Stan captures the insidiousness of a practiced deceiver who knows how to weaponise his disarming charm.
When he calmly reveals Noa of her fate and loses his temper over her reaction, we witness the monster hiding under the placidly gentle facade. The monster is always on stand-by, even when he is singing and dancing to Animotion's "Obsession." You sense Cave pushed him to go as broad as he wanted — and he gleefully accepted the challenge.
Edgar-Jones holds her own, pulling off a sophisticated deception of her own. As Noa, she turns Steve's presumptions of her to her advantage. There is mindfulness and grit to Noa that suggests if anyone could get out of this hopeless situation, it is her. Gibbs adds some flesh to the skeletal role of a confidante and saviour to Noa. Nonetheless, the characterisation of Mollie, her bartender ex and indeed all the non-White characters is undercooked. If the film motors on, it does, fueled by the lead pair's powers of persuasion and games of deception. Both Stan and Edgar-Jones lend a density to their roles the film can't match.
A triumph of mood over meaning, the film casts an eerie spell. There are deliciously lensed images that will sear themselves into our minds, as Pawel Pogorzelski (who shot Ari Aster's Hereditary and Midsommar) continues to earmark modern horror with his identity. The camera gets up close and personal on the actors, often focusing on their eyes, lips, ears and fingers. What feels intimate in the beginning feels invasive after the film takes its left-turn, and the parts of the human body feel like anatomical trophies. In the extreme close-ups, the viewer feels Noa's anxiety and discomfort at their rawest. Those feelings are also baked into the production design, which turns Steve's house and its carefully curated interiors into expressive dramatic spaces. A joke here or a needle-drop there offer a welcome release in tension. At a turning point of the movie is a dance, which plays as a game of shifting dynamics.
The film lacks that killer instinct required of a dark comedy or a satire. It opens to a pitiful date with a scarf-wearing douchebag named — get this — Chad, who asks Noa to bring cash beforehand, criticises the lack of effort she makes in her appearance and clothes, doggy-bags the leftovers (including hers), and tops it off with a "stuck-up bitch" when she refuses to take things any further. It's like Cave is ticking off a whole checklist of the worst kind of men in a single scene. Instead of slicing the material into sharper metaphors, Cave flattens its potential down with blunt force. For a story about the horrors of being a woman and navigating the dating industrial complex, Fresh falls some way short of its title's promise.
Fresh was screened at the 2022 Sundance Film Festival as part of its Midnight section.
Bollywood
Deepika Padukone heads to Cannes Film Festival to represent India as a jury member. Have a look.
Entertainment
Kartik Aaryan delivers the biggest song of the year with Bhool Bhulaiyaa 2 title track, song gets attached with Avatar 2 in theatres!
Entertainment
Bhumi Pednekar to Huma Qureshi to Mary Kom - Celebrities across official languages of India stand in solidarity with Anubhav Sinha's 'Anek' headlined by Ayushmann Khuranna.