Spider-Man: Far From Home early reactions — 'Lovely companion piece to Avengers: Endgame'
Most reactions term Spider-Man: Far From Home as the perfect follow-up to Avengers: Endgame.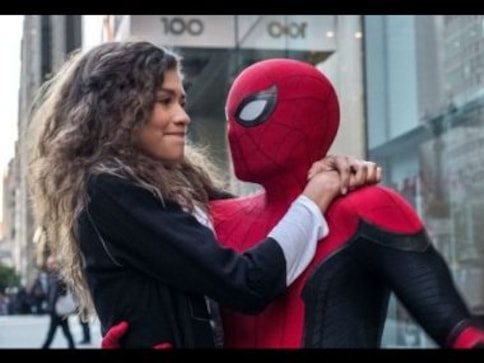 Spider-Man: Far From Home holds high stakes at the box office, especially since it takes the narrative forward in a world sans Iron Man (Tony Stark, played by Robert Downey Jr). Post-Avengers: Endgame, Spidey (Tom Holland) is left to deal with his mentor's loss.
Thus, Peter Parker ventures into new territories, far from home, in Europe. Nick Fury (Samuel L Jackson) recruits him mid-vacation to work for Mysterio (Jake Gyllenhaal) to combat what seems to be apocalyptic elemental monsters.
With its official release still a few days away, early screenings of Marvel's latest superhero offering have brought in the first reactions. While most term the film as the perfect follow-up to Endgame, a few have also noted how Holland has developed into arguably the best Spidey figure. Gyllenhaal's performance has been unanimously appreciated as well.
Here are some of the best reactions
A reaction tweet: #SpiderManFarFromHome is wonderful. It's funny and clever and filled with smart twists. (It also made me have incredibly visceral memories of class trips of yore.) I didn't leave the theater sad! I am not worried about superheroes' emotional states! Zendaya!!

— Kate Erbland (@katerbland) June 19, 2019
I didn't expect to laugh so hard at a movie that deals with the emotional and global fallout of Avengers: Endgame. I really, really enjoyed #SpiderManFarFromeHome (liked it a smidge more than Homecoming), and thought it absolutely succeeded when it dealt with human-scale stories. pic.twitter.com/Cy985w2NeV — Terri Schwartz (@Terri_Schwartz) June 19, 2019
#SpiderManFarFromHome! What a fun, solid sequel. Tom Holland so incredibly charming, will watch him in any/all things. Jake Gyllenhaal gets way more to do than expected, clearly had a ball doing it. Also still loving Zendaya's MJ. — Kara Warner (@karawarner) June 19, 2019
I had a big dumb smile on my face through all of #SpiderManFarFromHome. It makes for a lovely companion piece to Endgame, but it's also a top-notch Peter story. Oh, and Jake Gyllenhaal is clearly having the time of his LIFE. — Devan Coggan (@devancoggan) June 19, 2019
#SpiderManFarFromHome is the coda we needed after Endgame, a glimpse of how the world looks now that the dust has settled. Could maybe have gone a bit harder on P's emotional arc, but bursting with warmth and humor and awkward teen romance. 💕 Also: Jake G = perfect casting.

— Angie J. Han (@ajhan) June 19, 2019
#SpiderManFarFromHome isn't quite as wonderful as Homecoming, but it's a really strong, endearing sequel that delivers some excellent moments in its second half in particular. It commendably furthers Peter's story while laying groundwork for what's next in a notably deft way. — Eric Goldman (@TheEricGoldman) June 19, 2019
Absolutely loved SPIDER-MAN: FAR FROM HOME. I'm a huge Mysterio fan and Gyllenhaal nails him. Also the movie is very clever (and funny) how it handles the fallout post ENDGAME in explaining how this world works now. — Mike Ryan (@mikeryan) June 19, 2019
I've been reading Spider-Man comics non-stop since 1995, so I always breath a massive sigh of relief when his movies are good. I haven't decided if Far From Home is better than Spider-Verse yet, but it's certainly the best live action outing. #SpiderManFarFromHome pic.twitter.com/nqI4W5TKqx — Sean Keane (@SpectacularSean) June 19, 2019
Didn't LOVE #SpiderManFarFromHome as much as Homecoming but it's still a rad take on bearing the weight of great expectations and a fun ode to teen romance. Tom Holland continues to be amazing, Zendaya's MJ is just as cool as Shuri and Jake G's an inspired choice for Mysterio. pic.twitter.com/nnu7BPjcFO

— Brian Truitt (@briantruitt) June 19, 2019
#SpiderManFarFromHome: far superior to its predecessor & really delightful, w/a terrific theme of trust well-threaded throughout. Could say more, but it's spoiler-laden, full of fun secrets, so be careful who you follow and what they say. Jake G is great #SpiderMan #FarFromHome — Rodrigo Perez 📽🎞📺 (@YrOnlyHope) June 19, 2019
absolutely loved #SpiderManFarFromHome. Captures the spirit of the comics and mixes in some amazing movie magic. The second the film ended I wanted to watch it again. #JakeGyllenhaal is fantastic as Mysterio. pic.twitter.com/4ZYaS0L8mf — Steven Weintraub (@colliderfrosty) June 19, 2019
#FarFromHome non spoiler thoughts: most comic booky movie marvel has put out. Second and third acts are outstanding. The two post credit sequences are going to stick in my brain for a L O N G time. I cannot wait to see this movie at least three more times. — Preeti Chhibber (@runwithskizzers) June 19, 2019
#SpiderMan #FarFromHome is an absolute home run. It's SO much fun. It's huge in itself and for the future of the MCU in the most surprising ways. Tom Holland, Jake Gyllenhaal, just a lethal, awesome combo!!

I cannot wait to see this movie again. And again. pic.twitter.com/0hYJvKkdjN

— Brandon Davis (@BrandonDavisBD) June 19, 2019
#SpiderManFarFromHome is funny, exciting, romantic, goofy & follows HOMECOMING in being this brilliant ground-level look at Spidey's world & how the events of #AvengersEndgame impacted everyday life. Lots of twists & turns, plus some adorable summer romances, too. I'm a big fan pic.twitter.com/NUX0f8YFM0 — Erik Davis (@ErikDavis) June 19, 2019
#Spiderman #FarFromHome is SUCH a good movie! Jake Gyllenhaal suits up & completely embraces his role in its entirety & he's clearly having a blast. This is such a refreshing film after the heaviness of #EndGame. The post-credit scenes are a MUST WATCH & will blow your dang mind! pic.twitter.com/wcTh9iHaYq — Maude Garrett (@maudegarrett) June 19, 2019
I love that #SpiderManFarFromHome is all sleight-of-hand. It begs to be seen multiple times. pic.twitter.com/nwIX24L8WH — Jason Guerrasio (@JasonGuerrasio) June 19, 2019
FAR FROM HOME has dethroned Sam Raimi's Spider-Man 2 & is now favorite Spider-Man film.

What's insane is that I can't even tell u why I'm so in love with this film because it would be a spoiler.

Gyllenhaal is incredible. Holland re-confirms as the best Spidey to date. Amazing. pic.twitter.com/pbynxYIEyQ

— Kevin McCarthy (@KevinMcCarthyTV) June 19, 2019
#SpiderManFarFromHome had the difficult task of following two epic Avengers movies AND Spider-Verse and succeeds by telling a smaller, classical story about Peter Parker caught between what he wants and what responsibility demands. Pure cat(spider)nip for Spidey fans like me. pic.twitter.com/G2a4p6YhAr — Matt Singer (@mattsinger) June 19, 2019
Spider-Man: Far from Home is an extremely fun, cleverly executed, and frequently hilarious culmination of the MCU's wall-crawler's journey so far. Some very sweet moments, sly commentary and deft action set-pieces throughout #SpiderManFarFromHome pic.twitter.com/5sAmxh4E3p — Jim Vejvoda (@JimVejvoda) June 19, 2019
#SpiderManFarFromHome: B-/C+. If you loved the teen-centric stuff in Homecoming, there's more where that came from. Some of the comedy falls flat, but this film has A LOT going on – ultimately beneficial because it mostly distracts from stuff that doesn't land quite as well. pic.twitter.com/1wVMyT5bv9 — Ben Pearson (@benpears) June 19, 2019
Spider-Man: Far From Home is slated to hit theatres on 5 July in India.
Entertainment
DC Comics described the new Superman as "bisexual" in its press release, which is headlined "Jon Kent finds his identity."
Entertainment
Directed by Paul King, Timothee Chalamet is all set to star in Wonka, detailing the origin story of the fictitious candy maker.
Entertainment
"I was one of those dinosaurs who was so loyal to movies and cinema," Farahani says. "I never took any proposition seriously because it was a bit like I wanted to keep cinema alive."