Silicon Valley season four accurately reflects the egoistic narcissism of the tech industry
The writers of Silicon Valley adapt very well and are obviously on top of the tech industry news
There was a sequence in the first season finale of Silicon Valley, HBO's consistently-brilliant comedy satirising the American tech industry, and especially its namesake Silicon Valley, that will likely go down in the annals of American sitcom history for being one of the best comedic expositions ever:
It was when, after all the disappointment of having Hooli (the Google-esque tech giant in Silicon Valley's fictionalised world) steal what-would-have-been-Pied-Piper's thunder at TechCrunch Disrupt by presenting a compression speed (termed the "Weissman score" on the show) that equaled the score Pied Piper were set to present, our heroes — the winsome underdog foursome at Pied Piper, and well, Erlich Bachman — came up with the nerdiest (and arguably, greatest) "dick joke" in TV history. Yup, you heard that right!
In real life, the joke caught the attention of every mathematician and nerd worth their grey cells, thereby making genius Stanford University consultants for the show (who worked on the algorithm to make it seem almost-plausible) release their actual paper, suitably titled Optimal Tip-to-Tip Efficiency.
On the show, the "dick joke" came about in a pivotal moment on Silicon Valley — it lead then-CEO of Pied Piper Richard Hendriks to an epiphany, from where he went on to create the highest Weissman score ever and save Pied Piper! It was a brilliant narrative arc — the triumph of the underdog, beating the big bad corporation (and its brash, enigmatic but ruthless head Gavin Benson) at its own game...all with some hilariously unforgettable guy-to-guy dick humour.
It made us want to root for Pied Piper even more; I don't know about you, but watching brilliant minds come together to take down the bully at the biggest industry conference, all while devising equations to figure out the most efficient way to jerk off all the men in the audience — that's my TV watching dream come true! As we near the fourth season finale, things stand a little differently: Gavin Benson is out (in a move not totally dissimilar to Travis Kalanick's "resignation"), but not before Richard struck up a deal with him for a patent he wanted. Now Pied Piper and our merry band of nerds, in an attempt to create a completely decentralised internet that isn't a "shitty corporate-controlled thing that Hooli and other companies manipulate" (good intentions, you see?) are at Hoolicon (of course there's a Hoolicon, you kidding!) planting illegal wi-fi pineapples all around the conference premises in order to increase their user base in lieu of their server costs (uh-oh).
The idea is to hijack the Hoolicon app to install the Pied Piper software, thereby testing their peer-to-peer networking and data storage service, since a tech conference of Hoolicon's size is the perfect place to find over 1,50,000 tech nerds with smartphones that have apps that they haven't deleted for ages. Sidenote: Richard's observation that people don't delete apps is, at least anecdotally, true — when the guys go round checking to confirm it, they find that Richard has Vine (RIP) on his phone, Jared has NipAlert (Big Head's disturbing and short lived app), and Gilfoyle has McCain/Palin (go figure!) Check your phones, and you might see he's not wrong! A lot goes on at Hoolicon, including exploding smartphones that can't handle the Hoolicon app, Richard's code, and the VR app created by Richard's kinda sorta nemesis Keenan Feldspar (because, unlike Richard, Keenan is young and successful, and gets everything he wants, including $2 billion for his company).
We know that Veep had to hit a whole new level of crazy and wit this season — since the real-life political situation in the US had been getting dangerously close to, and eventually surpassed, the madness that the show regularly exemplified. Silicon Valley, which never went to Veep-like levels of insanity but still satirised almost everything about the tech industry (good and bad), had its task cut out for its latest season — especially given everything that has transpired in the Valley over the past few months.
And while the show didn't go the way of an ex-Hooli employee writing a blog post about the unbelievable-and-yet-unsurprising extent of sexism she faced when she worked there, ultimately resulting in an independent and in-depth investigation about the rampant sexism and other notorious practices at the organisation, and while the bit about exploding smartphones in the ninth episode of the current season comes a full eight months after Samsung suspended production of their exploding Galaxy Note 7 devices, Silicon Valley has, to a nearly-full extent, showed us the cracks in the protagonist's moral fibre — Richard Hendriks is not the likeable, affable, do-gooder and struggling idealist anymore. He's more Silicon Valley than he ever hoped to be. Even more clearly spelt out is what was building up as subtext so far — the fact that Pied Piper (barring Jared) is no longer the underdog you root for. Silicon Valley is no longer the tale of brilliant minds with a good idea and noble intentions. In a week where we saw the Uber story unfolding dramatically and rather unceremoniously in real life, Silicon Valley, which had been satirical to begin with, feels way too real!
"It's a means to an end. It's not who I am. Lincoln had to suspend habeas corpus to end the war, but he restored it right after" — Richard's justification of his actions to Jared (Zach Woods' wide-eyed, and in his own words "ghost-like" CFO of Pied Piper, the startup and Silicon Valley's only remaining conscience keeper) in the latest episode of the show is the clear call of a protagonist on the path of moral decay. Of course, there were signs all along: Erlich Bachman (played by TJ Miller, who's leaving the show after this season) most often, if not always, disregards regulations and does despicable underhanded sexist and racist things; Gilfoyle, with his libertarian tendencies, has long been after Richard to "walk the left hand path";  and Dinesh, with his recent relationship with Mia and eventual betrayal of her to the authorities, has done more than his share of dubious things.
As Jared (oh sweet, dark, funny Jared) struggles to maintain the last remaining shred of morality (going so far as to desperately scout out the bathrooms at Hoolicon, just so he wouldn't be present while Richard and the others plan out their scheme), even his facade has begun to crack in the face of Richard's latest deception — after the others have learned of Richard's role in denying Keenan's offer for Pied Piper and the trouble he lands all of them in over his jealousy towards an ex's handsome, do-gooder boyfriend, Jared yells at Richard, "You reckless child!!" To a layperson, this may seem like nothing much, but for fans of Silicon Valley (who have seen Jared's unflinching love for doing what's right, noble, and legal - something which is only topped by his unwavering loyalty for Pied Piper and Richard) know that him saying this to Richard means he's very close to having a breakdown. There's only so much even Jared can take — in all his bland, dark and unwittingly comedic, sleeping-with-the-servers-in-the-garage glory.
Sure, there's a lot that Silicon Valley clearly hasn't addressed — the alarming sexism that's so prevalent in the real companies of Silicon Valley doesn't even crop up most of the time. Female coders are hired as badass additions to the Gilfoyle-Dinesh duo, but that's what they always are — additions. They've never been part of the core team, and they never will be.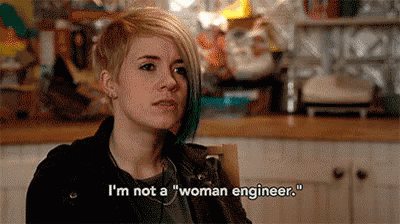 Even Monica Hall, who was an assistant to Peter Gregory and then Laurie Bream, and has now partnered up with Laurie in their own VC firm, has seen her screen time reduce significantly over the past couple of seasons — this season essentially saw Monica playing catch-up to her male competition (or otherwise being screwed over by Bachman), and any hint at a romantic relationship between her and Richard seems to be (thankfully) shelved. All in all, it seems like there's no opportunity to be a lead in the current version of Silicon Valley, if you're female.
There's the passing racism that has been deftly handled, which is not such a surprise given that one of the leads of the show is supposed to be from Pakistan (the group's assumption that Dinesh is the illegal immigrant at Pied Piper, even though he's in the US on a valid visa unlike Gilfoyle, who's a Canadian citizen, is dealt with in a hilarious manner). In the latest episode, Richard sends off Dinesh into the crowd at Hoolicon, with suicide-bomber style instructions ("You're gonna walk into the most densely populated area. If you see security coming, you press this button") to a visibly uncomfortable and alarmed Dinesh, without even slightly noticing the uncomfortable interpretation it could have! He's in such a frenzied state of excitement to do the illegal thing in order to save Pied Piper, he's so convinced of his good intentions and the idea that his actions are just the means to an honourable end, that the usually petty and twitching Richard Hendriks seems almost scary. Like a mad scientist. Like a dictator. Like the CEO of a Silicon Valley company.
As bystanders and observers watching the Uber saga unfold, we're getting a rather firsthand and intimate look at a multinational corporation falling into the traps of moral decay, sexism, racism, a "bro culture" that protects the men at the top, and a ruthlessness that allows for anything in the name of success. The writers of Silicon Valley adapt very well (just like the show's opening sequence) and are obviously on top of the tech industry news, as well as the ways in which Uber and other corporations have shaped people's image of Silicon Valley and the Valley's image of itself. It's a somewhat frightening direction to go in for a "sitcom", clearly leaving behind the "good ol' techies in t-shirts and hoodies making the world a better place" concept and going to a more catastrophic, morally ambiguous and integrity-less area that's darkly reminiscent of the real world. Hopefully, the careless and the immoral pay a price on Silicon Valley (even if it's a previously-likeable Richard), and his ruthless means don't justify the end. They don't seem to in real life, thank goodness for that!
News & Analysis
Galaxy M21 2021 Edition runs on a 10 nm Exynos 9611 chipset and offers up to 6 GB RAM and up to 128 GB of internal storage.
News & Analysis
The smartphone will feature a 48 MP triple rear camera setup and will be available for purchase during the upcoming Prime Day sale.
News & Analysis
Samsung is expected to launch Galaxy Z Flip 3, Galaxy Z Fold 3, Galaxy Watch 4, and Galaxy Buds 2 during the event.