Shruti Haasan talks about opting out of Sangamithra, role in Behen Hogi Teri
In an exclusive interview to Firstpost, Shruti Haasan talks about her upcoming film Behen Hogi Teri in which she plays a Lucknowi girl, and what went wrong with Sangamithra
For a good part of 2017 so far, Shruti Haasan has been in news for being the chosen one to play the title role in Sundar C's ambitious period drama Sangamithra. The film, which also stars Jayam Ravi and Arya, is set in the 8th century AD and it tells the story of a warrior princess who would do anything to protect her kingdom. And then, in mid-May, the cast and crew of Sangamithra, including music director AR Rahman and production designer Sabu Cyril, landed in Cannes to unveil the first look of the film at the prestigious film festival.
Prior to that, Shruti Haasan had been spending quite some time in London where she had been practising sword fighting under the aegis of Tim Klotz, resident fight director at the Drama Centre, a leading drama school in London. It was one the skill sets that she wanted to acquire before she could dedicate a couple of years to the period film, which was supposed to be made in two parts with a budget of more than Rs 200 crores, according to some reports. The concept art that was unveiled at Cannes made it quite evident that there's going to be plenty of warfare and it was in the realm of Baahubali, so to speak, in terms of its genre and what Sundar C was aiming for.
However, on 29 May, all of a sudden, Sri Thenandal Films, which is producing the film, announced on Twitter — "Due to unavoidable circumstances, we are unable to proceed working with Shruti Haasan in Sangamithra." Although the production house and director Sundar C didn't explain what went further, Shruti Haasan made it clear that her decision to opt out of the film was due to lack of clarity over the script and proper dates that the team wanted from her. "At a conceptual level, Sangamithra is an ambitious film, and as artistes, we all dream of doing roles like these. But unfortunately, things didn't fall in place," Shruti Haasan says.
Her spokesperson informed the media that, "Unfortunately, Shruti Haasan had to take a call not to be part of Sangamithra. Knowing it was a massive undertaking and a long commitment spanning over two years, she knew the importance of her training, a comprehensive script and proper date calendar. She hired and started training with one of best combat trainers April onward to make sure she was ready in time for shoot. Despite her enthusiasm and commitment to Sangamithra, she has had to give the film a miss since she had not received a proper bound script nor a proper date calendar. She is currently caught up with promoting her Hindi film Behen Hogi Teri, prep for Sabash Naidu and her musical associations."
After almost six months of spending time in London, Los Angeles and occasionally in India, Shruti Haasan is now back in India to promote her upcoming film Behen Hogi Teri in which she's paired with Rajkummar Rao. Directed by Ajay K Pannalal, the film has Shruti playing a Lucknowi girl — Binny — which she says is a first in her career in Hindi cinema. "The story is based on a chapter in the director's life, and my character is inspired by the life of the director's sister. So, the kind of love and focus he has for the character is special. It was a simple, heart-warming story with plenty of layers. It's a circumstantial comedy, which is close to real life, and I'm a big fan of the genre. To get comedy right in that sort of closer-to-reality comedy is always going to be a challenge, but that's something which we have all enjoyed very much," the actress says.
Shruti Haasan is all praise for the production house, saying that the makers stayed true to the director's vision, which made a lot to difference to the story. "We didn't want to do something just because it's in vogue right now. It's really great when a director wants to stay true to the genre and tell the story which he wants to tell, without thinking about what others are doing," she adds.
Although she's an avid traveller, Shruti has never been to Lucknow to shoot; however, director Ajay was keen on shooting Behen Hogi Teri in live locations, and that decision, Shruti says, helped her to get into the character a great deal. "It's not like other films where we build a set in Mumbai and then go to the actual location to shoot the exterior portions. We have shot in several authentic places in Lucknow. I can't even remember when was the last time I did something like this, where everything is set in such a real space. It contributed a lot to my performance and also understanding the character," Shruti confesses, "Lucknow has its own charm and it has several historic monuments which are scattered generously all over the city. One thing I noticed was how rooted it was in its culture. Right from the people, the food, the clothes to the way they carry themselves — everything felt so unique."
Ask her if she could relate to Binny at a much deeper level, the actress admits that she could see her younger self in the character. "I was a lot like her when I was young. Binny is fun and opinionated, vulnerable but tough, at the same time. I could relate a lot to that part of her life, but of course, the setting and her family is nowhere close to what I've experienced in my life. I think most situations in others' lives aren't like what I've been through (laughs)," Shruti quips.
From the trailer, it is obvious that the film revolves around the concept of how one man tries hard to escape being 'bro'zoned and Shruti adds, "It was lovely working with Rajkummar Rao. He gets the vibe right and the fact that people are talking about our chemistry says a lot about how much we enjoyed playing our characters." So, has she ever faced such a situation in real life? "No chance! But, I've been friendzoned plenty of times. But that was a long time ago," she laughs.
Find latest and upcoming tech gadgets online on Tech2 Gadgets. Get technology news, gadgets reviews & ratings. Popular gadgets including laptop, tablet and mobile specifications, features, prices, comparison.
Entertainment
Directed by Anurag Basu, Ludo also features Rajkummar Rao, Aditya Roy Kapur, Sanya Malhotra, Fatima Sana Shaikh in the film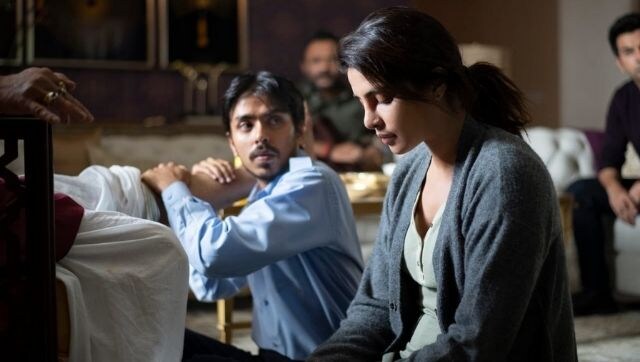 Entertainment
Priyanka Chopra describes Netflix's The White Tiger, based on Arvind Adiga's Man Booker Prize-winning novel, as a "powerful" film that will make viewers "uncomfortable"
Entertainment
Ravi Teja announced that the filming of Krack resumes today.