Shirish Kunder had this to say to a Twitter user who trolled him about his children's religion
Shirish Kunder is known to be quite the star on Twitter. The filmmaker seems to have the perfect quip to suit every occasion, all condensed into 140 characters.
We had yet another example of it when Shirish was trolled after he put up a perfectly lovely photo of his children — triplets Czar, Anya and Diva — and wife Farah Khan, at the Grand Canyon, on a recent family vacation.
No sooner had Shirish posted the photo — captioned "My family, proudly posing at the top of the Grand Canyon, after throwing me into it. No idea of time here. Is it 2017 yet?" — on Twitter that a troll promptly asked: "(Are) your kids Hindus or Muslims?"
Here's a snapshot of that exchange: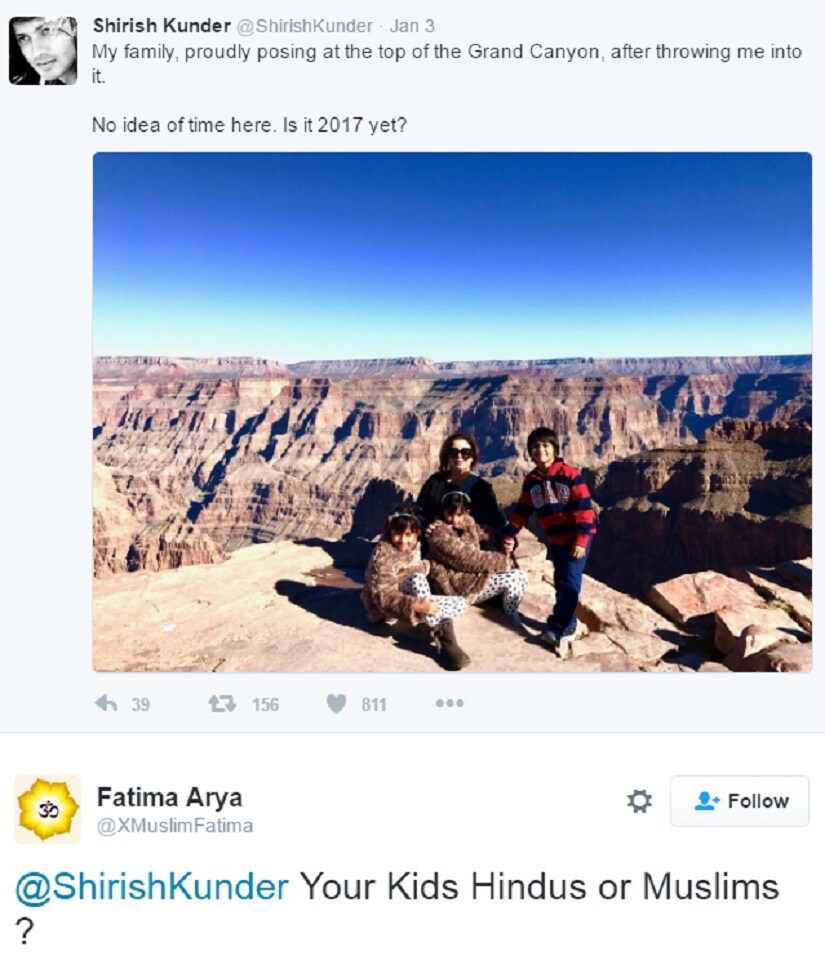 We suppose Shirish could have lost his cool at that not-so-innocuous question, but he chose to take the high route, and in a humorous way.
Here's what he said:
Depends on which festival is next. Last month, they were Christians. https://t.co/tvYl5n4ugX

— Shirish Kunder (@ShirishKunder) January 3, 2017
Shirish's riposte earned him several more admirers on Twitter. While some professed that he was their 'Twitter crush', others gave him a perfect 10/10 for that exchange, while still others hoped that trolls would take a cue and realise 'we are all humans first'.
Updated Date: Jan 05, 2017 12:42 PM