Sgt Pepper's Lonely Hearts Club Band: 50 years on, why The Beatles' album endures
There's an episode of The Wonder Years (that glorious coming-of-age show about growing up in the '60s) titled Rock 'n Roll that begins with a flashback to an eight-year old Kevin Arnold witnessing one of the most iconic moments in 20th century pop culture history — that moment on 9th February 1964 when the Beatles performed 'I Want to Hold Your Hand' on The Ed Sullivan Show, in what has been described as the performance that changed the world (or at least, changed America!).
For The Wonder Years, which used Joe Cocker's brilliant version of the Beatles' even more brilliant 'With a Little Help From My Friends' as its title song and had one of the best soundtracks of any TV show, this episode (with a call-out to Jimi Hendrix, the Stones, Clapton, The Who, and others including of course, the Beatles) plays out as an ode to the brilliance of rock music. More importantly though, it's an unabashed homage to the astounding-yet-totally-unsurprising-because-they're-so-damn-good longevity of the Beatles. As the last lingering glimpse of Kevin and his high school band The Electric Shoes (spoiler: the band breaks up soon after their debut performance at a classmate's birthday party) fades, we hear the narrator (the older, wiser Kevin) say, "What we felt in those years, the hope, the joy, the possibilities, the sense that anything might happen no matter who we were, will always be a part of us. After all, people said the Beatles would never last, and they were right….except of course they did."
Fifty three years after their invasion of American television and living rooms, we're now celebrating the 50th anniversary of Sgt. Pepper's Lonely Hearts Club Band, the Beatles' landmark album that is often considered the greatest rock and roll album of all time. Perhaps the greatest "art-rock" album ever. Half a century of its brilliance. What a time to be alive!
Fifty years since the world first heard 'Lucy in the Sky with Diamonds', 'A Day in the Life', 'When I'm Sixty-four', 'With a Little Help from My Friends', and nine other classics. Since Sgt. Pepper's...first released, countless wars have been fought, the Wall came down, music and entertainment consumption changed dramatically, John and George are no more, but the Beatles, their music, their sound, their legacy live on as if it were released just yesterday. Liverpool, their hometown, is understandably ecstatic and is diving head on into a three-week long celebration of the Beatles and particularly this album.
To understand the fanfare and fuss, we must understand what the album signifies. For Liverpudlians, the release of Sgt. Pepper's...months after the Beatles had permanently retired from touring, was, according to what Mike Jones (of the music institute at the University of Liverpool) said in an interview with The Guardian, "a way back for an almost burned out band, worn out by touring...The Liverpool connection is what these people needed to find out who they were again." The Liverpool connection is undeniable; but whether or not the Beatles needed it for this album is something we can't say for certain. What we do know is that when it released in June 1967, nobody had experienced anything like Sgt. Pepper's… Sure, there was The Beach Boys' Pet Sounds and sure, there was The Velvet Underground & Nico — the Velvet Underground's debut album that had released earlier that year, and was produced by Andy Warhol.
But to be honest, while Pet Sounds is deservedly attributed as being the first rock concept album and while it definitely proved that "a pop group could make an album-length piece comparable with the greatest long-form works of Bernstein, Copland, Ives, and Rodgers and Hammerstein," the fact that Brian Wilson's desire to make an album like Pet Sounds as the "complete statement" stemmed from his belief that the Beatles had already previously done so with Rubber Soul in 1965, is a bit disappointing. And when The Velvet Underground & Nico released, it became known more for its experimental nature and controversial lyrics (I mean, it was part of Warhol's Exploding Plastic Inevitable multimedia tour!) than any long-lasting legacy of its musical and artistic themes. Some people disagree; according to a quote attributed to their producer Brian Eno who, in a 1982 interview reportedly said while the Velvet Underground's first album only sold 30,000 copies during its first five years, "everyone who bought one of those 30,000 copies started a band." We don't really know the truth here.
On the other hand, the Beatles, and their impact with Sgt. Pepper's..., is much more evident. Often considered to be the album that marked the beginning of the Album Era, Sgt. Pepper's Lonely Hearts Club Band was (in 2003) ranked number one by Rolling Stone magazine in their list of 500 Greatest Albums of All Time. With 32 million copies sold worldwide, it's one of the highest selling albums of all time. As a pop culture landmark, the album epitomised the '60s (the drugs, the psychedelia and pop art, the lurid fashion and iconography, the obsession with mysticism) and rock music (the sound, the freedom from parental control, the disregard to previous generations) in all their glory. That's part of the legacy. More importantly though, among the many British groups that were impacted/inspired by the album is another small British band — named Pink Floyd. Yeah, I can't even say this with a straight face. Pink Floyd! Sgt. Pepper's Lonely Hearts Club Band inspired freaking Pink Floyd. Enviable cultural legacy, meet the Beatles!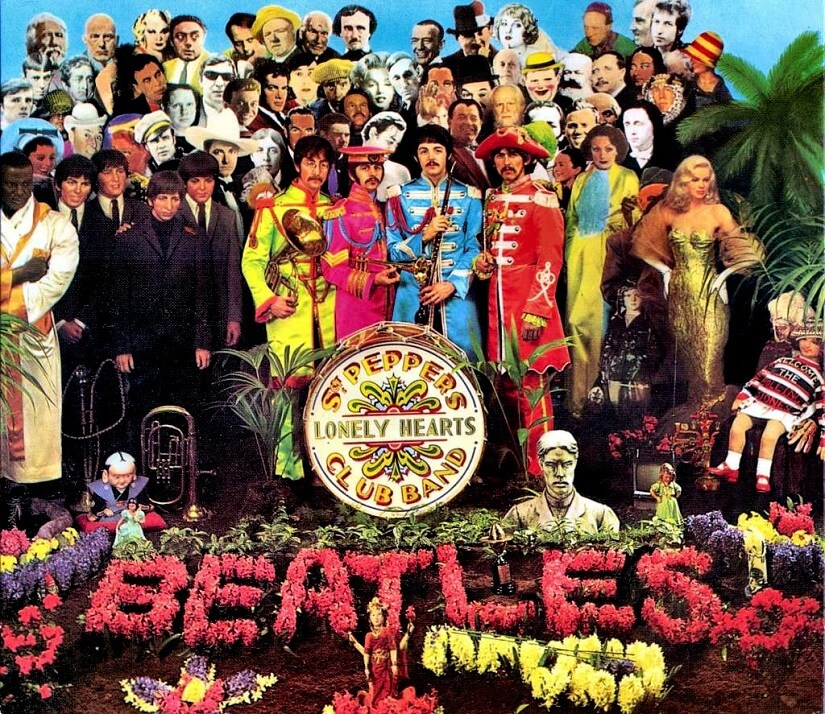 In the summer of 1967, Pink Floyd were already quite well known in the London underground music scene (they were performing regularly and drawing large crowds at the UFO Club), but this was pre-The Piper at the Gates of Dawn, pre-Syd Barrett's sad unravelling, and pre-David Gilmour. Jordan Runtagh writes for Rolling Stone (the magazine, in honour of the 50th anniversary of Sgt. Pepper's... and its deluxe reissue, carried stunning in-depth pieces for each of the album's 13 tracks) about the time the Beatles were recording Lovely Rita at London's Abbey Road Studio Two: "...Norman Smith, who had worked as the Beatles' engineer until the previous year..had since moved on to a production role, and was working in nearby Studio 3 recording the debut album for a brand new group: Pink Floyd." Apparently, Smith worked out something with George Martin so that "his boys" could go see the Beatles as they recorded.
He continues, "...Pink Floyd were overawed being in the presence of the Beatles. 'They were God-like figures to us,' drummer Nick Mason recalled in a 2011 interview with The Wall Street Journal. 'They all seemed extremely nice, but they were in a strata so far beyond us that they were out of our league.' He elaborated on the meeting in his 2004 memoir, Inside Out: A Personal History of Pink Floyd. 'We were ushered into Studio 2 where the Fab Four were busy recording 'Lovely Rita.' The music sounded wonderful, and incredibly professional....There was little if any banter with the Beatles. We sat humbly and humbled, at the back of the control room while they worked on the mix, and after a suitable (and embarrassing) period of time had elapsed, we were ushered out again'."
Pink Floyd recorded their debut album The Piper at the Gates of Dawn at EMI Studios (EMI owned Abbey Road Studios), pretty much next door to where Sgt. Pepper's...was recorded. Fans of both bands have observed similarities between 'Lovely Rita' and 'Pow R. Toc H.' (the instrumental from The Piper…) — especially "the dense, intricate layering of sound, the quirky vocal stylings, and fuzzy noise effects." Just listen to both songs one after the other, and you'll hear it. It's uncanny!
The deluxe reissue of Sgt. Pepper's...released in celebration of the 50th anniversary will include previously unreleased complete takes of all 13 album tracks on the original album; the deluxe CD and digital versions will also include a previously unreleased instrumental version of Penny Lane and two unreleased takes of Strawberry Fields Forever (both songs were slated to be on the album, but were excluded and released as double A-side singles instead, after pressure from EMI). A super deluxe box set includes all of the above as well a number of other unreleased or remastered goodies, including promo films for several tracks and a restored version of the rare 1992 documentary, The Making of Sgt. Pepper.
"Concept album", "avant garde", "musical sophistication", "classical musicianship" — over the years, many such adjectives have been used to describe the astounding artistry that went into creating Sgt. Pepper's Lonely Hearts Club Band. Now, numerous singalongs to With a Little Help from My Friends later, after seeing a not-entirely unrealistic movie character named Penny Lane on screen, and after countless arguments over whether Lucy in the Sky with Diamonds is about LSD or about Lennon's love of Lewis Carroll's Alice in Wonderland, what we're left with 50 years after the greatest art rock album (and quite possibly the greatest album ever, period) released, is the Beatles, their music and lyrics, the memories that we have of listening to their music and lyrics, and how they make us feel each time.
That feeling is very similar to what an adult (and fictional) Kevin Arnold felt in The Wonder Years, what Nick Mason felt in that Abbey Road Studio; it's a feeling a lot of us have experienced, whatever decade we grew up in, whichever town/suburb/country we lived in — that the Beatles wrote and sang about nearly everything that really matters in life. That they wrote and sang about it all before you ever even felt the need for it. And then, when you did feel the need to describe those emotions, you had their music and lyrics to help you.
In the end, artistic and cultural legacy aside, to a fan of the Beatles, it doesn't matter who Lucy is or who lovely Rita is. To a fan of the Beatles, the lyrics to 'A Day in the Life' aren't necessarily about the death of a Guinness heir or the drug culture, but instead, it applies to your uneventful morning routine and commute to work, and your wistful recollection of it later, as you sip your hot chocolate with marshmallows.
"Woke up, fell out of bed
Dragged a comb across my head
Found my way downstairs and drank a cup
And looking up, I noticed I was late
Found my coat and grabbed my hat
Made the bus in seconds flat
Found my way upstairs and had a smoke
And somebody spoke and I went into a dream"
It's knowing that the Beatles — John, Paul, George, and Ringo — experienced these things before you did, and feeling happy and joyous about it. Just like they intended for it to be!
Updated Date: Jun 04, 2017 08:47 AM