Secret Superstar's 10-day Hong Kong run steers Aamir Khan film's worldwide earnings to Rs 900 cr
Secret Superstar has dethroned the lifetime earnings of Aamir Khan's PK in Hong Kong to become the third highest grossing Indian film in the country.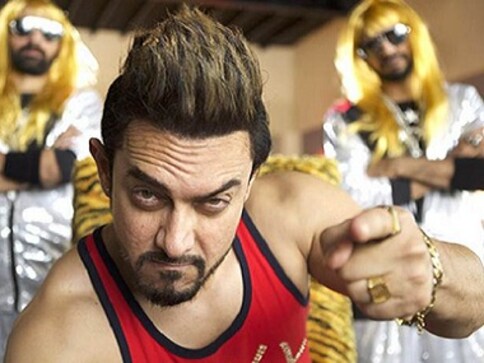 Secret Superstar has become the fourth Indian film after Dangal, Baahubali 2: The Conclusion and Bajrangi Bhaijaan to gross more than Rs 900 crore theatrical revenue worldwide, thanks to its excellent 10-day run in Hong Kong.
Fresh from the blockbuster success of the film in China this year, where it earned a cumulative gross of $118 million in one month, Secret Superstar landed in Hong Kong screens on 12 April following an overwhelming response from multiple preview screenings held during the first week of April.
The earnings from preview screenings alone totaled HK$2.43 million (Rs 2.05 crore) and provided an impressive debut for the film at the box office chart. The movie, which opened in 93 locations in the East Asian nation, debuted at the fourth position on the opening day, only next to Steven Spielberg's VR adventure Ready Player One, sci-fi thriller Pacific Rim: Uprising and Sony's live-action/animated hybrid comedy Peter Rabbit. The film registered an excellent opening day gross of HK$348,635, followed by a solid day two and day three earnings of HK$521,208 and HK$983,705 respectively. While the film witnessed nearly 32 percent growth on day two, it drew a splendid 48 percent surge on its third day.
The film breached the HK$1 million mark on Sunday, 14 April by raking in HK$ 1.06 million. The four-day opening weekend haul, including the takings from preview screenings, surpassed the HK$5 million mark, driving the Hong Kong total to nearly HK$5.4 million (Rs 4.5 crore). For the week of 9 to 15 April, Secret Superstar, with its total of HK$3 million from the opening weekend, outperformed Hollywood films such as Pacific Rim: Uprising (HK$1.09 million), Peter Rabbit (HK$972,479) and Tomb Raider (HK$ 272,823).
Secret Superstar was just HK$ 1 million shy of John Krasinki's word-of-mouth sensation A Quiet Place which also opened in Hong Kong on 12 April and pulled in HK$4.1 million from the four-day opening weekend. Dwayne Johnson's sci-fi monster thriller Rampage, which also saw the light of day on 12 April, led the box office chart with a mighty HK$9.4 million from the four-day weekend.
Now, the 10-day total of Secret Superstar – until 21 April – stands at a whopping HK$8 million (Rs 6.75 crore), taking the worldwide total of the film to Rs 900.75 crore. The Advait Chandan-directed film, which winded up its month-long-run in the Middle Kingdom on 18 February, was Rs 6 crore shy of the elite Rs 900 crore club which was then occupied by only two Indian films – Dangal and Baahubali 2: The Conclusion – before the Salman Khan-starrer Bajrangi Bhaijaan joined the list on 29 March when it dethroned Secret Superstar to become the third highest-grossing Indian film.
Bajrangi Bhaijaan finished its China run with a lifetime cumulative of $45.3 million (Rs 294 crore), which propelled the film's global total to Rs 905.3 crore. Now, Secret Superstar is just Rs 4.56 crore short of Bajrangi Bhaijaan to reclaim its spot as the third highest grossing Indian film. It must be noted that the Zaira Wasim-starring drama is also waiting for a release frame in Japan and South Korea, and will surely supplant the lifetime earnings of Bajrangi Bhaijaan at any cost. In fact, it will achieve the feat very soon if the film sustains the momentum for the next few days in Hong Kong, a country whose top grossing Indian movies feature Aamir Khan in the lead role.
As of 21 April, Secret Superstar (HK$ 8 million) has dethroned the lifetime earnings of Khan's satirical sci-fi comedy PK (HK$ 6.74 million) in Hong Kong to become the third highest grossing Indian film in the country. Dangal, which earned a cumulative gross of HK$27.08 million (Rs 22.15 crore) last year, and 3 Idiots, which accrued a lifetime total of HK$ $23.42 million (Rs 17.75 crore) when it released in September 2011, are the highest grossing Indian films in Hong Kong.
Aamir Khan participated in a host of promotional activities in Hong Kong last week to boost the film's box office prospects. He also made his presence felt at the 37th Hong Kong Film Awards on 15 April and presented the Best Actor trophy to actor Louis Koo Tin-lok.
Talking about Secret Superstar in one of his promotional interviews in Hong Kong, Aamir said, "What we are trying to convey to audiences is everyone should have equal rights. Whether you are a girl or a boy or a woman, you should have the right to independence of thought and action. The film is really about the empowerment of a girl child. I believe that we must entertain and engage the audience through different emotions. I think that's what good storytelling is all about. My attempt is always to entertain an audience and touch their hearts... make them laugh, make them cry and inspire them with characters and stories."
Entertainment
"Over 150 people involved in making the score," says Laal Singh Chaddha composer Tanuj Tiku.
Entertainment
Here are the three new on-screen power couples that we will get to see in upcoming films.
Entertainment
Lagaan won several honours, including eight National Awards. It was also nominated for the Best Foreign Language Film at the Oscars, becoming the only movie after Mother India to achieve this.