Search Party review: Nancy Drew meets David Lynch, this is the best show you haven't watched
An acquaintance from college disappears. You were never besties, or even such good friends really, but she was always nice to you. You politely smiled at each other when you passed by in the hallway. She even offered you her portable heater that winter when the heating in your dorm room was broken. So, guess you were kinda friends on a "connected on Facebook, following each other on Twitter and Instagram" basis, but not on "Netflix password-sharing" terms. She stopped tweeting or 'gramming a while back, but because you're a product of a disaffected generation, you hadn't noticed it.
The news of her disappearance came to you in a rather old-fashioned manner — you saw "Missing person" fliers all over town, with her face on it. You asked your group of friends about her, and none of them even remembered her much — but your friends have always been too self-involved. With their pretentious fund-raising and acting "careers". As if those are real jobs! But you're different, right? You're bothered by this disappearance. You want to help, do something beyond attending a candlelight vigil or starting a hashtag trend online. Maybe you'll investigate it — yes, that sounds like a plan. It's not like you have any previous detective or investigative skills, but you watch both Sherlock and Elementary (genius or not, you're sure you've picked up a few tricks), you've seen all eight seasons of Dexter (although you're hoping there's no psychopathic vigilante involved here!), and a bunch of the Scandinavian crime shows as well (weren't Linden and Holder investigating the disappearance and death of a girl in season 1 of The Killing... yeah, that was a great season!). So it's settled, you're going to investigate your "friend's" disappearance; that's what you're calling her now, and telling everyone you were — friends. It's exciting, kind of like being on your own TV show. Perhaps one like Search Party — the self-mocking new TV series about a listless millennial who tries to be a detective to find clues to unravel the mystery of her missing friend.
At first glance, you'd be forgiven for assuming that Search Party is like a pseudo-detective take on Girls — there are plenty of apathetic, self-involved millennials with multi-hyphenate jobs (you know, of the "model-actor-bartender-writer" variety) at brunches or rooftop parties in various trendy New York neighbourhoods. As a viewer, you don't really like any of them — we begin with Dory, our charismatic-yet-confused protagonist. She has what could only be classified as an insipid job — running errands for a rich older woman (who, in turn, seems to do nothing besides drink and redecorate her house). Dory (Alia Shawkat in a role very similar to her character in Broad City) is the quintessential millennial — she's spunky and inspired enough to want to make a difference, but clueless and unskilled enough to not be very good at it. In her quest to find her "friend" Chantal Witherbottom (named as if she were a millennial Wodehousian character), she enlists the help of Drew — her annoyingly man-childish boyfriend (John Reynolds) who lives with her, plays the ukulele, and works as an intern at a high-flying corporation where he spends his time sitting in a corner during meetings texting/reading on his phone. He's the scared, overly-sheltered guy who's afraid to intervene in a potentially violent fight between a couple in the apartment upstairs (when Dory, who wants to intervene, or at least report the disturbance, tells him that "something terrible could be happening", his appalling response is — "something terrible is always happening, everywhere." Yikes!). Completing the self-absorbed group of ragtag detectives are her friends Portia (Meredith Hagner) — a narcissistic and not-very-good actress born in an affluent family and wrongly cast as an immigrant Latino police officer on a not-very-good TV show, and Elliott (John Early) — gay, male, narcissistic, with a nobody-really-knows-what-he-does kind of job, and a backstory so loathsome it can't be made up (except that he does make it up!). The friends are utterly unconcerned about Chantal's disappearance, and indifferent to Dory's obsession for finding her. All of this is at first glance. And then Dory spots Chantal at a Chinese restaurant, and suddenly, this search is a lot more than a mere hobby for our detectives!
There's an urgency and darkness to Search Party's narrative that is understandably incongruous with the otherwise listless following of its main characters. The mocking of the millennial psyche is dealt with such acute self-awareness, that it feels far superior to anything Lena Dunham created for Girls.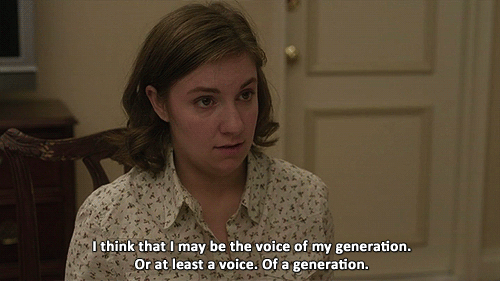 At the candlelight vigil organised for Chantal, her father stutters through a prepared speech — "I've been told to announce some hashtags for tonight's vigil. Pound sign, Come Home Chantal; and pound sign, I Am Chantal." Like a true millennial, Dory even finds an important clue about Chantal's disappearance through a Facebook video of her completing the Ice Bucket Challenge.
But beyond the cultural subtext and generational satire, Search Party is an existential dramedy — Dory's life (professional and personal) is so lacklustre, that searching for Chantal stokes something almost primal within her. For someone who's always been mousy and a pushover ("everyone can tell me what I'm bad at," she laments, "but no one can tell me what I'm good at"), Dory suddenly starts taking charge of her life and her friends, to an alarming extent. Whether it's following a suspicious cult (but then again, what cult isn't!) or hooking up with a PI hired by the Witherbottom family (Ron Livingston, as Keith), the line between the reality of Chantal's disappearance and the romantic notion Dory has in her head about being the one who will eventually find her (because, as she self-righteously believes, she's the only one who truly cares) is a blurry one. When Julian, Dory's ex-boyfriend and the only reasonable character on the show, unapologetically tells her, "I think you've decided that this matters to you because you have nothing else," she's hurt and angry. And you feel sorry for her, sure. But you also know it's true. It's a humbling thought and hits home hard for anyone who has ever invested more-than-required time and thought to something that isn't necessarily their forte, simply to make up for something else that isn't quite right in their lives.
So what is Search Party? An innocent generational satire? Or a deeper and darker exploration of generational ennui and apathy? With its unconventional brand of Nancy Drew meets Gone Girl meets David Lynch absurd surrealism, and on-trend humour, it's all of it. Do our investigating foursome behave any better as the series progresses? Not really. Case in point — Elliott drowns in the humiliation of his odious lie for a few hours, before his life-as-a-lie is pitched to a publisher by his agent (not really sure why he needs an agent) and ends up being picked for a book deal! It's not as cringeworthy as alt-right Twitter troll Milo Yiannopoulos' $250,000 memoir deal with Simon & Schuster's imprint Threshold Editions; but well, it's close. Do they find Chantal in the end? They do, and the circumstances under which they come across her are unexpected yet satisfying. What is Search Party, you ask? According to Daniel Feinberg of The Hollywood Reporter, it has characters on the verge of stereotype in a genre piece that's on the verge of parody, but by the tenth episode I found myself invested in Chantal's disappearance and even if I didn't like all of the main characters, I found myself sneering at them in a way I think they'd respect. Truth be told, Search Party is the best show you haven't watched. Go watch it now - you won't regret it.
Length: Ten 20-minute episodes.
Cast: Alia Shawkat, John Reynolds, Meredith Hagner, John Early, Brandon Michael Hall.
Watch it if: You liked reading Nancy Drew and Hardy Boys mysteries as a kid, or you like watching stuff in diverse genres, like Gone Girl and The Wrong Mans.
Interesting trivia: The episode titles are an ode to old-timey mystery novel titles — examples include, The Mysterious Disappearance of The Girl No One Knew, The Mystery of the Golden Charm, and The Secret of the Sinister Ceremony.
Updated Date: Jan 15, 2017 08:42:02 IST