Sayani Gupta on Jolly LLB 2: 'People have gone to see the film thrice because of me'
Sayani Gupta speaks to Firstpost about her stint in Jolly LLB 2, working with Naseruddin Shah and Shah Rukh Khan, and her next project, Jagga Jasoos.
It's not just Akshay Kumar, but the female characters in the satirical dark comedy drama, Jolly LLB 2, were also applauded.
One such character was the wonderfully-nuanced cameo by Sayani Gupta, who played Hina Siddiqui, a young Muslim woman driven to despair.  It's a small but pivotal and deeply impactful role, so much so that Sayani was lauded for her performance by some of the veterans from the industry. Twitterati in large numbers also poured their love for her.
Gupta has so far been doing a balancing act between commercial and art cinema. She has received critical acclaim for her offbeat and distinctive roles in films like her debut Margarita With A Straw (played the role of Kalki's love interest) and most recently Fan (as Shah Rukh Khan's secretary), however, Sayani doesn't take compliments or criticism seriously.
"I have never sat down to ponder over what others have to say because ultimately you know what you have done. Piyush Mishra (theatre and film actor, NSD alumni) called me few days back when I was shooting for Jagga Jasoos, and said while referring to Jolly LLB 2, 'I didn't know you acted so well.'  Lot of people are complimenting me on social media as well. Somebody told me that they went to watch the film thrice because of me. There are lot of people who said I made them feel for the part and I made them cry," says Sayani.
She continues, "My performance really moved my mother, and she is far too detached about the industry and not at all excited about the film world or what I am doing. She is not in favour of me acting and it was quite a struggle to convince her when I went to FTII (Film and Television Institute of India). Little by little, she is coming to terms with it but she would have rather seen me as an IAS officer or in a regular job."
"We are from middle class family and they didn't want their only daughter to get into films. Obviously there are certain perceptions about the film industry. My close friends never say nice things, they are always critiquing my work, but finally they felt that I was brilliant in Jolly LLB 2."
Strangely enough, Sayani has been getting offers for horror movies for last few years and she, too, fails to understand the reason for it. "Maybe they think I am a Bengali, I have big eyes..." she laughs.
While Sayani so far has rejected two offers post Jolly LLB 2 (as  she is "choosy", "instinctive", "and not ready for it"), she is certainly excited about her first international project, The Hungry, which is an Indo-British production starring Naseeruddin Shah and Tisca Chopra. The film, for which the actors were very selectively chosen, is directed by debutante filmmaker Bornila Chatterjee, who is an alumnus from New York's Tisch School of the Arts. The Hungry is an adaptation of William Shakespeare tragedy Titus Androcinus, which is believed to have been written between 1588 and 1593.
"This year marks the 400th death anniversary of Shakespeare. His stories could seem a tad hyper-real for this era, but this film is a realistic take. The script won at a collaborative cine-lab," says Sayani, further adding, "The film has a bunch of deadly actors. We shot for it in Delhi and Agra. The ambience on set was stimulating and since we all got along so well, it turned out to be a great shoot."
Recently, Sayani earned an honourable mention for the Best Actress award for her short film, Leeches, at the Indian Film Festival of Los Angeles  (IFFLA). In just two years of her career, she's also bagged one of the lead roles opposite Naseeruddin Shah with The Hungry. The actress considers it her privilege to act alongside 'Naseer', who was her teacher at the FTII.
"Naseer was very excited about his role after decades. He plays my father. He has been my teacher and lot of my understanding about acting and the craft is because of him. It was almost like reassurance of sorts when he would come to take our class. I adore him as a human being. He is fun to be around. He has always taught us how acting is all about reacting. He is a keen listener, which adds to the performance," she says, adding:
"There are two of the coolest men I have worked with – Shah Rukh Khan and Naseeruddin Shah. They are sensitive, they are aware, they don't take themselves too seriously. They are normal dudes."
So did Sayani take any advice from the two "coolest" men?
"Some of the things Naseer told me is: 'Learn your lines till you bump into a furniture. Know your lines backwards. Study the script well. Be relaxed and don't take things too seriously. Make it fun and light.' On the other hand, there's much to learn just by the way Shah Rukh carries himself. He is the most technically sound actor, I feel. His understanding, the cleanliness with which he does everything, his craft is solid. He doesn't show it. He is persistently hardworking and also the humility. He doesn't take his stardom seriously," she reveals.
Two of Sayani's "friends" from the industry are the erstwhile directors – Rajkumar Hirani and Vishal Bhardwaj. She may not have offers from them yet but she certainly takes their advice. "I don't talk work with them. Hirani often tells me that I should give people time after they have seen my film. I did audition for a part in Rangoon but Vishal told me that it won't be good enough for me. I would never ask them to cast me because that could hamper our relationship. Whenever they want to cast me, they will."
Sayani is currently shooting for Ranbir Kapoor-Katrina Kaif- starrer Jagga Jasoos which has been in the making for a long time. "When I signed the film I was playing the only narrator in the film. I had a separate track of my own. But since there is no script — Dada (Director Anurag Basu) doesn't work with scripts, he writes as he goes along — my role has changed. I will know what my part is only after I see the film. Also, it is a very difficult film when it comes to format. It is musical, it's a children's film, and it is not a normal narrative. I play a 14-year-old girl and that is all I know (laughs)," she says.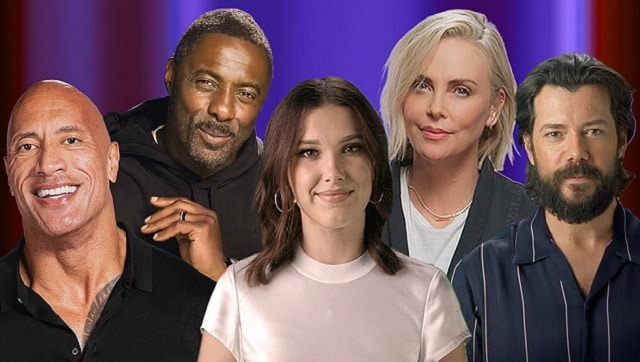 Entertainment
TUDUM: A Netflix Global Fan Event will be held on 25 September in a virtual format.
First Cricket News
IPL matches will be played at Dubai, Sharjah and Abu Dhabi with limited seating available keeping in mind the COVID protocols and UAE government regulations
Sports
A 26-year-old Lille supporter appeared in court Monday charged with "violence against a person holding public authority".