S Durga won't be screened at IFFI 2017; CBFC says film's title style violates rules
After a series of flip-flops, it seems Malayalam film S Durga (originally known as Sexy Durga) will not be screened at the International Film Festival of India (IFFI) 2017 after all.
The film was selected for screening in the Indian panorama section of IFFI by the jury, but was dropped from the programming by the Information and Broadcasting (I&B) ministry (one of the festival's co-organisers). The ministry's decision led to quite a row, and the director Sanal Kumar Sasidharan filed a petition in court against it.
The Kerala High Court then directed the IFFI organisers to screen S Durga, reiterating its ruling after an appeal by the I&B ministry. The court further said that the decision of the jury would be final.
Finally, the IFFI jury met on Monday (27 November) night to watch the film again, and cleared it for screening at the fest by voting 7:4 in favour of S Durga. However, with IFFI due to end the very next day, it was unclear if the film would actually be screened — despite the jury's go ahead.
It now emerges that the film will most certainly not be screened over Tuesday, 28 November — the last day of IFFI.
A letter sent from the Thiruvananthapuram regional office of the Central Board of Film Certification, dated 28 November 2017, states that S Durga cannot be screened at IFFI, or any other public event/venue, as it flouts Rule 33 of the Cinematograph (Certification) Rules, 1983. In the letter, Dr Patibha A, regional officer of the CBFC in Thiruvananthapuram, says that the U/A certificate was given to S Durga after the makers agreed to certain changes requested by the board, including the deletion of specific offensive words and a change of the film's title from the original, Sexy Durga.
The letter says that the officials of the CBFC were informed by the IFFI jury that the film's title card displays an 'S' followed by four oblong marks — meant to obscure the 'exy' — and then 'Durga'. This, the board argued, "has totally different implications" and "effectively undermines and defeats... the very purpose of title registration and changes effected thereby". Director Sana Kumar Sasidharan has been cautioned not to exhibit the film publicly until the CBFC reexamines the film.
Here's the full text of the letter from the CBFC to S Durga's makers: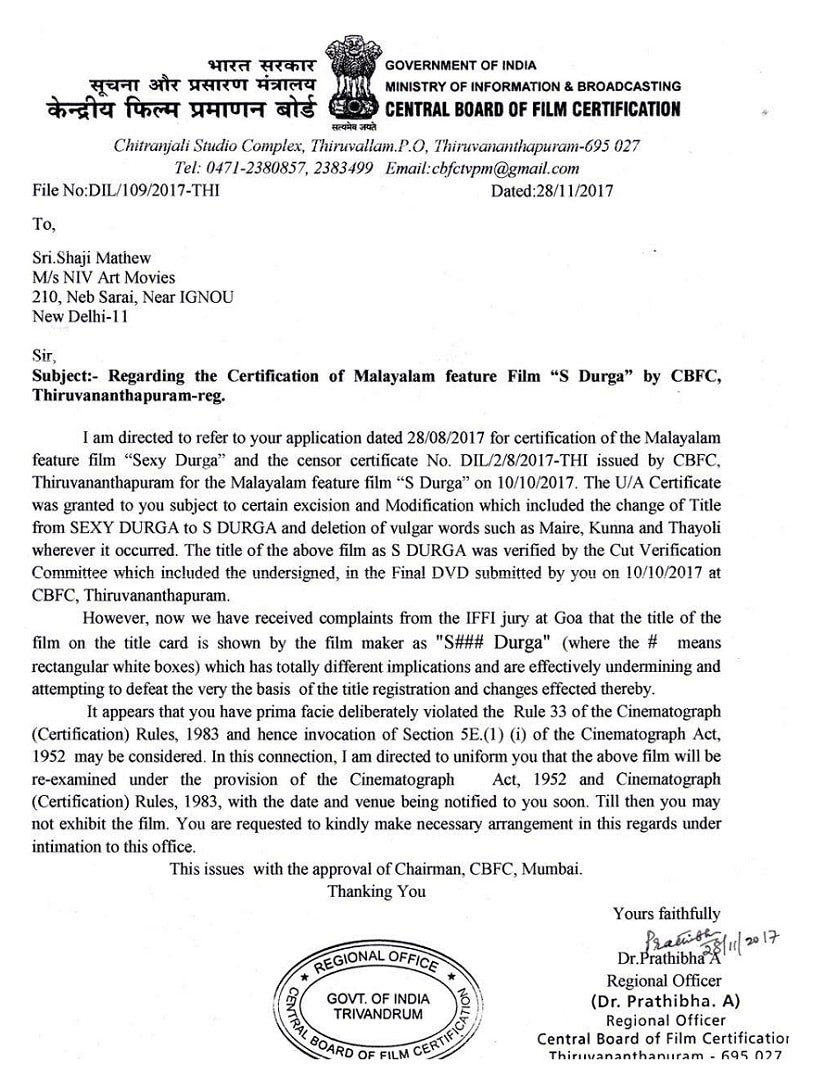 Updated Date: Nov 28, 2017 17:19:59 IST