Raveena Tandon on the Padma Shri honour: 'I do roles that suit my age'
In an exclusive interview with Firstpost's Lachmi Deb Roy, actor Raveena Tandon said, 'I am thankful that I had the privilege to work in both commercial and realistic cinemas.'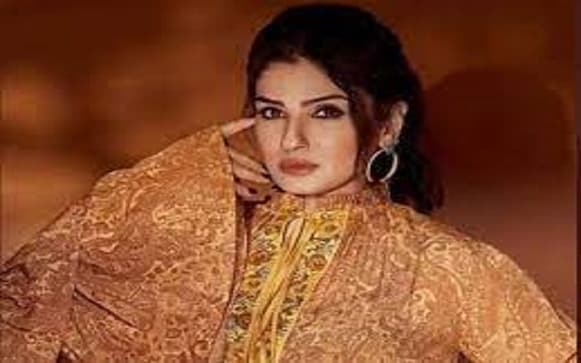 For actor Raveena Tandon winning the Padma Shri was like a cherry on the top. She considers herself to be one of those lucky ones who has a huge body of commercial hits and has done realistic cinema at the same time whether it was Satta, Ghulam- E- Mustafa, or Shool. She is thankful that cinema is changing and there is room for experimentation for the craftsmen. On a lighter note, Raveena is happy that SRK's Pathaan could bring people back to the theatres.
Excerpts from the interview:
Your first reaction to the Padma Shri honour…
The first person who informed me was actually the press. They said that the list is out and your name is there. This year for me was full of awards for KGF and Aranyak and each and every award that I have won for these two films from Filmfare to Dadasaheb Phalke International Film Festival Award, I thank God for it. And winning the Padma Shri was like a cherry on the top.
Woman's roles changing and now actresses are getting to play their age and yet do an important role. What do you have to say about that?
What happened in the nineties was that everyone would stereotype you.  I was one of those lucky ones who had a huge body of commercial hits and I did realistic cinema at the same time whether it was Satta, Ghulam- E- Mustafa, or Shool. Even Shool won the national award. Daman too won the National award. I have done a lot of films which were message oriented and plus my commercial films were also a big hit. I think some where I was able to strike a balance with both commercial and realistic cinemas. And I am eternally thankful to my audiences to accept me in both forms of cinema.
Another thing that I have noticed is that songs from films are eternal. The songs became great hit. I am happy that my contribution to realistic cinema has been recognised and commercially I think I did well too. In KGF 2, my role was very realistic and it was not the glamorous kind of role and in fact it was the hugest blockbuster in the history of cinema. It is the second biggest hit after Bahubali.
Making a shift from commercial to realistic film… How did it happen?
It was a conscious effort. Unfortunately, in the nineties when you wanted to do realistic cinema and prove yourself as a craftsman people just remembered you for your songs. Finally, in 2000, I stopped signing those kinds of films and started concentrating on films that challenged me as an actor. It started with started with Shool, then there was Ghulam- E- Mustafa and the journey just continued. I told that I will do roles that suit my age and I simply started rejecting roles that didn't challenge me. And thankfully cinema is changing and the web has brought about this change where people are actually looking at actors and the craft is not just dependent on a commercial box office outcome.  There is room for experimentation and a variety of stories can be offered now.
With Pathaan bringing back Bollywood its old glory, what do you have to say about that?
I am so happy that Pathaan could bring people back to the theatres. In fact, I tweeted 'Hamara Karan Arjun aa Gaya' (Our Karan and Arjun is back). I went for the 10 am show. It was a reason for the industry to rejoice again. And for SRK it was well deserved. He is such a wonderful person.
Last year we felt that Bollywood is losing its swag to South films… What is your take on that?
As far as South films are concerned we only get to know about the biggest hits. I am sure there must be at least five films that release every Friday, and it's only the super hit films come to us and we celebrate them. We don't get to know about the South films that didn't do well. So, I think it is a little unfair to categorise it like that. Honestly, if you ask me cinema is one. I hate these names like Bollywood, Tollywood, Kollywood, Mollywood, Lollywood. I think it's ridiculous. There is a Sandlewood also which is really funny. So, let's not give any names. If you ask me, we are kind of merging the state borders and we are all becoming Pan Indian actors now.
Read all the Latest News, Trending News, Cricket News, Bollywood News, India News and Entertainment News here. Follow us on Facebook, Twitter and Instagram.
Entertainment
Tulsi Kumar mentioned that all the songs in this series are dedicated to her loving fans and is a treat to them for all the undying appreciation and support that they have shown her throughout her career.
Entertainment
The moment the Twitter CEO posed this cringe picture, all sorts of reactions dropped in the comment section, from amusing to alarming.
Entertainment
Shahana shared that what drew her to the script was the way it portrayed the resilience and positivity of the Mahto family despite their hardships.