Pulimurugan to Take Off, Malayalam films are enjoying an unprecedented success
Malayalam films are enjoying their moment in the sun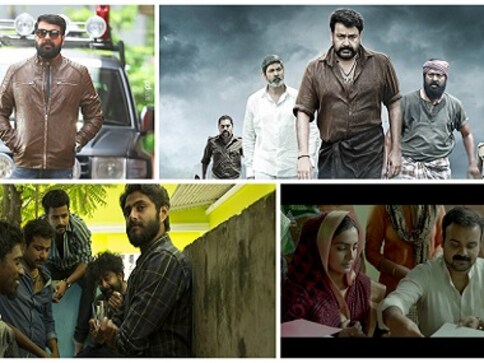 It is a good time to be a producer in the Malayalam film industry. It is even better to be an actor in a Malayalam film. And it is best to be a director of one.
The Malayalam film industry finds itself the subject of a renewed focus — especially with Mohanlal's Pulimurugan, which earned a whopping Rs 150 crores in box office collections, bringing attention to cinema from the south that isn't in the Telugu or Tamil language.
A big film doing well outside Kerala means that smaller budget Malayalam films get screening space outside the theatres too — such as Lijo Jose Pellissery's smash-hit Angamaly Diaries and Mahesh Narayanan's Take Off.
Angamaly Diaries was made for less than Rs 3 crore and in its third week at the theatres, collected more than Rs 8 crore in box office earnings. And we are still counting, as the makers of Angamaly Diaries have taken the movie to Mumbai screening halls and the who's who of Indian cinema have applauded the effort behind this delightful film, which has 86 newcomers and a 11.2-minute single shot climax sequence. Angamaly is a splendid tip of the hat to French noir and packs more than one solid punch — especially considering how little it cost to make this film. The revenue from the various regions, satellite rights and overseas market has certainly made its producer Vijay Babu and director Lijo Jose happy!
Take Off is another fine example where craft meets content, and leading lady Parvathy Menon shines in a role written just for her. Close on Take Off's heels is Manju Warrier's Aami, a biopic on the writer Kamala Das, being directed by Kamal. The first look poster of Aami has Manju — sporting thick glasses and big bindi — writing her lines in all earnestness. She looks every inch the part, which was initially offered to Vidya Balan.
So not only is it a good time to be an actor in a Malayalam film — it is a great time to be a female actor in a Malayalam film.
Nayanthara may rule the roost when it comes to Tamil cinema, but she is relegated to doing central roles which largely have only ghosts for company! Seldom will a Take Off be made in Tamil for the perceived fear of not having enough 'entertainment value' and having a heroine as the hero of a story-led film. Much like the multiplex movies in Hindi, Malayalam films also now seem to have found slots for each hero or each subject. For example, Angamaly Diaries is a great hit in India while Mammootty's The Great Father opened well overseas too. The opening of TGF, produced by actor Prithviraj, shattered all previous box-office numbers when it came to the first day collection (Rs 4+ crores plus). Mohanlal followed Pulimurugan with Oppam and Munthirivallikal Thalirkkumbol, all of which collected triple the amount of money spent on production.
Malayalam films today occupy a different space, enjoying a world-wide release, online marketing, social media support and more global stories, filmmaking techniques and production values.
One aspect of this upswing in the Malayalam film industry's trajectory is the increased remuneration for its actors. The actors, even the superstars like Mohanlal and Mammootty, have not hiked their fees to unreasonable limits (as in the case of Tamil stars, whose fees often match the entire budget of their films).  While Mammootty may not have had Pulimurugan levels of success this year, like his peer Mohanlal, he is prolific in his output, and there is a market for his movies which ensures a 'minimum guarantee' even if his films don't rake in the big crores.
Dileep, Prithviraj, Dulquer Salman, Nivin Pauly and Fahadh Faasil all have their 'markets' pencilled out and their films are made within those bounds. When Prithviraj makes a 'biggie', he ensures he produces these projects himself.
In the midst of the 'epic' scale that the Malayalam film industry seems to prefer these days, is a small film — Godha — the trailer for which has garnered a fair bit of interest. Starring Tovino Thomas and Wamiqa Gabbi, this film brings in a Punjab flavour to the Malabar coast.
One major reason for Malayalam films enjoying better reception outside Kerala is due to the careful sub-titling. Vivek Ranjit, who subtitled a rather difficult film in a local dialect like Angamaly Diaries, has set a good precedent for more such films to follow. He also subtitled Nivin Pauly's Sakhavu which released last week, and 1971 Beyond Borders.
The most recent announcement to grab the headlines is MT Vasudevan Nair's brilliant spin on the Mahabharatha, Randamoozham: Mohanlal posted a video on his Facebook page, in which he discusses the making of this film. The video has since gone viral. Mohanlal will also act in a CG-led film called Odiyan with Manju Warrier, directed by Shreekumar (who also helms Randamoozham) which will test the waters for such magnum opuses to made in Malayalam.
Entertainment
While Chiranjeevi's Godfather is the more hyped between the two films, it is Nagarjuna's The Ghost which carries the stronger pre-release reports.
Entertainment
Interestingly, two South Indian superstars Dulquer Salmaan in Chup and R Madhavan in Dhokha Round D Corner vie for attention in the Hindi belt in two suspense thrillers.
Entertainment
Chup doesn't have a single ounce of extra meat in its two hours and twelve minutes of intriguing storytelling. It is a cannily crafted super-smart serial-killer thriller about a florist's revenge on film critics.