Priyanka Chopra says she was offered Rakesh Sharma biopic when Aamir was part of it
Priyanka Chopra is touted to be playing the role of Rakesh Sharma's wife in the biopic Salute.
Bollywood's global sensation Priyanka Chopra is back in India after her year-long Hollywood break. While her plans for the upcoming year is not yet known, she has hinted at her stint in the much-awaited Rakesh Sharma biopic titled Salute that previously starred Aamir Khan. Now that Khan has opted out of the project citing creative differences, the future of the film is unsure.
Speaking to the Indian Express, Chopra confirmed Khan's quitting the film: "Aamir is not in the film now," she then added, "I have finalised two-three scripts. Now, I am left to make announcements. Yes, Rakesh Sharma biopic was one of them. I was approached for that film when Aamir was doing it. We were supposed to do in 2019. Now, I don't know."
There were speculations that Shah Rukh Khan might replace Aamir Khan in the film, but there hasn't been any official confirmations regarding the same, either by the Bollywood megastar or the makers of the film. Echoing the uncertainty, Chopra also said, "I don't know. I haven't got any confirmations. I haven't spoken to Sid or Mahesh sir. As soon as I know, I will see."
Chopra is touted to be essaying the role of the wife of India's most celebrated astronaut Rakesh Sharma. Had Aamir Khan continued with the project, it would have been the first time these two actors would come together.
Find latest and upcoming tech gadgets online on Tech2 Gadgets. Get technology news, gadgets reviews & ratings. Popular gadgets including laptop, tablet and mobile specifications, features, prices, comparison.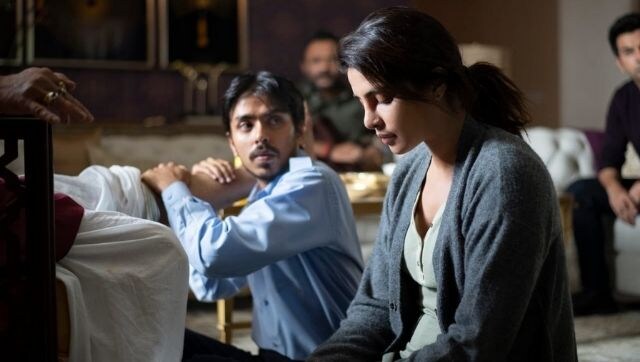 Entertainment
Priyanka Chopra describes Netflix's The White Tiger, based on Arvind Adiga's Man Booker Prize-winning novel, as a "powerful" film that will make viewers "uncomfortable"
Entertainment
Kareena Kapoor Khan and Saif Ali Khan got married in 2012 and are now expecting a second child together