Pooja Bhatt on releasing Cabaret online, working with Alia in Sadak 2, and making a documentary on father Mahesh
Pooja Bhatt says she is looking forward to assisting father Mahesh Bhatt in Sadak 2, where she will share the screen space with Sanjay Dutt and sister Alia.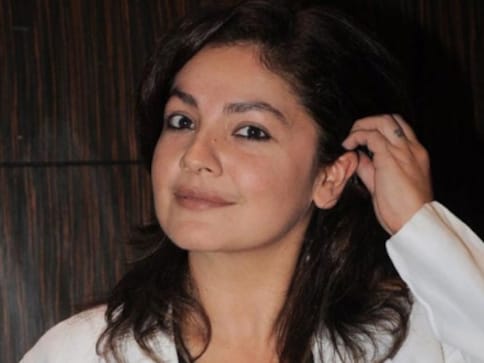 It is a significant year for Pooja Bhatt as both a producer and an actress. After being stalled for two years, her production Cabaret recently premiered on a digital platform. The actress-filmmaker, who began her career with tele-film Daddy (1989), will also get back in front of the camera after 18 years with Sadak 2, opposite Sanjay Dutt and alongside sister Alia Bhatt. But at the moment, she is more than happy to see the Richa Chadda-starrer on the web, and tells us why the film was not released in the theatres, what prompted her to go on an OTT platform, working on the Sadak sequel, a documentary on Mahesh Bhatt's life, and more.
A film meant for theatrical release is being streamed on the digital platform. Do you feel it is a step down?
It is not a step down. In fact, it is going to give this movie a longer shelf life. My launch happened on television with Daddy (1989) and people told dad (filmmaker Mahesh Bhatt) why are you launching your daughter on television, make a feature film with her, but he was adamant. He said the kind of story it is we want maximum people to watch it. It was not about the medium but the story has to reach the people. Earlier, he had also made Janam (1985, with Kumar Gaurav) for television, and someone who has treated the medium with reverence and respect it was my father. Which is why today when I release my feature film on a digital platform and people tell me that it should be ideally enjoyed on big screen, that is a compliment and that is what every filmmaker needs to keep in their mind as their yardstick and their bare minimum.  You cannot treat digital medium as a dumping ground and put some sub-standard stuff on it. This is an exciting beginning. I want to go back to my roots, I want to go back to that kind of cinema that my father is known to make, a simple story that moved the audience. I want to pick up bold, new and innovative subjects and break new grounds.
Digital medium is exciting but we have to give a lot more of ourselves to it. Just because you are a feature filmmaker, doesn't mean you don't step into this world. I believe in adding value to everything that I do. I don't think cinema halls are the holy grail anymore. It is exciting times. What I thought was a huge delay and setback for me has actually turned out in favour of the film, otherwise it would have come and gone and nobody would have known.
Why was the film delayed? It was supposed to release in 2016.
We completed the film and when it came to the release, we always have a P & A budget decided for every film and my budget was Rs 7.5 crore. It was bare minimum that you need for the film to make a dent in people's consciousness. My partner at that time wanted to the cut the budget to Rs 3.5 crore. Our promos were on air and our release date was finalised. If you don't have a basic to spend on marketing, there is no point releasing the film in theatres. I decided to hold my horses and see that the film sees the light of the day in a dignified manner. I decided not to comply saying I didn't want to release it badly. Today even when I am releasing the movie digitally, everyone knows that the movie is releasing, there are hoardings all across the town. It is not an apologetic kind of a campaign. We are willing to stand by our product that this is what we have made. If we had allowed it to come that way, I would have not felt good as a producer and for me, that is failure and not what happens at the box office finally.
Why made you cast Richa as a dancer?
I had to fight with everybody to convince them about casting Richa that she can deliver on the commercial front as well, that she can look glamorous and sexy.  People said she is a great actor but not hot enough and here she has got Cabaret under her belt and she has Shakila coming out soon. Shakila's poster thrills me. Everybody would say that she is a great actor, we have seen her in Masaan, in Gangs of Wasseypur but…and that 'but' hung in the air. Can she be the 'it' girl, can she pull off the title called Cabaret? I was absolutely convinced because sensuality comes in different forms. It doesn't mean wearing a bikini and walking down the street. Smita Patil was one of the most sensual women we ever had in the industry. She was sensual because that was the way she lived her life, her mind was sparkling. Similarly, Richa has got a mind that is alive and ticking. There is just one scene that establishes her of coming from Jharkhand and then she becomes this 'it' girl. I wanted someone who has a certain degree of Indianness and at the same time can transform themselves and be as comfortable wearing western clothes. A young girl sitting in Bareilly or Jharkhand who has dreams of making it big in Bollywood when watches Cabaret, she can say that even I can make it.
You have not acted for a long time, your last film, Everybody Says I'm Fine, was in 2001
That is because I was making films. Maybe I made an impact on people as an actor and I am very grateful for that. I was Alia's age when I produced by first film Tamanna. Then I made  Dushman,   Zakhm, Sur, Jism. I was enjoying myself thoroughly behind the camera and I have launched some fine talents in the film I produced, say someone like John Abraham. I have introduced both, musical as well as acting talent, some controversial and some not so controversial.
Life is now calling me back in front of the camera with Sadak 2 happening. We will start Sadak 2 shoot in April this year. I am glad when I am coming back to acting I am getting to play my age. I am very excited with more than anything else that I will be working with my father very closely. I will be assisting him something that I have never done before. I worked with him as an actor, producer, he has directed me, I have produced a film that he directed but I have never been his associate or assistant with him directing officially. It is going to give me memories that will be priceless. He will be back on set as director after so many years directing Sanjay Dutt, who is so dear to him, and Alia for the first time. These days we keep meeting because the pre-production is on.
I will be also acting in a web series based on Abheek Barua's book called A City of Death. The story revolves around an alcoholic female cop in her 40s, who is sent to investigate a crime of passion.
We have heard you are also working on a documentary on Mahesh Bhatt's life?
Yes, through this process of him shooting the Sadak sequel, I am also going to be filming him because I am compiling all the footage I have on him and I will be shooting lots more. I am working with great focus towards getting a documentary on his life ready. It will take me a year, two years, or three years... with a man like Mahesh Bhatt, you never know. 
Entertainment
Due to the subsidised budgets as per our contracts, the shortfall eventually got covered," the filmmaker added.
Entertainment
Now that the North-South divide has effectually dissolved, why not dig into the talent out there in the musical South like Devi Sri Prasad, Harris Jayaraj and of course M M Keeravani, who had a winning streak in Bollywood in the 1990s.
Entertainment
Recently, Alia also opened up on the same further adding that she doesn't want to 'torture or be hard' on herself due to the pressure of going back to being fit.