Oscars 2018: All you need to know about Best Picture nominees — a 'woke' survival guide for movie noobs
From the 'surreal cinematography' of Shape of Water to the 'gorgeous ending sequence of Call Me By Your Name, a guide to the Oscars 2018 Best Picture films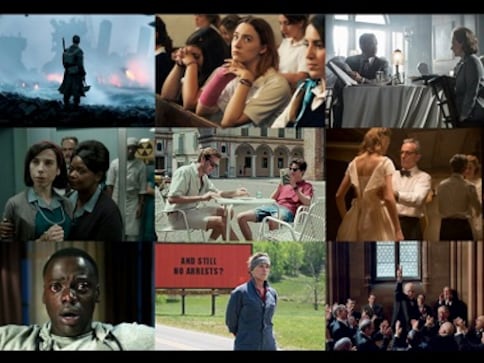 'Tis the Oscar season aka the time when movie buffs will endlessly argue over which director should take home the coveted Best Picture honour.
It is also the time when people who didn't watch any Oscar-nominated movies (Karan Johar fans) will feel socially incompetent. The signs? Feeling nervous, anxious and occasionally nauseous around passionate Oscars discussants. You will often here phrases like "I can't believe we won't be seeing Lewis on screen anymore" or "Finally, Ladybird has been nominated".
But worry not, we have a solution.
Because the struggle of non-watchers of Oscar-nominated movies is real, here's a guide to surviving the storm that is the pre-Oscar era is. From the 'surreal cinematography' of Shape of Water to the 'gorgeous ending sequence of Call Me By Your Name, here are words and phrases you could bring up in conversations and ace every Oscar discussion without looking like a  ¯\_(ツ)_/¯
Call Me By Your Name
Moonlight of white people.
This year, the academy has again embraced homosexuality by nominating Call Me By Your Name for Best Picture. While Moonlight (which won the Best Picture award last year) was a coming of age story of a black guy who overcomes poverty, while dealing with bullies and a drug-addict mother, Call Me By Your Name is about two white dudes lazing around (cough cough) in perfectly shaded places in the Italian city of Crema.
...which makes it 'groundbreaking'
The word for any art about homosexuality.
Sufjan Stevens
Everyone who hasn't renewed their Apple music subscription for two years will suddenly go gaga over Sufjan Stevens aka poor man's Ed Sheeran, who has been around for a long, long time. Rave about how the ending sequence of the film with 'Visions of Gideon' playing in the back was just what was needed.
Shape of Water
Cinematography
During every Oscar discussion, you will 100 per cent find cinephiles praise Dan Laustsen and his vision in reverential tones. The fantasy drama places itself in two worlds which stand in stark contrast to each other —the fanciful world of the fish-man and Elisa (Sally Hawkins) and their bathroom romance, and the Baltimore of the '60s amid the tensions of the Cold War.
Green = future
The most pretentious observation to brag about in Shape of Water discussions is the colour scheme.Del Toro told Indiewire in an interview that green is emblematic of an unsettling and pragmatic future "as seen in the lab, cars and Jello gelatin" whereas red is used to specify love and episodes of violence.
Del Toro's cameo aka your winning stroke
Be an xtra film buff and act like you knew it was Del Toro the moment you heard the fish-man breathe and there, you will be accepted into all underground film clubs with open arms.
Phantom Thread
Daniel Day Lewis
Prepare yourself to deliver a eulogy for the actor because even those who haven't heard of Daniel Day Lewis will go on a movie marathon to see what the deal is.
Method acting
Or precisely why Lewis' retirement is being treated like an epidemic. To prepare for Phantom Thread, he recreated a Balenciaga dress. From spending his days on a wheelchair to prepare for his role in My Left Foot to stopping from bathing to play an unkempt artist in The Horse's Mouth, his tedious, method-acting processes will be widely examined.
Oedipal obsession (a lit grad fav)
Lewis likes his mother a bit too much in the film, to the point that he starts turning into a man-child towards the end of the film. His obsession with Alma, too, has oedipal undertones since he starts looking at her in a completely different light after she nourishes him back to health. Blame it on Freud.
Dunkirk
Sound design
Comment on how your popcorn was shaking the whole time during the war scenes in Christopher Nolan's first history film and how you found the film an 'immersive experience' because of the sheer brilliance of sound editor Richard King.
Hans Zimmer and the Shepard tone
Oscar-winning composer Zimmer's prodigious talent reflects in the score of Dunkirk. His usage of the Shepard tone (which is key here) steadily builds intensity, indicating a remarkable climax. Drop the S word even if this is the first time you're hearing of it.
Harry Styles' debut
Talk about how Harry Styles should think of pursuing acting full time because now that One Direction seems to be a never-ending sabbatical, he could make something of his impressive debut.
Darkest Hour
The tube scene
The scene where Gary Oldman goes underground to interact with a bunch of jolly, multicultural people is fabricated. Way too indulgent. Books and reports over the years have indicated that Churchill was a bit of a racist, which makes it vital in social situations to argue passionately, about whether biopics should be devoid of additional drama and artistry.
Prosthetics
Japanese special-effects makeup artist Kazuhiro Tsuji was brought back from retirement into the movies to create Oldman's Winston Churchill. One of the greatest artists of his generation, his work makes Gary Oldman unrecognisable as Churchill.
Lady Bird
"A love letter to Sacramento"
Use this phrase for Greta Gerwig's gem of a debut and watch fellow film enthusiasts nod in affirmation. With realism as the foundation, the director manages to introduce the city as a parallel lead.
Teenage angst
Be prepared to hear this phrase over and over again. Saoirse Ronan's excellent portrayal of a rebel with little cause has landed her an Oscar nomination. Her continued dissatisfaction with living on the wrong side of the tracks and the constant reminders of lack of funds in the family is almost as if Lizzie McGuire took acting classes.
"Coming of age"
You can critique the lack of a crisp script but should not argue with the fact that it is one of best coming of age movies of all time. Also, do mention how Greta Gerwig is an asset for the industry because of the kind of films she's helming at this age (will score you points with the "woke").
The Post
Pay gap
Before you dwell into dissecting the movie, revive the pay parity debate. Fight for Meryl Streep. Say that she deserved to get if not more, then just as much money as Tom Hanks.
Freedom of speech, expression, the press
For your friends from the media, echo their sentiment about freedom of expression and how it's constantly under attack "in these times". Make it sound like you care about freedom of the press, your neighbour, his daughter, their dog.... "in these politically charged times".
Oscar bait
Be the non-conformist in the group and start a war by saying the film is clearly Oscar bait: Why else would you get Spielberg, Hanks and Streep together for a project which also, incidentally, released in the fag end of 2017? You can't cover this one up, Hollywood.
Get Out
Racial politics
If you're a woke millennial and an avid armchair activist, you've got to love Get Out. The film unsettles you because you're exposed to racism of the highest order. So even if you can't name four countries from Africa, a monologue about how horrific the politics of race is could get you massive points.
Genre-defying
You do not care for the genre because in the end, Get Out is Jordan Peele's truth.
Reverse Racism
Don't say it.
Three Billboards Outside Ebbing, Missouri
"A tale of redemption"
Sam Rockwell plays a white cop who is a full-time racist and part-time caricature. However, he has a change of heart after he is fired, forcing him to go on a transformative journey. End it with the classic — Villainy is redeemable, too.
Times Up
Another point that's going to be consistently raised in pre-Oscar banter is sexual assault and the way it's depicted in the film. After BAFTAs, the Times Up movement might descend on the Academy and 3 billboards might end up winning best picture.
Open endings
During intense Academy Awards debates, point how you absolutely love open endings like the one in 3 Billboards Outside Ebbing, Missouri (because then you have an excuse to conceal your unremarkable analytical skills).
***
Thank us, later.
(Ps: Don't forget to log onto Firstpost on March 5 at 5:30 for our live coverage of the 90th Academy Awards)
Entertainment
Pan Nalin's Chhello Show has been selected as India's official entry for the Oscars 2023 by Film Federation of India.
Entertainment
The scandal-hit Golden Globes, one of Hollywood's most important awards events, are to return to television next year, organizers said Tuesday, after being dumped by broadcasters and shunned by industry figures over ethics lapses.
Entertainment
As a young filmmaker, Vidhu Vinod Chopra was nominated for Academy Awards, way back in 1979. But at this point he was struggling to get his films made, and didn't even have the money to attend the Oscar ceremony.