Netflix orders season 2 of horror series Chilling Adventures of Sabrina; Kiernan Shipka starts shoot
Chilling Adventures of Sabrina besides Kiernan Shipka, also stars Jaz Sinclair, Michelle Gomez, Chance Perdomo, Lucy Davis, Miranda Otto, Richard Coyle, Ross Lynch, and Tati Gabrielle.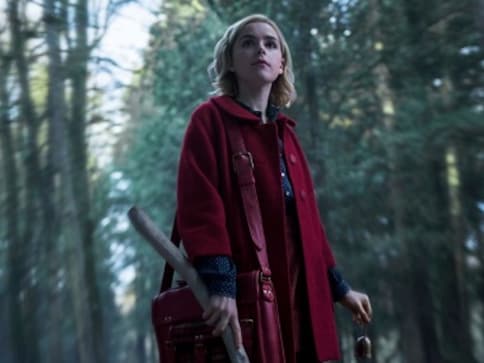 The shooting of the second season of Chilling Adventures of Sabrina is already underway. Kiernan Shipka, who plays the title role in the Netflix series, revealed the news in an interview with Bloody Disgusting.
"We went straight into the second season from the first and it's been really so exceptionally fun to film, especially given the fact that I feel like we're already in such a rhythm from coming out of the first season that to jump right into the second one was really, really fun and just a great opportunity to keep the momentum going.
"We definitely... Sabrina definitely changes and shifts a lot. Her growth is very evident and the second season definitely has a different spin on it than the first season. They're very different from each other," Shipka said.
Described as an empowered young woman, Sabrina Spellman, is just beginning her dark education as a sorceress, even as she tries to maintain a normal life as a sophomore at Baxter High.
Intelligent, compassionate, and brave to the point of recklessness, Sabrina is all that stands between "us and the forces of darkness that threaten our world".
Without giving spoilers, Shipka said the season one finale takes certain turns and certain decisions by Sabrina helps her make informed choices in the second season.
"The finale of the first season sets up a lot. It goes in a different direction. We see more different characters. It deals with a different side of things," she added.
Like its first installment, season 2 will also have 10 episodes.
Chilling Adventures of Sabrina started streaming on Netflix from 26 October.
Entertainment
The final season evidently shifts its focus from the Kim family, significantly unsettling your expectations out of the resolution.
Entertainment
Endangered African penguins usually arrive in November and stay for six months, mixing with humans as they go about their penguin tasks, which includes finding a nest and breeding
Entertainment
From Loki's depiction in the comics, the character's treatment in MCU, to the standalone Disney+ Hotstar Premium series releasing today, here's a comprehensive guide to the show led by Tom Hiddleston.