Chilling Adventures of Sabrina review: Netflix show humanises the teenage witch without losing trademark spark
Chilling Adventures of Sabrina is a binge-worthy series, despite some minor bumps, for those familiar with the character and those new to it.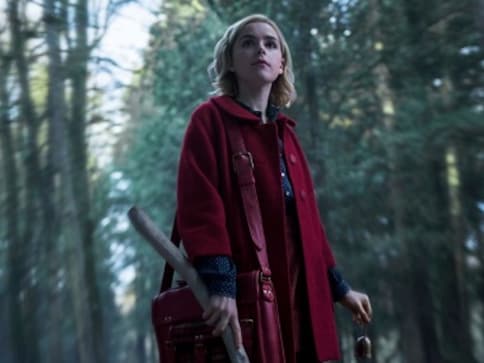 For most, Sabrina Spellman was the bubbly teenager with two kooky aunties and a talking cat. Her problems were relatable and whenever she countered a major roadblock, magic was the quick fix. Unlike the happy optimistic figure from the comic books and its other iterations, Chilling Adventures of Sabrina has the millennial golden haired, half mortal-half witch, played by Mad Men's Kiernan Shipka, face bigger troubles.
Penned by Riverdale showrunner Roberto Aguirro-Sarcasa, Chilling Adventures of Sabrina is a macabre and spicy reincarnation of a classic, somewhere between the aesthetic of American Horror Story Coven and Buffy the Vampire Slayer.
Sabrina 2.0 lives with her adoptive aunts - the bubbly Hilda (Lucy Davis) and the chain smoking, espresso-sipping Zelda (Miranda Otto). Her warlock cousin Ambrose (Chance Perdomo), who is under house arrest is also part of the pack. All three tend to the Spellman Mortuary, a rather morbid choice for a business. Her cat Salem is real, not the animatronic one we all grew up watching.
The cast is joined by Richard Coyle as Father Blackwood, the principal of a Hogwarts-like school, Academy of The Unseen Arts, where Sabrina has been enrolled. Blackwood seems to secretly conspire against the young witch possibly owing to a long held animosity against her late father. There is also the wicked Miss Wardwell (Michelle Gomez), Sabrina's teacher possessed by a demon, whose undying devotion to Satan reminds one of Bellatrix Lestrange. If it were not enough, the series also has the Weird Sisters, a trio of bullies, led by a witchy Regina George named Prudence (Tati Gabrielle).
In the first episode itself, Sabrina is faced with a dilemma – to leave behind the mortal world with her doting, dopey boyfriend Harvey (Ross Lynch), friends Ros (Jaz Sinclair) and Susie (Lachlan Watson), in order to embrace Satan and become a full witch. Except, she is not at all sure whether she wants to do that. Sabrina defiantly questions the path laid down for her, unwilling to adhere to tradition just for the sake of it, because she has a lot to lose if she chooses one way over the other.
Shipka has once again proven her acting chops as the strong-willed, outspoken Sabrina, who has just enough naivety of a 16-year-old. However, the writer seemed to have pushed to make her seem like an ideal heroine, who can never falter. And in all honesty, her human life is a little uneventful, or maybe being a regular mortal really is that mundane and boring. Also, Sabrina's relationship with Harvey relationship is sickly sweet and plateaus after a point.
Davis and Otto are a delight to watch on screen and have a typical hot and cold sibling relationship. "She annoyed me, so I killed her and buried her in the yard," Otto's Zelda tells Ambrose.
The series does not shy away from issues relevant to the current climate like the perils of blind faith, organised religion and of course, patriarchy. The first three episodes may seem like a drag as they circle around Sabrina's struggle to retain control over her soul, but pick up soon after.
Chilling Adventures of Sabrina is a binge-worthy series, despite some minor bumps, for those familiar with the character and those new to it. Do not skip the impressive opening credits that combine elements of the modern rendition with pulp magazine-inspired graphics. The show also has a brilliant, spooky soundtrack, with a particularly haunting cover of Donovan's 'Season of the Witch'.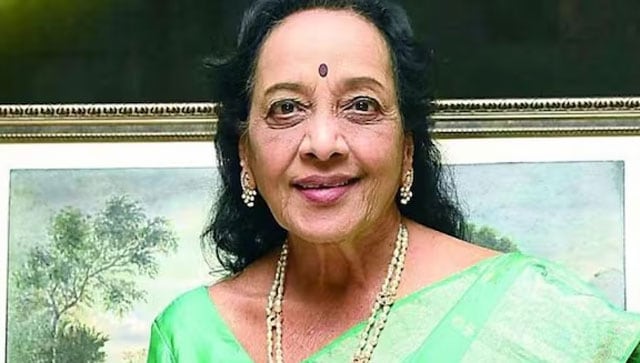 Entertainment
She had won the Filmfare award for Hindi Film 'Milan'. Some of her iconic films include 'Missamma', 'Gundamma Katha' and 'Sri Krishna Tulabharam'.
Entertainment
Meghan and Harry have been accused of "blackmailing" the Royal Family amid rumours around the release of a second book by the Sussexes. On the other hand, they no longer enjoy the support they used to receive from the American public following their constant attacks against the royal family.
Entertainment
Malhotra brings a sense of mischief to his body language as the twinkled tailor 'soldered' spy. He is supposed to play a Hindu Indian soldier masquerading as a Muslim tailor in Pakistani, hence the body language suggests a certain amount of artificial posturing.