Marvel's Ant-Man and the Wasp early reaction: A 'total blast' but don't go looking for answers to Infinity War questions
Ant-Man and the Wasp premiered on 22 June and the early reaction from critics and fans are out.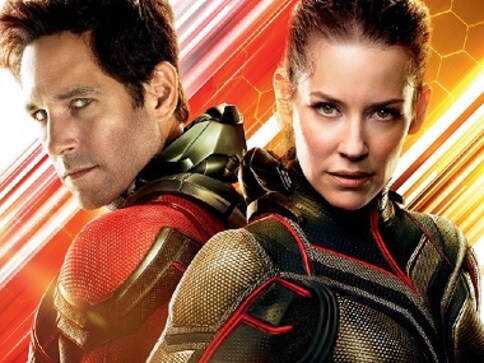 Ant-Man and the Wasp premiered on 23 June and the early reaction from critics and fans are out. And the verdict is promising with 'fun' being the most widely used adjective to describe Marvel's latest ride. Many claimed they "had a blast" and also praised the special effects and the "charm" of its supporting characters.
The Marvel film, directed by Peyton Reed, is a sequel to the 2015 blockbuster Ant-Man. It features Paul Rudd as the titular superhero and Evangeline Lilly as the Wasp.
IGN's Terri Schwartz said: "It's super funny, which is its greatest charm. Very personal, small-scale story (again) and definitely focused on being light and family friendly. Evangeline Lilly is a badass, and Scott's daughter Cassie steals the show."
Perri Nemiroff of Collider said the "highly entertaining ride" made her "laugh herself to tears at one point."
Mike Ryan, senior entertainment writer at Uproxx, said the film is "for sure an upgrade from the first film," which he claims he wasn't a big fan of.
Slash Film's Peter Sciretta praised the film's "fantastic miniature/maxature action sequences" but advised fans to not "go in expecting to get answers to questions from Infinity War."
Collider's Steven Weintraub said Marvel Studios has "yet another winner" and praised president Kevin Feige for "making it look so easy when we all know what he's done is next to impossible."
Other reactions:
#AntManAndTheWasp is a freaking blast! Absolutely hysterical and the effects a incredible!!! Definitely see it in 3D! Also, my fav Stan Lee cameo ever! pic.twitter.com/C0oadNWz6M

— Jenna Busch (@JennaBusch) June 23, 2018
Not surprisingly, I loved #AntManAndTheWasp . It's funny and weird and delivers a kind of action that just doesn't exist anywhere else. What's more, it has excellent 3D that works perfectly in tandem with the size changing. — Silas Lesnick (@silaslesnick) June 23, 2018
I always have some nitpicky, snarky crap to say and I'm coming up empty with #AntManAndTheWasp. It's a darn blast. I laughed SO much and... pshttt... where there's a good man, there's an even better woman 🐜 pic.twitter.com/nM5aOgkHdz

— Remake Ash Crossan (@AshCrossan) June 23, 2018
A tiny take: #AntManAndTheWasp was a total blast. Romantic, energetic and a lot of fun. @MrPeytonReed left unchained and left to his own devices is glorious and totally bonkers and brilliant. pic.twitter.com/QZ8okR76eG — Drew Taylor (@DrewTailored) June 23, 2018
Michael Douglas too will be reprising his role of Hank Pym in the film. Also featuring Michael Pena, Walton Goggins, Bobby Cannavale, Judy Greer, Tip "T.I." Harris, David Dastmalchian, Hannah John-Kamen, Abby Ryder-Fortson, Randall Park, with Michelle Pfeiffer and Laurence Fishburne, Ant-Man and The Wasp will hit the screens on 13 July in India.
Entertainment
Ek Duaa is a brave attempt to showcase women's agency over their bodies but falters due to bad acting performances and a wafer-thin plotline.
Entertainment
Adapted from the 2010 graphic novel Sandcastle by Pierre Oscar Lévy and Frederik Peeters, Old features Gael García Bernal, Vicky Krieps, and Rufus Sewell
Entertainment
Critics are all praise for The Suicide Squad, claiming it has a 'nasty enjoyable vibe which eludes its predecessor'