Marky Ramone on his NH7 Weekender gig, and why he doesn't like being called a 'rock star'
Marc Bell, more popularly known as Marky Ramone, the drummer of the legendary American punk band The Ramones, will play on 10 December, Day 3 of the three-day NH7 Weekender Festival in Pune.
Marky Ramone can make a mean chicken vindaloo, he announces, and he hopes his trip to India will give him ample opportunities to sample exactly how it's made in India. "And biryani too. Indian cuisine has got to be my favourite. Followed by, maybe, Thai. The spices, the combination of flavours, everything about it makes it such a delicious cuisine," he adds. Marc Bell, more popularly known as Marky Ramone, the drummer of the legendary American punk band The Ramones, will play on 10 December, Day 3 of the three-day NH7 Weekender Festival in Pune.
His penchant for the gastronomical experience isn't limited to Indian food though. He has his own line of pasta sauces and craft beer too. Marky's been a teetotaller for over 30 years but that hasn't stopped his love for beer. "I have a beer taster to do the job for me. Tasting is also an olfactory process, and I love being a part of it. The proceeds of the sales go to charity," Marky says. Today, he admits, being a part of the brewing process is not tempting to the sobered up rocker. In 1984, he was asked to leave the band following many a drunken incident. He took a few years off to focus on getting his life back on track, rehabilitating himself and even working as a delivery man on a bicycle to be in touch with people from all walks of life.
"I reached a point when I couldn't honestly handle the hangover headaches anymore. I realised that it was getting too much to work through the headache and then have to perform. After all, how many nights can do beer here, beer there… it takes its toll on you," he says, candidly. He has written extensively in Punk Rock Blitzkrieg: My Life as a Ramone about his time with the band, how it was to step away from it, and how tough it was to come back sober when the others in the band were experimenting with other chemicals and substances.
"I had to keep telling myself 'Do you want to go back that road?' When I look at that part of my life, I can't believe I even lived through it! Writing it down for the book brought back so many ghosts and skeletons of the past. It wasn't easy to pen those memories but without them, my journey in the band and otherwise would have a completely different perspective," Marky adds.
The Ramones are widely credited for being among the pioneers of the punk rock movement, defining what the sound of the genre would be like, what a punk musician was to be and what the attitude of the genre would be. Marky joined the band in 1978 after his stint with Dust, a heavy metal band of the early '70s. His drumming style was customised from heavy metal to punk, lending the band its distinctive sound and rhythm. His time with Dust, Marky says, opened a whole new world for him.
"There were very few heavy metal bands in America back then. When I joined Dust in 1969, the songs were written and ready. We hadn't heard of Black Sabbath until the following year when they came to the States. Our album ended up releasing a year later in 1971. We were very technical. We rehearsed every day. We were too young to tour; I joined the band when I was 15! We'd hang around outside CBGBs, and that's when Tommy (founding member and then drummer) asked me to join The Ramones," he recalls.
The Ramones required a different percussion palette at the time. Critics believe that they were looking to garner more airplay, and this meant narrowing down on sounds with a wider reach. Marky's heavy metal background came in handy to give The Ramones a heavier, hard rock energy. He gave Road to Ruin a fuller sound, shifting his drumming techniques to suit the genre. "It meant adapting to a different musical aesthetic, incorporating different time changes and accents in my playing. At the time, there was stiff competition. Van Halen was around, and although they weren't punk, their drumming was heavy. Then from London, we had The Clash who also had similar drumming. When I took over from Tommy, I realised I needed to tighten the snare drum a fair bit. When I look back, I see that this is the band that gave punk rock its blueprint. There were others who preceded us, who were still experimenting with sounds and styles. We put down what ought to construe as punk. The Ramones were all about the energy, the humour, the lyrics, the sound and the attitude," he says.
Over the years there have been many other punk bands that have come and gone, few have had the lasting impact that The Ramones have had. Today, the idea of punk has changed, feels Marky, and that reflects in the music. "It's gotten very gentrified; tattoos, ripped jeans, studs, spiky hair, the works. It has become more important to look like one than be a punk musician. It's probably also reflective of the times we live in; when music is consumed more visually than lyrically. New York in the '70s was not a great place to be. There were a lot of homeless people grappling with rampant economic issues. Being punk had a lot more to do with the lyrical content of the genre than the visual," he rues.
The ingredients of the genre irrespective, Marky prefers to focus on being just another guy around the block. He's unabashedly candid about his life, particularly dismissive of the "rockstar" title and effortlessly entrepreneurial. "I dabble with cars, with beer, with food and with music. I love being financially and emotionally invested in these things that bring me great joy. I don't like being called a 'rockstar'. I know too many obnoxious ones that reject the very audience that has exalted them. I'm just a regular guy who loves his drum kit."
Entertainment
The six-part docuseries is as much for musicians as it is for music lovers. Without taking any strong sides, it explores the symbiotic relationship between a raw creative process and the digital prism through which it emerges.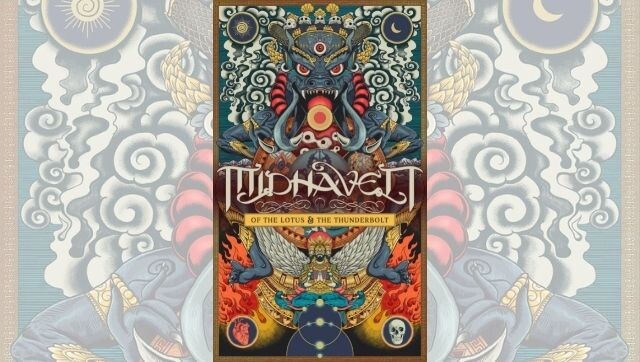 Arts & Culture
This notion of time being infinite and circular, of everything repeating itself, is the core concept around which the metallers have built their latest album Of The Lotus & The Thunderbolt, using music to explore their curiosity.