Koffee With Karan season 6: From Taimur Ali Khan to Russo Brothers, guests who need to grace the couch
With media abuzz on the announcement of Koffee With Karan season 6, Karan Johar's celebrity talk-show has everyone guessing the intended guest line-up
Koffee With Karan recently announced its sixth season with an appropriate tagline of the boy who asks all the 'wrong questions'. With the media abuzz, Karan Johar's popular celebrity talk-show has everyone guessing the guest line-up for this season. From real-life couples to sworn enemies, Koffee With Karan's (in)famous yet coveted couch has made almost everyone spill the beans. Here's a wish-list of personalities that ought to grace the chat show.
Couples:
Anthony and Joseph Russo 
The Marvel Cinematic Universe witnessed a watershed moment with Avengers: Infinity Wars. From praises to more praises, the Russo brothers' work has been lauded by most. Them being one of the first choices is hence a no-brainer. But Koffee With Karan is hardly about being a standard praise-a-thon talk show. Avengers star tantrums, alleged break-ups, ego clashes between actors — all the skeletons in the closet will be meticulously brought out by Johar on the episode with the two brothers. Karan might ask them to do an impromptu charade of mimicking Chris Evans or Robert Downey Jr. Fates of superheroes (mostly, the ones who are dead) in the next Avengers film will be the main talking point (care to join the 'Bring Loki back' petition, anyone?). For the final cherry-on-the-cake moment, they could be asked to calculate a simple math problem. Yes. You heard that right. They could be asked the percentage of the total earnings of all female characters and how much lesser it is than the males' in the film.
Kangana Ranaut and Sussanne Khan
The show could include a sequence where these ladies are asked to do the hook step of famous songs like 'Ek Pal Ka Jeena', 'Main Aisa Kyun Hoon' or 'Kaho naa Pyaar Hai' especially since you know...well...the two ladies have had common interests in Greek gods and the ilk. Karan could play a quick round of 'Never Have I Ever' with the Ranaut and Khan, though his lie-o-meter might go into overdrive. Kangana and Sussanne could also play a quick round of 'Who Knows Their Partner Better' especially since the makers would only have to make one questionnaire.
KRK and John Oliver
Koffee With Karan fans will rejoice at this Koffee coup when two of the most intelligent minds grace the couch, aka, actor, director, producer, writer, film critic and television personality, Kamaal Rashid Khan and John Oliver, who in comparison, is just another average talk show host with five million followers on Twitter. The stalwarts could discuss a plethora of topics ranging from political insights into global geopolitics to devotional singer Anup Jalota's poetic career. However, a strong hunch says that Oliver's quirky one-liners on his recent Emmy win and his harmless take on Donald Trump's presidency will be shrouded by Khan's 'two rupees person'(all the pun intended).
Luv Ranjan and Swara Bhasker
Most of Luv Ranjan's films have two things in common— Kartik Aaryan and the cringey female-bashing at its core. On the other hand, Swara Bhasker is a proponent of feminist ideologies (like everyone should be), who has never shied away from sharing her stance with the rest of the world, most often via Twitter. It is an understatement to say sparks could fly (and not in the romantic sense at all) when both personalities with thoughts belonging to the opposite ends of the spectrum, clash. The feminist in most of us is sure to back Bhasker in case a verbal duel ensues between the two.
Taimur Ali Khan Pataudi and Laksshya Kapoor
These two will break the Internet with their appearance on the show. Being one of the most media-hailed personalities of his times, Taimur could give Laksshya tips on how to become more paparazzi-friendly.  The two could give Karan and thereby, the audiences, an insider's view on nepotism and how difficult their lives generally are. From monologues on how they never 'chose' this life, to the absolute horror of days they need to hang from the awkward laps of their respective nannies and still smile for the shutterbugs, the two can bare it all—#struggle.
Singles:
Diet Sabya:
Having taken the internet by storm with keen observations and guts to call out fashion plagiarism, Diet Sabya is a must on Koffee With Karan. The anonymity will end and the person who has enthralled millions will come before the camera. He/she could be asked to provide fashion tips to stars in need. A brief tête-à-tête on which celebrities wear copied designs may just be an added bonus. Fans will not be surprised if Diet Sabya's remarkable reveal proves to be Johar's alter-ego. Being a fashion-conscious celebrity, Karan is often known to be in tandem with the latest fashion trends and brands.
Hannah Gadsby
Koffee With Karan ought to invite this comedienne anyway, irrespective of this list. In this special episode, the show could break out of its glassy sets to shift to a cozy cafe where the two could chat and share life experiences and Johar could draw inspiration from Hannah's spunk. The episode could have a fun but honest question-answer round where Gadsby asks Johar questions on his films like Kal Ho Naa Ho, Dostana, et. al. which promote homophobia for quick laughs. It would be rather interesting to see the director on the spot for a change.
Taher Shah
Taher Shah's appearance on Koffee With Karan will most definitely hike the TRPs. The man, in all his glory, could perform one of his Grammy-worthy numbers (personal favourite being 'Angel Song') while Karan calmly sits and introspects his life choices which led him to witness this miracle. Shah could also give fashion tips to Johar on pairing purple velvet gowns with tiaras and sparkling cardboard angel-wings. Karan could also enquire about Taher's secret behind his lush, thick mane, which has often aroused insecurities among many-a-woman.
Bigg Boss
For 12 seasons, the man has intrigued one an all with his rich baritone, uttering perfect Hindi and instructing celebrities to conduct themselves according to the rules set by him. It would be interesting to watch Bigg Boss interacting with Karan, in his trademark third person style. He could even make the host perform for him, since ain't nobody who could not do what "Bigg Boss Chahte Hain". Karan could, in turn, ask him about all the controversies inside the show for when the camera's are not switched on...sorry...when the creators are not busy 'editing the show well'.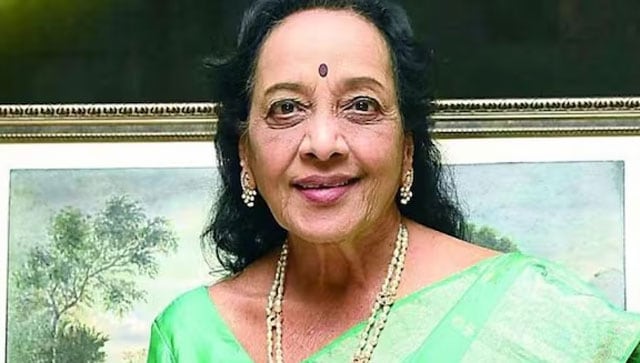 Entertainment
She had won the Filmfare award for Hindi Film 'Milan'. Some of her iconic films include 'Missamma', 'Gundamma Katha' and 'Sri Krishna Tulabharam'.
Entertainment
Taking to his Instagram, Karan Johar shared a short glimpse of his party. While remaining behind the camera, he pans it out to show Farah Khan dressed in a pink outfit with a 'Minnie Mouse' hairband on her head.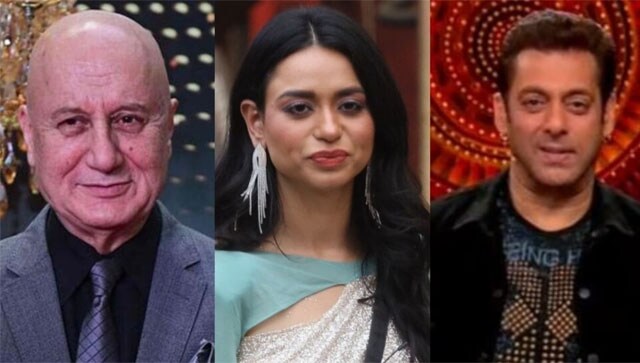 Entertainment
Taking to Twitter, Kher shared the aforementioned video of the 'Weekend Ka Vaar' episode and recalled Soundarya's journey from being a doctor to becoming an actor with dignity.