Kangana Ranaut pays homage to Fearless Nadia in Rangoon: A look at the Hunterwali's films
A look at some of the films of Fearless Nadia, the original Stunt Queen of Bollywood, who seems to have inspired Kangana Ranaut's character in Rangoon.
The trailer for Vishal Bhardwaj's new film Rangoon shows a whip-yielding, mask-wearing Kangana Ranaut as a leading lady in the hindi film industry during the second World War, as Shahid Kapoor and Saif Ali Khan compete for her affections.
It is very evident to film buffs that Ranaut's portrayal of an action heroine in the '40s in Bollywood is inspired by Fearless Nadia. Though Bhardwaj denies that the film is a biopic of Nadia's life, and that "it certainly doesn't follow the life of any of the various actresses of that era be it that of Fearless Nadia, Miss Zebunissa, Miss Padma or Ramola."
You can't help but marvel at the similarities between Kangana Ranaut and Fearless Nadia and the fact that Bhardwaj had wanted to make a biopic based on Nadia's life for a long time now.
So who was Fearless Nadia and why is she a big deal?
Fearless Nadia was born Mary Evens in Perth, Australia, to an English father and a Greek mother in 1909. She learnt horse riding during a stay in the Northwest Frontier Province, and then studied ballet under Madame Astrova after returning to Bombay in the mid-20s. She toured India as a theatre artiste and worked for the Zarko Circus in 1930. She changed her name to Nadia at the instance of a fortune teller.
The blue eyed blonde girl met JBH Wadia in 1934, who cast her in small roles in his home productions Desh Deepak (1934) and Noor-e-Yaman (1934), before becoming India's first action heroine in Wadia Movietone's Hunterwali (1935).
JBH Wadia and Homi Wadia (who later married Nadia) were raised on a diet of American Westerns, and launched Nadia in the unconventional Robinhood-esque story of Hunterwali, reports Open Magazine. The plot of a princess trying to rescue her kidnapped father and salvage his empire was a perfect launchpad for the action heroine to show-off her beauty and martial arts skills. The sight of a blue-eyed blonde cracking a whip at the villains was an instant hit with the mostly male audience.
This film lead the way to Nadia becoming an icon. She was the first of her kind: an action-heavy, punch throwing heroine who rose to the top when her competition consisted of demure, sari-clad women. In her iconic roles, she was always portrayed as a saviour to the poor, like the heroes of films from the 80s and 90s. She was way ahead of her time, and it is still unlikely we will find a Nadia-esque heroine in Bollywood to this day.
In Miss Frontier Mail (1936) Nadia showcased her actions skills, which were at par with any present day Bollywood hero. She could get on a train and punch and beat the living lights out of a group of men:
In another of her memorable roles, Diamond Queen (1940) she was the savoir of a small town, defeating a mustachioed, bushy eyebrow-ed villain, and advocating for women's literacy and independence. She used dialogues like, 'If the nation is to be freed, the women have to be free first.' A true feminist hero, she was.
In one of her last films Baghdad Ka Jadoo, Fearless Nadia was Yasmina, the gang-leader of a group of lawless gypsies. In it she tried to disguise herself as a man to court the princess. Though Nadia was way past her heyday in this film, she packed a punch with her swinging from ropes, plenty of fisticuffs and bashing up of opponents. Here's a clip from the film:
Action wasn't her only forte though. Muqabala (1942) a cult film with the tried and tested Bollywood formula of twins separated at birth, showcased Nadia's dancing skills as well:
How does Kangana Ranaut pay a homage to the stunt queen of Bollywood in Rangoon? Only time will tell when the film releases on 24 February 2017.
Till then, we do need more Fearless Nadias in Bollywood.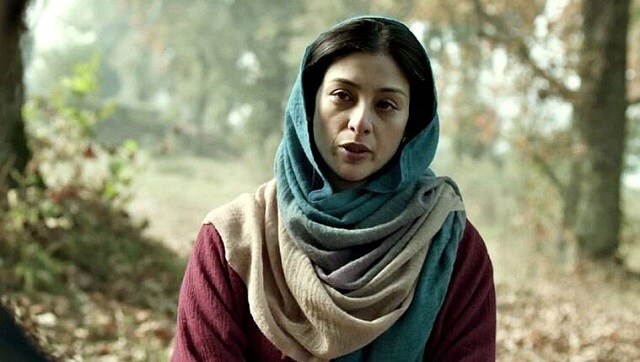 Entertainment
Khufiya will see Tabu play a R&AW agent "grappling with her dual identity of a spy and a lover."
Entertainment
Kangana Ranaut has filed a counter-complaint against Javed Akhtar alleging extortion and invasion of privacy and is also seeking transfer of hearing to another court
Entertainment
Mumbai court said it will issue a warrant against Kangana Ranaut if she fails to appear on the next hearing date of 20 September