Inaugural Lollapalooza India 2023 ends on a high with a footfall of over 60,000 across 2 days
With international and homegrown artists setting the stage on fire, fans traversed from one stage to the other as a beautiful and striking play of light and sound brought alive the heart of the city like never before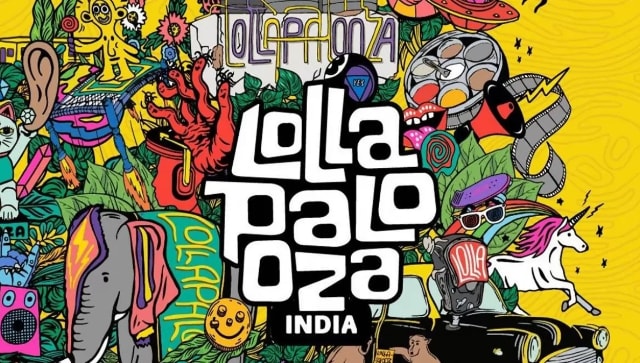 Indian audiences at Lollapalooza India 2023 have sailed through a series of emotions on Day 2 of the iconic music festival, with rock-heads headbanging to The Strokes, Rap fans vibing to Divine, K-Pop fans screaming as they couldn't get enough of Jackson Wang, Sunday night done right with Diplo's beats, while many engulfed in the poetic warm notes by Cigarettes After Sex and Prateek Kuhad. Lollapalooza India's inaugural edition witnessed a footfall of over 60,000 across both days kickstarting the Asian run for the largest multi-genre music festival spread across 50 acres of festival grounds at Mahalaxmi Race Course that was all about music, culture, community, sustainability, inclusivity and accessibility, produced and promoted in India by BookMyShow, India's leading entertainment destination.
With international and homegrown artists setting the stage on fire, fans traversed from one stage to the other as a beautiful and striking play of light and sound brought alive the heart of the city like never before. The crowds were filled with enthusiastic audiences, jumping tall, cracking into some killer dance moves, a sea of cellphones lit up in the air, some fans camping much in advance of their much-awaited shows for their favourite artists and many catching the Lollapalooza artistic and creative vibe of popping colours into signs they held up to speak to the artists.
View this post on Instagram

It was a stacked night as the final day of Lollapalooza India 2023 witnessed some more power-packed performances from the best of Indian and international talent. Young and talented, Adya was the opening act for the exciting day ahead, setting the stage for homegrown artists. Parimal Shais dropped one of his best sets. The contemporary Indian instrumental band Bombay Brass, Siri, The F16s, Raveena, Tanmaya Bhatnagar, Tejas, Kavya stole the show, keeping the crowds entertained.
Prateek Kuhad's fans were up for a treat with a set of his evergreen radio hits including 'cold/mess' and 'Kasoor' even as Divine sent the crowd in a tizzy with raging energy across some of his best hits 'Apna Time Aayega', 'Mirchi' and 'Chal Bombay'.
Excitement levels peaked when The Wombats started their electrifying performance followed by the much-awaited and young heartthrob Jackson Wang who made his debut in India with Lollapalooza with an unparalleled energy having the crowd dancing to his tunes, literally. Fans turned up in large numbers keeping up with the K-pop star's epic moves and out-of-the-world energy warming up for closing beats with Diplo's special ones for India including 'Lean On' and 'Where are you now' even as he followed it up with the Punjabi number 'Mundian tu bach ke'. Headliners The Strokes were the unparalleled finishers for the debut edition of the festival performing their evergreen songs including 'Last Nite' and 'Take it or leave it' even as they joined Mumbai in its SRK fever drawing inspiration from the blockbuster Pathaan drawing a mention at their performance during the festival.
View this post on Instagram

Also seen grooving at Lollapalooza India 2023 were actor Aditya Roy Kapoor, Karishma Kapoor, Aadar Jain, Sussanne Khan, Hrithik Roshan, Kajol, Rajkummar Rao, Patralekha and Huma Qureshi amongst others in the crowds cheering for their favourite artists.
Lollapalooza India had room for all across both days with accessibility remaining front and centre enabling those with physical disabilities to move in and out of the festival with ease through wheelchair support, risers and dedicated areas marked out. Sign Language Interpreters helped carry the music to all for the performances of Imagine Dragons, The Strokes, Prateek Kuhad, The Yellow Diary garnering much love from audiences all over!
The festival took the baton of #LollaForChange led by BookASmile, the charity initiative of BookMyShow in full swing as a minimal waste festival zone, managing food wastage and increased sustainable measures were at the core of Lollapalooza India. Festival attendees were more than thrilled to comply and cheer on as they participated actively in measures to reduce waste. Signature Lollapalooza India installations curated with a local flavour were an absolute hit.
Keeping to its ethos of creating entertainment-led experiences in Art & Music amongst other genres for the lesser privileged, BookASmile, collaborated with the Aravani Art Project, an art collective of people from the transgender community along with Mumbai-based artist Suparna Jashnani to bring to life The Wall of Inclusivity in Expression at Lollapalooza India 2023. The gigantic 100-ft landscape created by the collective's Trans-women members had everyone awestruck.
Lollapalooza India 2023 was a visual treat with colourful, vibrant installations lining the Mahalaxmi Race Course including the festival's themed Wall of Rotating Blocks that were neon rotating blocks that move with a single touch and the 16 ft Lolla Rubik's Cube – a mix of vibrant colours and grey matter all in one frame adding to the vibe and leaving attendees wanting more! The giant Lolla Ferris Wheel offered the best bird's eye view for the fans as they captured some of their best moments soaking in the vibe and music from these spots. The Lollapalooza India Inflatable welcomed all festival fans, proudly hoisting the India flag along with the seven other countries that the festival has globally travelled across.
View this post on Instagram

Featuring over 60 brands across four specially themed zones or lanes, the Lolla Food Park was the biggest star with different themes and various cuisines spread across the Mumbai Local Lane, Lolla Around The World lane, Lolla Grub Shub lane and the iconic Lolla On Wheels lane. To top it all, every single food brand whipped up a special 'Lollapalooza' dish exclusively created for the festival in line with the vibrancy and melange of its music that is not available on their menu otherwise.
The BudX, Walkers & Co., NEXA and the Perry x Budweiser Beats stages saw some of the most enthusiastic fans from across the world making their way into the Mahalaxmi Race Course for both days of Lollapalooza India 2023 to catch a glimpse of 40 musically gifted artists with special acts in its debut edition!
Read all the Latest News, Trending News, Cricket News, Bollywood News, India News and Entertainment News here. Follow us on Facebook, Twitter and Instagram.
Entertainment
While it began with Getty Images tagging the Deepika's photo from the Oscars with the caption "Camila Alves attends the 95th Annual Academy Awards on March 12, 2023, in Hollywood, California," a similar error was repeated by Vogue.
Entertainment
While talking to ETimes, the senior doctor noted that Sen's high physical activity helped in ensuring that the damage was limited. "Sushmita is blessed that she came in at the right time and right place," he further added.
Entertainment
RRR's Naatu Naatu, which became a global sensation soon after its release, won the Oscar for Best Original Song on 12 March.