Grammys 2017 belonged to Beyonce and Adele: Watch their performances, speeches
Beyonce and Adele stole the show with their performances, and acceptance speeches at the 2017 Grammy Awards.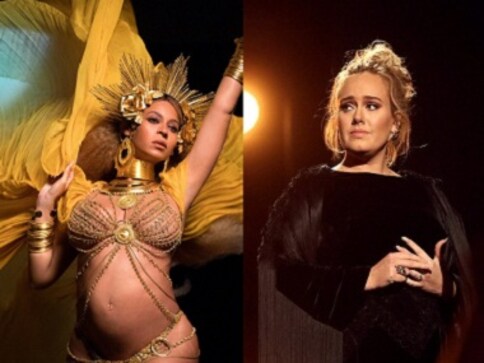 This year marked the 59th year of the annual Grammy Awards and the excitement was intense amidst the current big list of performers which included the likes of Katy Perry, Beyonce, Adele and Lady Gaga. The two divas that stole the show were Beyonce and Adele.
Though Adele won the 'Song of the year,' 'Best Pop Solo Performance,' for 'Hello' and three awards for her album 25 (Album of the Year, Record of the Year and Best Pop Vocal Album); her live performance had a few glitches.
In what will now be one of the most memorable moments of the Grammy Awards in history, Adele stopped a commemorative performance for the late George Michael mid-song with an f-bomb after realizing that her vocals were off key.
"I know it's live TV — I'm sorry,"Adele told the audience near the beginning of her rendition of Mr. Michael's 'Fastlove,' which had been reimagined as ballad.  "I can't do it again like last year," she said, in reference to her lukewarm performance at the 58th annual Grammy Awards last February, when a technical glitch also compromised her singing. "I'm sorry for swearing and I'm sorry for starting again. Can we please start it again?"
She continued: "I'm sorry, I can't mess this up for him. I'm sorry. I can't. I'm sorry for swearing — I'm really sorry. I'm sorry, Ken." (Ken Ehrlich is the producer for the Grammys telecast.)
Her second attempt was smoother. She pushed out George Michael's 1996 single 'Fastlove;' and the audience seemed visible impressed, because her performance ended with a standing ovation from the crowd. Coming to Queen Beyonce, she gave one of the most memorable Grammy performances ever. Introduced by her mother, she took the stage in a glittered gown and headdress for a performance that began with a long, spoken video-enhanced presentation about mothers and children. She started off with: "Your mother is a woman, and women like her cannot be contained."
Donning a halo crown and draped in gold, she was styled as the Madonna, down to the serene smile on her face and the ethereal glow that radiated off the screen. Here's her much awaited performance:
The queen didn't stop there. When she won the Grammy for the Best Contemporary Album Lemonade, Beyonce's speech had a definite political agenda. Though she did not utter the words 'President Trump'  her powerful statement about the beauty of being black spoke to the current political moment. Here is her full speech:
Thank you so much. Hi baby. Thank you to the Grammy voters for this incredible honor, and thank you to everyone who worked so hard to beautifully capture the profundity of deep southern culture. I thank God for my family, my wonderful husband, my beautiful daughter, my fans for bringing me so much happiness and support. We all experience pain and loss, and often we become inaudible. My intention for the film and album was to create a body of work that would give a voice to our pain, our struggles, our darkness and our history. To confront issues that make us uncomfortable.
It's important to me to show images to my children that reflect their beauty, so they can grow up in a world where they look in the mirror, first through their own families — as well as the news, the Super Bowl, the Olympics, the White House and the Grammys — and see themselves, and have no doubt that they're beautiful, intelligent and capable. This is something I want for every child of every race. And I feel it's vital that we learn from the past and recognize our tendencies to repeat our mistakes. Thank you again for honoring 'Lemonade.' Have a beautiful evening. Thank you for tonight. This is incredible.
Though Beyonce was one of the strongest contenders for the biggest awards of the Grammys: Best Song of the Year; Adele took home the glorious award.
But Adele did manage to declare her undying love for Beyonce in her acceptance speech:
All in all, the night belonged to the two divas and their breathtaking performances.
also read
World
US president Joe Biden is gaffe-prone and this may hurt his chances in the 2024 US presidential elections. When asked if the 80-year-old had the mental sharpness to run for a second term, 62 per cent of Americans expressed concern. This is 11 points higher than that for his rival Donald Trump
World
After giving Oath Keepers founder Stewart Rhodes the heaviest jail term in more than 1,000 criminal counts initiated in the 6 January 2021 Capitol Riot, US District Judge Amit Mehta will sentence Army veterans Jessica Watkins and Kenneth Harrelson
World
Trump has never shied away from voicing his viewpoint or engaging in debate with his opponents. The difficulty is that the former president is under increased scrutiny from state and federal prosecutors, who can use the former president's words against him in a variety of ways