Gold isn't just about hockey; everyone should play sport and it doesn't matter which: Akshay Kumar
Akshay Kumar says in his upcoming sports drama Gold, he plays a drunk manager who is a cheater and a controversial guy
Akshay Kumar saunters into the room, wearing a pair of stylish camouflage pants ripped at his knees, paired with a smart black tee. "What's the time?" he asks casually before settling down, and knowing that a few media groups have been waiting for him for over two hours, he says with a straight face, "By the way, I'm not late, it is your other media friends who were late, I was finishing off those interviews." Akshay, who's gearing up for his Independence Day release, Gold, is clearly particular about two things: one, punctuality — he doesn't like being told that he's late — and two, he doesn't like it when someone tells him he's looking tired.
A period sports drama inspired from true events and real life characters, Gold, directed by Reema Kagti, traces the journey of Tapan Das (played by Akshay), a hockey team manager, who dreams to get a gold medal for a newly-independent India. The actor says he was initially unaware about any such incident and was bowled over when Kagti narrated the film to him. "I heard the story and immediately said, 'Let's do it'. Around the time India got freedom, there were lot of other pressing issues, probably winning a Gold wasn't the priority for India at that time and hence when India actually won a Gold, the win news never came out. Now we've got the chance to bring it out," says Akshay sounding excited.
While there has been some confusion about his role — many think he plays a coach — the actor clarifies that he plays the team manager in Gold. "In fact, I play a drunk manager! He is a cheater, a controversial guy. This is the real story. How this Bengali man, within a year brought 11 hockey players together, got them trained, made a solid team and then took them to Olympics. I thought this story was unbelievable and I found the characterisation of Tapan Das amazing," says Akshay, further adding, "I also loved the dialogues written by Javed Akhtar. I started researching on my own and saw some hockey matches played at that time."
Considering that Akshay worked in Kolkata for two years before he came to Mumbai to become an actor, learning Bengali wasn't much of a challenge for him. "At that time I knew a little bit of Bengali but not anymore. But developing the accent wasn't really difficult," he says. Interestingly, it was a Bengali journalist who became the actor's reference point for his look but he doesn't want to disclose the scribe's identity. "I have taken the look in Gold from a mediaperson but I won't reveal his name. You guys won't be able to guess," he teases as he grins mischievously.
Since Akshay has been focusing more on patriotic, socially relevant and real life stories off late, with films like Baby, Rustom, Toilet Ek Prem Katha, Padman and now Gold, one wonders if it's a calculated move. But the actor quashes this saying that he's doing all kinds of films. "I am coming up next with Housefull 4. Among the ones that are patriotic, I have done only Airlift and Baby. Toilet and Padman were social films. I feel I am on a paid holiday when I am doing a film like Housefull 4 in the midst of films inspired from real events," laughs Akshay. Sometime end of this year, after he has wrapped up Housefull 4, he will be starting his next film with Kareena Kapoor Khan under the banner of Karan Johar's Dharma Productions.
The fact is that Akshay wouldn't like to get trapped in an image considering how much he disliked the 'action hero' tag in the initial years of his career. "I am enjoying the current phase as I am able to do all kinds of films - action, comedy, drama…This is the best phase of my career. I was always wary of having only one image. For 14 to 15 years I did only action films and I wasn't offered romantic or comedy films. I hated the fact that every morning I would get up, go on sets, do kicks and punches and come back home. There was no growth. But now I am getting to play so many characters," says Akshay. "It was Priyadarshan who gave me a break with comedy (Hera Pheri). I don't know how he thought I could do it. David Dhawan gave me comedies like Mr. & Mrs. Khiladi and Mujhse Shaadi Karogi, and Raj Kumar Santoshi cast me in Khakee and thus things started changing. But it's really very hard to break an image," he adds.
While there has been a buzz about the third instalment of Hera Pheri and Welcome, as well as a possible sequel to Awara Paagal Deewana. The actor rubbishes the reports saying, "Until I say so,  don't believe anything that you hear. Whoever says it, tell them they are lying."
And coming back to the real life stories he has been part of, Akshay doesn't shy away from accepting that he believes in making his characters more commercial. "otherwise not many people would watch these films. Hence we have four to five songs and a few fights in these films," he says.
But what irks Akshay the most is "politicising" of issues related to sports, or comparing Gold to other hockey films like Chak De! India. "These are different stories. It is frivolous to even think about competing with other films. Secondly, why get into the debate of why hockey isn't a national sport? Gold is not just about hockey, we are saying that everyone should play at least one sport and it doesn't matter which sport," says Akshay, who plays cricket and volleyball. "But I remember playing hockey in school. My father had bought me a hockey stick when I was seven-eight years old and I had learnt dribbling at that time," he recalls.
He continues, "Look at Croatia, it's a very small country and it's mandatory for everyone there to play sports. They recently reached the World Cup Football finals. However, India's health report is not good and we need to do something about it."
After Tanuja Chandra (Sangharsh, 1999) and Farah Khan (Tees Maar Khan, 2010), Kagti is the third woman director Akshay has worked with and he is of the opinion that female directors are far more organised than their male counterparts. "Reema is a hard taskmaster. Gold's a very tough film to handle because taking the audience through the 30s and the 40s requires a lot of homework. Similarly, when I did Special 26, representing the 70s was quite difficult," he says.
Reacting to Bollywood's trend of adapting real-life stories for biopics, Akshay thinks it's a simple case of herd mentality. He also says that he would never make a movie on himself. "I will never even write an autobiography because there are so many amazing stories in history, like Tapan Das, Arunachalam Muruganantham on whose life Padman was based, who have steered India in a positive direction. I would be a fool to make a biopic on myself, or any other reel hero. I want to make a biopic on real heroes," he says.
"How have I inspired anyone? I have only made movies, earned money and gone home. Also, it will be very shallow on my part to even think of someone who can play me. I wouldn't even want my son to play me," he concludes.
Find latest and upcoming tech gadgets online on Tech2 Gadgets. Get technology news, gadgets reviews & ratings. Popular gadgets including laptop, tablet and mobile specifications, features, prices, comparison.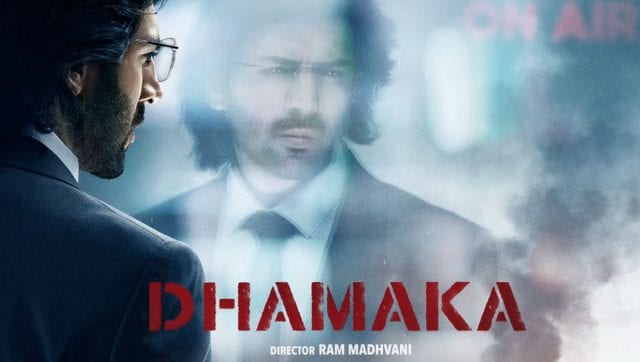 Entertainment
Kartik Aaryan's Dhamaka is expected to go on floors in December, with the makers eyeing a summer 2021 release.
India
Bharti Singh's name had cropped up during the interrogation of a drug peddler, after which her residence was searched, an NCB official said
Entertainment
Though Shivkumar Verma was initially suspected of having the coronavirus, the veteran actor has tested negative