Freddie Mercury's sexuality didn't define him: Why Bohemian Rhapsody 'hetwashing' row makes little sense
The way Twitter has reacted over Bohemian Rhapsody's two-minute trailer, in a way, vindicates Freddie Mercury's tough stance on privacy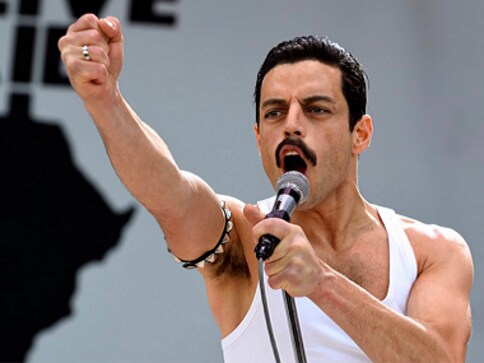 Freddie Mercury is a heady mix of all things genius, gifted, enigmatic, controversial, contradictory and tragic. With his life being all that and more, you'd imagine the process of making his biopic would be nothing short of drama.
Almost like the Meghan Markle-Prince Harry wedding, every positive development has come with a dose of criticism. For us fans of Queen and Freddie Mercury, this seems par for the course. No sooner was the trailer of the upcoming film Bohemian Rhapsody released, than there's been Twitter outrage (seriously, where else?) for ignoring his bisexuality and the fact that he died of AIDS.
Watch the Bohemian Rhapsody teaser trailer: Rami Malek captures Freddie Mercury in all his flamboyant glory
Television producer Bryan Fuller has accused the film of projecting Freddie's straight side, showing him exchanging flirtatious glances with women while glossing over his bisexuality. Fuller also noted that the synopsis sent by 20th Century Fox mentions that the singer battled a "life-threatening illness" without explicitly using the word AIDS. Needless to say, Twitteratti have chimed in to take offence for how poorly this bodes for the LGBTQ community in this day and age.
Now without bringing fanhood sentimentality into the picture, let's just for a moment, take a look at the life of Freddie Mercury before we discuss this trailer in question. Freddie lived during an overwhelmingly homophobic time. He, in fact, did not mention the word "AIDS" during his entire lifetime — right until the very end. He had issued a statement confirming his battle with AIDS less than 24 hours before he passed away. Barely had his fans reacted to the confirmation of his illness than news trickled in of his passing.
When Freddie died, his former girlfriend and lifelong friend Mary Austin inherited his millions. The woman he called the "love of his life" continues to stay at Garden Lodge Mansion in Kensington, London — and continues to deal with his fans showing up at her doorstep for selfies or writing messages on the wall.
Let's consider the thought process behind choosing parts of a film that make the cut for a trailer. Given that this is a biopic of a rockstar, we would imagine that the aspects that made him so, should be given prominence. Therefore, we have songs like 'Bohemian Rhapsody', 'Another One Bites the Dust' and 'We Will Rock You' forming the soundtrack to the trailer. Freddie's work, his voice, his brilliance, his persona defined him. The two-minute trailer spans the recording of 'Bohemian Rhapsody' (released in 1975) to the Live Aid performance of 1985. In these 10 years, a lot of his outrageous outfits on stage, his mannerisms and his frequenting gay clubs hinted at his sexuality but the fiercely private Freddie not once spoke about it. There was talk too that he helped Princess Diana dress up as a male model and join him at a gay club in the '80s.
All through his life, Freddie remained quiet about his sexuality, somewhere emotionally married to Mary Austin after coming out to her. He was most certainly neither an icon for the LGBTQ community, nor for AIDS sufferers, nor for Zoroastrians the world over. In his lifetime, he rejected his Parsi/Indian identity just as much as he did his sexuality.
So why then is there no outrage for the lack of Parsi tones in a two-minute trailer? Does a movie trailer have a moral obligation to tick all aspects of the star protagonist's life? The trailer shows snapshots of his life in the time between 1975 and 1985. There is an entire world of social mores that existed in this time span. From being doggedly private in the 1970s about his orientation, to starting to be seen with more men in the late '80s, a lot changed in that decade for Freddie. He lived in a time that was highly racist and highly homophobic. Is it any surprise that he chose to — rather controversially — remain mum about these aspects of his identity?
How fair is it to look at that time through the prism of our contemporary identity politics? If everything is to be shown in the trailer, why watch the whole film at all? Is Freddie defined by his sexuality and his battle with AIDS, both of which he largely did away from the public eye? Or is he defined by the sheer genius of his work, his path-breaking musicality, his gifted voice, his stardom and more?
There's more to Freddie Mercury than his orientation and his struggle with AIDS. At least he wanted to be known as something more than being bisexual and suffering from AIDs-related complications.
There is no guarantee that the film will even do justice to Freddie's private struggles. If the synopsis is to be relied on, then his battle with AIDS will certainly be depicted. I would like to believe the producers of a film that has only seen trouble along the way, would know a thing or two about ensuring that Freddie's orientation is represented in a way that assuages all kinds of criticism they're anticipating.
The way Twitter has reacted over a two-minute trailer of a film fraught with controversies from its very inception, in a way, vindicates Freddie's tough stance on privacy. Were he alive today, he'd be mortified at how intrusive, reactive and insensitive social media has made people.
For a man who lived his entire life in innuendo, how his orientation makes news of the world today would give him a sheer heart attack. In his own words, he was just happy with his music: "I'm just a musical prostitute, my dear".
also read
Entertainment
After a lot of speculation Priyanka Chopra's Citadel will be coming up with its Season 2 on Prime Video.
Entertainment
According to reports Prince Harry and Meghan Markle's 'very strange' decision to not celebrate five-year wedding anniversary.
Entertainment
Harry & Meghan's asking for discount at Princess Diana's favourite hotel lead to the near catastrophic car chase.