Every ridiculous thing we've seen in the coverage of the Deepika Padukone-Ranveer Singh wedding
Exactly what the headline says. Also, because we need keywords: Deepika Padukone Ranveer Singh wedding latest updates.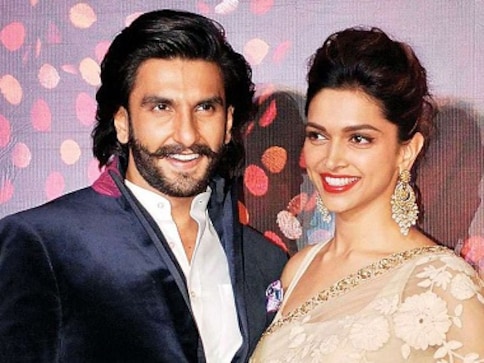 Desperate times call for desperate measures.
And no time could possibly be more desperate than when an entertainment journalist is faced with the prospect of a celebrity wedding — and absolutely no news on it.
Such have been the burdens of covering the Deepika Padukone-Ranveer Singh nuptials — arguably the biggest celebrity wedding of this season, or at least until Priyanka Chopra and Nick Jonas have their own big fat Indian shaadi.
Naming no names — because as a media house we're in the same boat and can't be absolved of these very sins — here's a list of some of the most ridiculous stuff we've come across in the coverage of the "DeepVeer Wedding" as our SEO experts would have us call it.
1. Sound 'bytes' from the wedding guests
A certain leading media house has its reporter stationed at Lake Como, dressed dapperly should the celebrity couple decide to suddenly invite him in for their proceedings. He strolls along the lakeside with his cameraperson — on the opposite side of the shore from where the wedding festivities are being staged — and occasionally points out developments of interest.
So far, we've seen: a shack through some shrubbery.
The reporter also managed to bring to his viewers, exclusively, the sounds of the wedding party's cheering.
Yes, you heard that right — the sound of the laughter at Deepika and Ranveer's wedding, packaged just for us Indian viewers miles and miles away.
"Do you hear them cheering?" the reporter asked on camera. "They're married!"
We're cheering for you mate! A more difficult task hasn't been carried off with such aplomb.
2. 'Exclusive' photos of the venue
Unless you've cut yourself off from social media, hate Deepika and Ranveer with a vengeance, or generally keep away from the news cycle, you're bound to have come across photogenic pictures of the Villa del Balbianello. Photos from every conceivable angle. Photos of every nook and cranny. Photos of every over-decorated pillar (okay, okay, tastefully decorated pillar) on that property.
Most have been drawn from the Lake Como property's own social media handles. Others through the zoom lenses of photographers patiently and precariously balanced on water taxis in the vicinity of the uber-exclusive resort.
But one media house stole he march on all the others with its exemplary images of the venue — brought to us right from location.
Under the tantalising headline of "See first photos of Deepika and Ranveer's wedding venue", we were provided a slideshow unlike any other.
Photo 1: File image of Ranveer ad Deepika.
Photo 2: Image of Villa del Balbianello's gate.
Photo 3: Image of concrete wall, purportedly of Villa del Balbianello's parking lot.
Photo 4: Wide-angle view of concrete wall, purportedly of Villa del Balbianello's parking lot.
Photo 5: Image of parking sign at Villa del Balbianello's parking lot.
Whoever thought the most exciting photos to come out of a celebrity wedding would be of a grey wall?
3. Images of Deepika Padukone in bridal wear 
Every photo shoot that Deepika Padukone  ever did for bridal wear, or for the designer Sabyasachi, was dug up and used as a "representational image" for how she might have dressed on her big day. From stately red saris to elaborate lehengas, to every cinch she ever got into with Ranveer for a Sanjay Leela Bhansali movie, these were dished out, just in case fans wanted to fill in any gaps in their imagination about how the actress might have looked on her wedding day.
As for what she actually wore on her wedding day, some hyper-pixelated images indicate it was a cream and gold lehenga.
We suppose Deepika and Ranveer must be glad at this point they didn't do any Manyavar ads.
4. Expert opinions and predictions
Who could be the best person to comment on Deepika and Ranveer's chances of marital bliss? Considering that's an answer we really need to know, some media houses consulted their address books and brought out every astrologer, numerologist, fortune-teller, tarot card reader and crystal ball-gazer they could, to weigh in on this all-important query.
We might have to shamefacedly admit that certain more gullible colleagues in the Firstpost newsroom consulted an octopus they believed to be Paul (him of the World Cup 2010 predictions fame). These colleagues — wholly unaware of Paul the Octopus' demise in 2010 — reported that it had predicted a 99.3 percent chance of future happiness for our favourite Bollywood stars (well our favourites until Priyanka Chopra's wedding anyway).
In the absence of a talking, fortune-telling parrot, we've decided to take the impostor octopus' word as final.
5. Reporting on hashtags, estimated Twitter likes, and Wikipedia status updates
Guilty as charged. Because nothing says "you're hitched" as much as a Wikipedia entry to that effect.
Entertainment
In an era where we fetishize opinions we don't own and repeat dogma our agenda-led influencers feed us, The weekly 'Moderate Mahila Mandate' presents unadulterated, gendered and non-partisan views on what's happening in India's culture today, to help you form your own unbiased opinions.
Entertainment
Clamour over a man's nudity doesn't hurt women's sentiments, instead hurts our collective intelligence
Entertainment
Ranveer Singh is being trolled for his nude photographs, like he is trolled for his fashion sense. They show a human being in dialogue with himself, inviting the gaze of all regardless of gender or sexuality. We bring you a counter-view that tries to get past the polarizing narratives.