Deepika Padukone-Ranveer Singh vs Anushka Sharma-Virat Kolhi: Whose wedding picture will reign on Twitter?
When Anushka Sharma and Virat Kohli tied the knot last year in December, the country was swept off its feet. Here was the very embodiment of the two things India loves — Bollywood and cricket.
Everyone put aside other concerns to focus on the couple; even those who view masala films, IPL, love and marriage with disdain. Doesn't matter now that the couple has been criticised for their gimmicky need to remind people to keep the streets clean. In that moment, they were beautiful, and they ruled the internet.
The identical tweet they posted announcing their marriage — with that happy, unforgettable photograph — became the most retweeted of 2017. It has 56,391 retweets.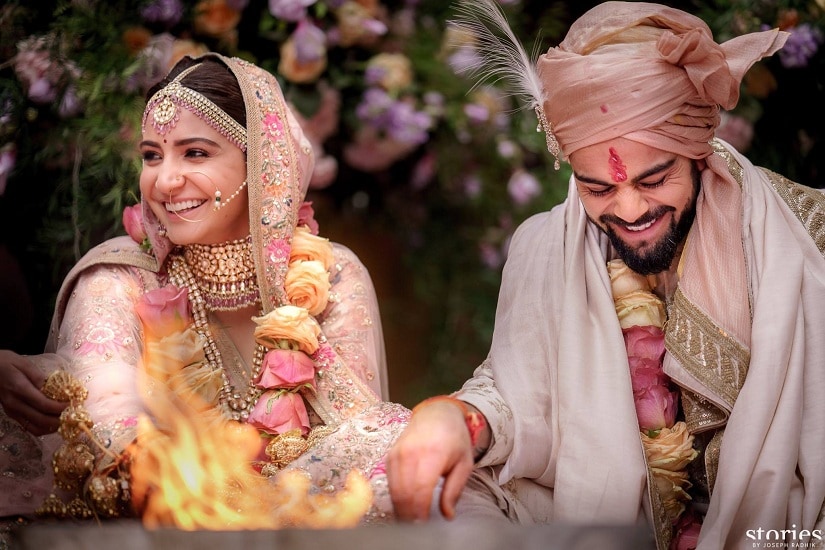 But the ball is now in Deep-Veer's court. So is the photographer — we are told that The Wedding Filmer, who turned Anushka and Virat's wedding into #memories will also be documenting this wedding. They also have in common designer Sabyasachi Mukherjee, but Sabya's a constant at most tinsel town weddings.
There's another similarity; both weddings took place in Italy, and both were held in secrecy (well, almost. Paparazzi can reach where the NSA can't.)
Let's face it: It all comes down to numbers and competition. Firstpost turns trade pundit to analyse: Will Ranveer and Deepika dethrone Anushka and Virat?
To properly make an estimate, we must juxtapose the social media reach of each of these stars, and their popularity.
As of 14 November, Anushka Sharma has 18.2 million followers on Twitter. Virat has 27 million. That's a cumulative 45 million — not bad at all.
Deepika's 25 million ardent fans, combined with Ranveer Singh's 10 million mean that they are 10 million shy of Anu-Vir's score. But is that going to settle the matter?
We think not. There are other factors to consider. Deepika and Ranveer's bond goes back to 2013, when they starred in Goliyon Ki Rasleela Ram-Leela. That's five years of Instagram comments, gushy interviews and even dedications at award ceremonies.
Anushka and Virat met in the same year, while shooting an ad. In this round, it is ostensibly a tie.
It finally boils down to individual popularity. Anushka has a steady fan base, but Deepika clearly has the lead, at least when it comes to social media. Where Anu-Vir might defeat Deep-Veer is the diversity of their fan base. Virat Kohli's career meant that their wedding photographs reached a whole ocean of social media users that Ranveer Singh may not have the same sway over — the world of cricket.
Still, there is something to be said about the tease-like nature of Ranveer and Deepika's relationship — never admitting it all, but giving us just enough to put our hopes on. It was enough for Karan Johar to dedicate 20 minutes of the latest Koffee With Karan season to. And we, like Karan, sit here in India, sipping our coffee, waiting to watch the social media race to play out.
Updated Date: Nov 14, 2018 21:40:47 IST