Commercial entertainers for the win: 'Baaghi' crosses 50 crore mark
The box office collections of Baaghi proves that 'masala entertainers' remains the staple diet of entertainment for Indian audiences at large.
There is a very diminishing divide between content driven cinema and potboilers.
This year has seen an increasing acceptance towards content driven cinema, with films such as Airlift, Neerja and Kapoor & Sons, however the box office collections of Baaghi proves that "masala entertainers" remains the staple diet of entertainment for Indian audiences at large.
The second quarter of 2016 opened with the much-awaited Shah Rukh Khan film Fan, but it started losing its steam in the very first week, rather first weekend, of its release. The bigger surprise than Fan not hitting the box office mark, however, was the box office collections of Tiger Shroff-Shraddha Kapoor starrer Baaghi, despite the mixed reviews it received from critics.
Baaghi has now crossed the 50 crore mark, and has the third largest opening of the year, after Airlift and Fan. Trade analysts assume that it's the complete entertainer that mass audiences have been craving for a long time.
"There has not been a wholesome entertainer post Dilwale. Tiger and Shraddha have a huge fan following among the youngsters. The trailer of the film with its songs and action had created a strong buzz," says distributor and trade analyst Girish Wankhede to Firstpost.
Trade analyst Atul Mohan shares the same sentiments, and further says that content driven films are the choice of today, but "masala entertainment" still rules the roost.
"We are going through a phase when content driven movies is a guarantee for success, but at the same time we were not getting a wholesome commercial film, which used to be the trademark of Hindi cinema," said Mohan.
Trade analyst Taran Adarsh maintains that there is no denying that films like Airlift, Neerja and Kapoor and Sons are box-office successes, but they didn't have reach beyond multiplex audiences, unlike Baaghi.
"Airlift, Neerja and Kapoor & Sons were successful but they were multiplex films, and Baaghi has seen pan India success. It has scored not only in multiplexes but also in single screen theatres, even in smaller towns. It's also the first Hindi film of Telegu actor Sudheer Babu, and I think he has done a fantastic job. Shraddha Kapoor is also one of the finest actors we have, and three of them pulled off the film very well," said Adarsh.
Exhibitor Akshaye Rathi gives Firspost some dope on the business of Baaghi, revealing that single screen shows from tier two and tier three cities are adding to the collection of the film.
"You can say it's the first mass hit of the year. Since the beginning of this year, single screen audiences were hungry for commercial entertainment. After all these months, right after Bajirao Mastani, Baaghi is the first film that has something for the masses," said Rathi.
Few among the trade analysts are also under impression that the way collections are rising, Baaghi should manage to enter into the Rs 100 crore bracket.
Entertainment
Despite exoticising the North-East, Sanjay Kapoor's series tries to be authentic and manages to make some bold choices
Entertainment
Premiering on 14 May, The Last Hour explores the story of a spiritual healer, who joins a newly transferred cop to track down a mysterious killer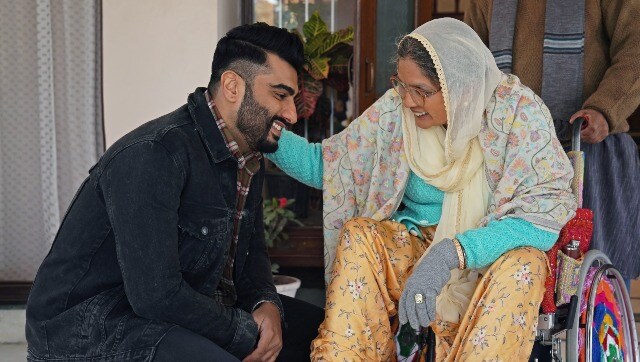 Entertainment
Kaashvi Nair speaks about anchoring the film around a grandparent-grandchild relationship, which she believes is the most "sacrosanct" of all bonds, and the importance of family in an ever-transient world.