Veere Di Wedding redefines the Bollywood buddy film genre through relatable conflicts, quick-fix resolutions
In a prominent scene that also flashes in the trailer of Shashanka Ghosh's recent release Veere Di Wedding, Kareena Kapoor Khan blasts her four BFFs for not being with her at a 'stressful' time like her engagement. The harsh words exchanged between Kareena and Sonam Kapoor Ahuja would have made for a conventionally ideal interval point after which the four characters would have gone their different ways only to reunite years later as married women, rediscovering joy out of the much-needed yet delayed reunion. But Ghosh does not fashion a Dil Chahta Hai out of this buddy film.
In the very next scene, Swara Bhasker proposes a trip to Phuket in order to bond over all the fun they can do and not get judged for, given the unfamiliar environment. This is a reminder of Vikas Bahl's 2014 coming-of-age film Queen, in which Kangana Ranaut decides to go on her honeymoon trip to Paris after her wedding with Rajkummar Rao is called off. Similarly, when Kalindi (Kareena's character) walks out of her engagement ceremony, all she needs is a break to prevent her from channeling her frustrations on her friends.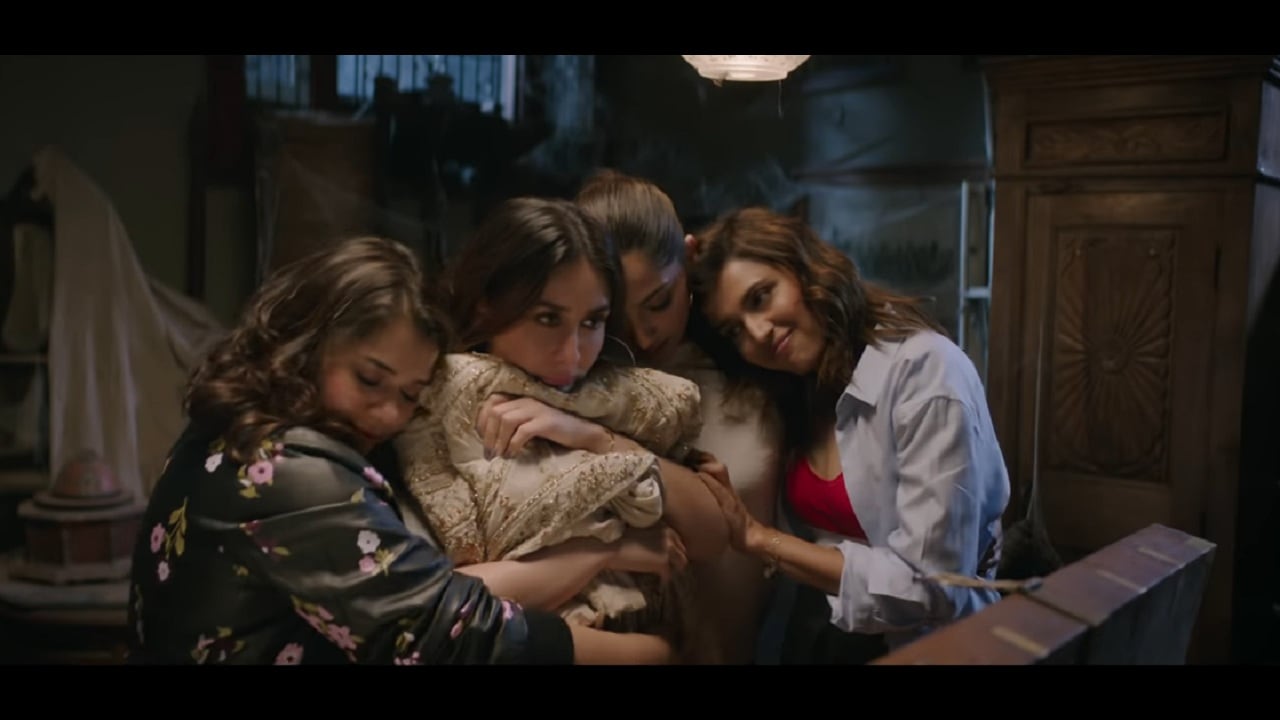 Shikha Talsania, Kareena Kapoor Khan, Sonam Kapoor Ahuja and Swara Bhasker in a still from Veere Di Wedding. YouTube
I wish Sameer (Saif Ali Khan) could have also though of a way out and convinced his Dil Chahta Hai gang to go on a road trip (No, not to Goa again). But instead, he plays a rather helpless peacemaker and lets Aamir Khan and Akshaye Khanna's wafer-thin differences get bloated because of their inflated egos. The resolution is hurled to a distant point in order to allow the director to take his own sweet time to nudge his characters towards a reunion.
Veere Di Wedding could have also fallen prey to the trappings of the new age buddy films that Farhan Akhtar has made famous with Dil Chahta Hai, Rock On!! and Zindagi Na Milegi Dobara. In all these films, two principal cast members enter into a heated argument which leads to a fallout of the entire gang (poor peacemakers) leading up to an eventual reunion once they have started adulting. Though Veere Di Wedding does not follow this predictable path, it still qualifies for a coming-of-age buddy film as all the four protagonists resolve their personal issues but at a pace more suited for today.
Ghosh redesigns the crests and troughs of the narrative graph in accordance with the contemporary era of the instantaneous. The inhabitants of today's society seek instant gratification, end up in instant hassles but also opt for instant reconciliations. In times of social media, where there are innumerable distractions, one does not have the time to fuss over what a friend said that day. One does not sit on grudges but at the same time, does not compromise on expressing their disappointment. In Veere Di Wedding, the characters are flippant but they carry this shallowness forward which allows their bonds to resurface promptly rather than them getting banished to the dungeons of the past.
There is no scope for darkness in such a lighthearted comedy. No, we do not need a heart-wrenching 'Tanhai' by Sonu Nigam to make Veere Di Wedding more dramatic. Or intermittent Javed Akhtar poems to make it appear pensive. Or even a member of the opposite gender (read: Prachi Desai) to shake the characters out of their humdrum going-ons. Here, the women are self-sufficient to mess up their lives, own up to their deeds and drag themselves to a resolution.
Buddy films are usually a refreshing departure from the romances and family dramas that Bollywood is conventionally obsessed with. But even the buddy film genre needs reinvention as a Jai-Veeru would not be appreciated as much in a Main Anari Tu Khiladi. Similarly, the swashbuckling Saif Ali Khan and Akshay Kumar of the 1994 film will not fit into the Dostana mould of 2008. In recent times, Pyaar Ka Punchnama was celebrated as an entertaining, relatable buddy film but that came at the cost of bashing its women. On the other hand, Luv Ranjan's recent smash hit Sonu Ke Titu Ki Sweety, and now Veere Di Wedding, have emerged as the buddy films which do not indulge in targeting the opposite gender as a tool to enhance their friendships.
Both the films address the obsession and insecurities friends inherently possess. In Sonu Ke Titu Ki Sweety, Kartik Aaryan is seen persuading his friend Sunny Singh to not get married to Nusrat Bharucha. This level of ownership is often frustrating for the other friend which often surfaces in the film but is never blown out of proportion. Displeasure is conveyed through glares, and not physical blows and slaps. The resolutions are also quick-fix but the readiness is not out of convenience on part of the writer. It is a result of pragmatism in context of the fast-paced life of today.
Veere Di Wedding could have gone the Sonu Ke Titu Ki Sweety way too, where the four women would have dissuaded each other from not getting married. But women, not as opposed to men but as individually functioning entities, have preferences. Though they are seen sharing their frustrations from their respective marital statuses, they also claim complete ownership of the mess each of them has got herself into, and do not impose their views on marriage upon each other. For every commitment phobic Kareena, there is a Sonam who aspires to get married (but not at the cost of 'settling down'). For every Swara who walks out of her marriage, there is a Shikha Talsania who elopes with her husband. All these characters occupy a corner of a room that is filled with an air of henna. While two of them want to escape the room, the other want to let the sweet smell sink in.
During the promotions, Swara said that Veere Di Wedding is a film in which gender is incidental. But the fact that four women headline this film gains significance not only in a commercial capacity but also in terms of storytelling. How many times have we seen the proverbial chaar yaar unite to discuss the elephant in the room? It is a buddy film that addresses the recurring insecurities of today in the most 2018 way.
(Also read — Veere Di Wedding box office collection: Sonam, Kareena Kapoor-starrer mints Rs 56 cr in first week of release)
Updated Date: Jun 09, 2018 17:43:42 IST