Katrina Kaif on plans after Zero: If I repeat any more performances, I'd do great disservice to myself
In an exclusive interview, Katrina Kaif talks about her realignment of film choices, why she does not regret quitting Remo D'Souza's dance film, and plans for marriage.
Shah Rukh Khan's Zero may have failed to impress most but Katrina Kaif's performance in the film was highly applauded. She grabbed a lot of attention as a sassy, unapologetic and alcoholic actress who suffers from heartbreak and depression. Her brief glamorous role was powerful enough to leave a mark on the audience. It was hailed by many as her best performance so far. This unanimous praise from the audience and her peers has boosted the actress' confidence and she wants to tread very carefully going ahead.
"If I repeat any more (performances) from here then I would be doing a great disservice to myself. I need to now make sure that I am only connecting with the films and characters that will challenge and inspire me to bring a new aspect out," said Katrina, in an exclusive interview with Firstpost. "When you get unanimous praise, it is always very heartening.  It is a wonderful feeling because your work is very personal so what you do when it comes from a personal space, that acknowledgement is also equally personal," she further said.
Early on in her career, Katrina got positive reviews for films that were more character-driven like Namastey London (2007),  New York (2009), Ajab Prem Ki Ghazab Kahani (2009), Raajneeti (2010) and Mere Brother Ki Dulhan (2011). While she wonders how it is all forgotten and buried under the heap of glamorous roles she went on to do later on, she also understands the requirements of the entertainment industry. "In this industry, you have to keep taking things up for yourself and for your audience because they have been with you on this journey for a while. They have seen you play various types of characters, say in Ajab Prem Ki Ghazab Kahani or in a New York. I am also trying to go deeper into my craft, trying to learn more about my craft and then life also gives you deeper experiences that you have to use in your performances," she says.
She continues, "When you are working continuously, you have more experience under your belt, you have spent more years, days, hours on sets and from that place I am trying to create stronger characters. I had a lot of fun with my work so far and I will continue having fun though I agree that at some point I was making choices which were not entirely truthful to the person I was then. For me, this is now the point where I am probably trying to deviate, slightly evolve and enter different spaces because I need that for me as a performer. I need that for my growth and I need that to keep challenging me, and keep my interest and passion alive in my work."
Does Katrina feel that dressing hot and being glamorous, as a trend, is dying? Would she be more interested in doing films like a Queen or a Raazi or a Dirty Picture? "We are too quick to generalise things, and it is a mistake that we make in our industry and media. A good film is a good film. There are no such things called trends. Every time you follow a particular trend, something new will happen and that will become the new trend. I should know my path rather than follow somebody else's path. Your focus should be what is challenging and exciting for me right now, and that is what I am trying to do in my choices in the scripts that I listen to or in the narrations I take. I am trying to make sure that my choices are very honest, what I genuinely feel and they are not choices made out of habit," she said.
When Katrina did films like Phantom and Fitoor, it was said that she was seeking an image makeover with such meaty roles and trying to change people's perception about her acting skills, but the actress chooses to disagree. "There is no meaning to that. I only feel that people connected to my performance in Zero but they didn't connect to Fitoor and you can't pinpoint or label those reasons. Sometimes, a character works because your vision of that character, your interpretation of that character strikes the right chord with the audience. Sometimes, it doesn't work because the character on paper doesn't work and also the interpretation doesn't work. There is no generalisation that one can make and that is the nature of the film industry. A movie works on its individual merit, a movie works as a story, as an individual unit, and that is how I see it and I judge and take my call. But movie working or not working is not entirely in our hands. We go up there, do our best, leave it to the audience and move on."
While there have been speculations about Katrina doing Kabir Khan's next with Hrithik Roshan, or that she will be paired opposite Akshay Kumar in Rohit Shetty's Sooryavanshi,  she quashed these rumours, saying, "No, no, I have not signed any film after Bharat. I am only reading and listening to scripts. Right now my focus is only on Bharat. Bharat is quite a strong role and I am enjoying the whole process, from the prep work to shooting the major portion. The film pans across a few years. I am learning a lot. I am quite excited and having a fulfilling experience on sets," she added.
Katrina recently exited Varun Dhawan-starrer, Remo D'souza-directed dance flick Street Dancer probably owing to shooting dates clashing with Bharat and was replaced by Shraddha Kapoor. But the actress has no regrets and sounds a bit philosophical about it. "I believe that everything comes to you what is meant to come and everything happens for the right reasons. It wasn't possible for me to do the film because of the time constraints which they had. Also, Bharat needs an Eid release which is in June and that is very critical for the film. Unfortunately, we couldn't fit in the time for that one," she said.
So far, Katrina has worked with directors like Kabir Khan, Ali Abbas Zafar, Anurag Basu and Aanand L Rai among others. Going ahead, she would like to collaborate with directors who are innovative and have faith in her as well. "Directors who obviously have good story to tell and I see as scope for me to do something in a character, that is where I would be working for sure. The other important thing is, I want to work with directors who don't have a preconceived notion about you. That is limiting because they only perceive you as that much. People say, 'Oh, you have limitations, know your weak points, know your strengths... you are fit to do only this. (Gets assertive) I don't agree with that. I don't think we should subscribe to people's limitations of ourselves. Go with what you feel in your heart, what you see in your mind. Don't let preconceived notions of others stop you. I want to work with people who believe in me, who can push you beyond your limits, beyond your plateaus. If you get plateaued in one area then try finding the next space that pushes you out and beyond that," said Katrina.
Katrina, who made her Bollywood debut with 2003 film Boom, has definitely come a long way in an industry which was once alien to her. A journey full of ups and downs, she continues to remain in the top league for last many years, with quite a few blockbusters to her credit. "I am extremely grateful for the love and support that the audience has given me. It has been quite a few years now and you will only be in the industry as long as audience gives you that opportunity, otherwise why would they spend their hard earned money to see your work? The fact that I am still here is because the audience have allowed me to be here," she further added.
And when asked if there were enough roles written for her, Katrina gets excited saying, "This is also the time where you have to go up there, and start creating and developing the content that you want to be part of. There are so many writers, so many good books, so many platforms… there's lot of content up there. It is time to get up and do that and that is what I am doing. Simultaneously, your work will come from Yash Raj, Dharma and other producer/director friends but for your own growth, now I want to explore more avenues. For instance, I do Bharat as an actor and then maybe do another film in which I have a hand in developing content and get creatively involved as a producer. I see Anushka (Sharma) do that quite successfully. On one hand, she is doing films that excite her and alongside, she is also creating films that she wanted to see happen."
Many of Katrina's contemporaries tied the knot recently. The actress, who had once said that she would leave her career for marriage if she wanted to, said, "Marriage is wonderful, natural and a beautiful thing, and it will happen to you when the time is right. I would love to get married to the right person at the right time, when it is meant to happen it will happen."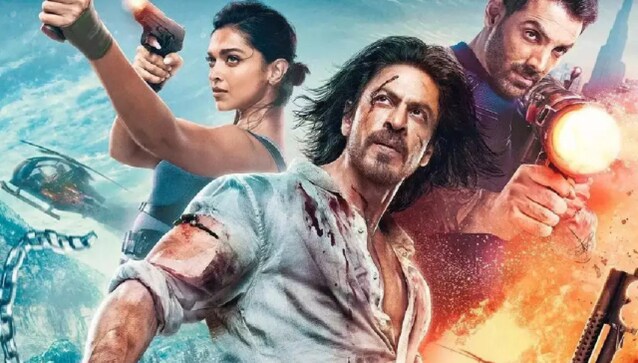 Entertainment
Pathaan is setting new benchmarks at the global box office.
Entertainment
Pathaan is so much fun when it's being fun – especially with a smashing Salman Khan cameo – that it is tempting to overlook its play-it-safe politics.
Entertainment
Pathaan is a richly referential rollercoaster ride. Archvillain John Abraham playing Gym…sorry Jim and Shah Rukh as Pathaan (that's all he called) play against one another with sparkling bonhomie.