Kangana Ranaut's personal life dominates Simran promotions; will it lead to a Rangoon-like misfire?
Kangana Ranaut had confessed that Rangoon's failure was personally targeted at her but should that discourage her from talking about her personal life ahead of Simran's release?
Fresh off her third National Award for Aanand L Rai's 2015 romantic comedy Tanu Weds Manu Returns, Kangana Ranaut had everything going for her ahead of the release of Vishal Bhardwaj's period drama Rangoon. But much to her disappointment, the film bombed at the box office.
Admittedly, Kangana claimed that the failure of Rangoon was personally targeted at her. "Maybe when you are bigger and grow more, both success and failure become more of your responsibility. I felt Rangoon's failure was targeted at me. Various people used that time of my life to direct their anger at me. I felt it was unnecessary that when I was dealing with a vulnerable phase in my career; they were hitting out at me. Rangoon was mounted on a humungous budget and publicised around my character. When something like that doesn't fare well, you do feel like sh*t," she had said, in an interview to Mid-Day.
Now, days away from the release of her next, Hansal Mehta's slice-of-life entertainer Simran, there is only little that the audience knows about the film. A large chunk of the narrative, just like the case of Rangoon, revolves around the personal life of Kangana, including her tiffs with Hrithik Roshan, Karan Johar, Varun Dhawan and Saif Ali Khan. If there is any talk of the town around Simran, it is the tug-of-war for writing credits pitting her vs Apurva Asrani.
The lack of clarity on the genre/ storyline of Rangoon, owing to the deviation of people's attention from the film towards its leading lady, cost the film a lot of business. Given the lack of conversation about Simran, the film could also suffer a similar fate. The trailer of the film gave way to a lot of comparisons to Vikas Bahl's 2014 blockbuster Queen, a tall order to live up to.
Having said that, there is no reason why Kangana should stop answering questions about Hrithik, Aditya Pancholi's abuse or nepotism. While it is sure to inspire other women to open up about atrocities committed towards them, it also comes across as a conscious effort to assert her individuality, a trait that her character of Simran also embodies.
Simran revolves around Praful Patel, a divorced woman who is immensely aspirational. However, she goes on to become a victim of the system and becomes a gambling addict and a petty thief in the USA. But then she gets a chance to redeem herself. In an exclusive interview to Firstpost, Kangana says, "What if you go wrong in life? Is there a way out? Can there be a new beginning? The greatness of people who love to live on the edge, like my character Praful, lies in their seeking of redemption."
In that case, Kangana asserting her individual aspirations, fears and concerns uplifts the spirit of Simran as the character of Praful is also a firm believer in asserting her individuality. In fact, Kangana's films have often been reflections of her personal life.
In an interview to Barkha Dutt, she recalls how Queen released right on the verge of her breakup with Hrithik Roshan. It is thus, not tough to imagine that the climax scene of running away from her reel life lover, played by Rajkummar Rao, with Amit Trivedi's uplifting 'Kinare' serenading the background, would have been quite liberating for her, both professionally and personally.
Similarly, her fearless approach towards love, life and work, coupled with her making it large despite being an outsider in the industry, allowed her to effortlessly slip into the shoes of Jaanbaaz Julia in Rangoon earlier this year.
Since she co-wrote the dialogues of Queen and is credited with adding layers of humour to the entertainer, she probably chose to use the same crutch in Simran. Mehta's film, which was originally a thriller, did not seem as creatively appealing to Kangana as it would have had it been a funnier take on Praful's life. That is why she decided to hop onboard as an additional writer of the film.
"The initial idea was a lot like The Wolf of Wall Street; it was in the crime, drugs and thriller zone, which I was not looking for. So we together moulded it the way we wanted to, and eventually, I found a lot freedom and fluidity with Hansal Sir," she says, in the interview to Firstpost.
Also, a large number of reactions to the infamous Hrithik Roshan case or her style of narrating parts of her side of the story has been irresistibly funny, which proves that she takes life with a pinch of salt. Her ability to look, at the alleged incident of Hrithik hacking into her account in order to leak private pictures and conversations, through a lens laced with humour is rather commendable.
"I am glad I dated a dumb guy. He could have used my account to send extortion messages to himself but he was too dumb to attempt that. He could have landed me in jail had he done that. But he did not because he is dumb," she said, in the interview to Barkha, before laughing out loud.
It is probably this sense of humour that she has resorted to in Simran, in order to take a potshot at all the prejudices that the industry had against her, by throwing light on all the pre-conceived notions that Americans have in the film against Praful, whom they consider an outsider as well.
Her next film, Krish's historical drama Manikarnika: Queen of Jhansi, will poetically mark her "departure to a better world" - where she will only act in films directed and produced by her. She has revealed that her directorial debut Teju will feature her as a 80 year old wannabe witch, a creative tool through which she plans to take a dig at her naysayers who accused her of doing black magic in the initial days of her career.
Clearly, Kangana's recent film choices are a result of how she has chosen to project herself in the public eye. They have proved to be an extension of her personality, probably because the ideas behind those projects have spoken to her personally. That is why she has no reason not to talk about her personal life during the promotions of Simran. 
While it is a given that no one man (or woman, sorry Kangana!) is bigger than the film itself, her ability to lend credibility to her reel life characters through her personal choices should not be discounted for. Even if Simran bears the brunt of her one-woman-show, she is likely to take the failure with a pinch of salt, and even make a movie on it some time down the line.
Find latest and upcoming tech gadgets online on Tech2 Gadgets. Get technology news, gadgets reviews & ratings. Popular gadgets including laptop, tablet and mobile specifications, features, prices, comparison.
Entertainment
Banita Sandhu, who tested positive for COVID-19, was admitted to a private hospital in Kolkata after she refused to be treated at a government facility.
Entertainment
Tanya Roberts' publicist confirmed that the actress, known for her role in the James Bond film A View to a Kill, was hospitalised after falling at her home.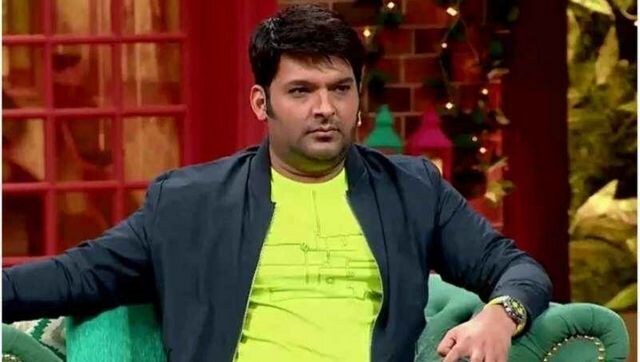 Entertainment
Though it is unclear whether Kapil Sharma's project is a comedy special, series, or film, it will premiere on Netflix in 2021.