Bigg Boss controversies over the years, featuring Dolly Bindra, KRK, Imam Siddique and Swami Om
Bigg Boss and controversies go hand in hand.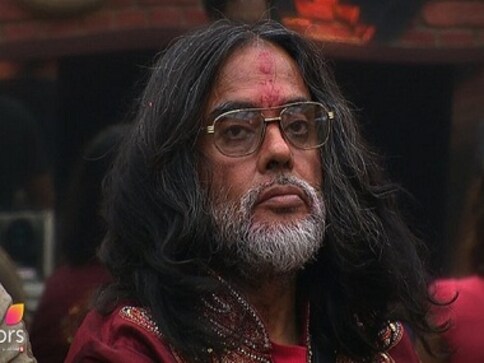 Bigg Boss and controversies go hand in hand.
Sometimes the chosen contestants are already (in)famous in their real lives, while at times these inmates create controversy for themselves on the show and gain the notoriety they crave, obviously to scoop the handsome prize money.
Time and again show ratings have proved that people love watching a good old fight. Be it the crass and loud-mouthed Dolly Bindra, or the bottle-hurling KRK, or a fire-spitting Armaan Kohli or even a notorious Imam Siddique, here are some of the biggest fights that the house of Bigg Boss witnessed over the years:
Swami Om pees on Bani and Rohan, Bigg Boss evicts him
One of the several disgusting acts the self-proclaimed godman, Swami Om did was threw his urine on his fellow contestants Bani J and Rohan Mehra during a task. He was immediately shown the exit gate. Om, on multiple occasions was let go by Bigg Boss with mere warnings, for damaging the property of the house and for getting physical during the tasks.
Known for his sexist remarks and obnoxious behaviour, Om never missed a moment to insult women in the Bigg Boss house. He made lewd remarks at them on the basis of what they wore and when he went inside the pool with the female contestants, he said he was there to accompany his 'daughters'. One of the early favourites on the reality show, Om was already known for his notoriety before he entered the house.
Once he was out of the house, Om not only called Salman Khan an ISI agent, but also accused the contestants of spiking his food and mixing it with drugs. And that's not the end of it. He accused the makers of Bigg Boss of supplying drugs to the female contestants in the house. He also blamed the makers saying that they threatened to kill him because of which he did what he did.
Salman Khan tells Priyanka Jagga to leave the show
Priyanka Jagga caused quite a many ripples inside the house. Right from peeing in her pants during a task, to getting into heated arguments and picking fights with her fellow contestants, the lady certainly caught the attention of the viewers. Although not in a good way, which is why she was shown the exit door right in the first week.
She was brought back later as a wild card entrant probably to raise the falling TRPs as it is possible that she earned many fans. She then didn't spare her co-contestant, Manu Punjabi, who was grieving the loss of her mother, pissed off female contestants with many of her outrageous, personal and filthy remarks besides using abusive language and rude behaviour. Finally, her defiant and arrogant attitude ticked off show host Salman Khan, who asked her to pack her bags and leave the show. Salman even threatened to cut ties with Colors channel if she appeared in any of their shows.
Lopamudra Raut and Priyanka Jagga
Priyanka Jagga was on the receiving end of insults when co-contestant Lopamudra Raut used some explicit words to abuse her. What followed this exchange of cuss words was even more upsetting. Lopa, probably realising the gravity of her own mistake got depressed and begged Bigg Boss to call her inside the confession room. She eventually broke down in tears and requested Bigg Boss to not air the footage of the verbally brutal fight that took place between her and Priyanka probably fearing that she will lose her fan following.
Bani J and Lopamudra Raut
Since the season started,  Bani J and Lopamudra Raut have gotten on each other's nerves. So it does not come as a surprise that their enmity took an ugly turn during a task and both got into a scuffle, even as others looked on stumped. In a luxury budget task, 'BB Call Centre', Lopa and Bani were part of opposite teams, and during the first round, Bani was the caller and she made sure she irritated Lopa by questioning her beauty pageant victory (Lopa's claim to fame). In the second round, when it was Lopa's turn to rile Bani up, she mentioned Bani's mother, she commented that Bani always uses her mother as a weapon to gain sympathy from everyone.
Both of them got into a tussle, which resulted in Bani choking Lopa's waist with her hand and the latter retaliated, while others tried to stop them. This is the first time in the history of Bigg Boss that two female contestants have indulged in a physical fight.
Swami Om – Rohan Mehra
The high-voltage melodrama on Bigg Boss touched a new high after Rohan Mehra accidentally slapped Swami Om during the captaincy task.  Bigg Boss gave a harsh punishment to Rohan — he was nominated for the entire season.  However, this didn't go well with Rohan and in a protest, he locked himself in the washroom. He went on a rant about how Bigg Boss was being unfair to him and gave an ultimatum to either let him walk out of the house or call his father and lawyer with whom he can discuss the entire matter.
Bigg Boss controversies: Blast from the past
Dolly Bindra and Manoj Tiwari, Shweta Tiwari
Remember the "Baap Pe Mat Jaana" line which made actress Dolly Bindra famous? She's known for her aggressive behaviour and verbal lashings, and this incident made her famous (or rather infamous) overnight. A brawl that happened over eggs in the kitchen, turned into an ugly spat between Dolly and the Bhojpuri superstar, Manoj Tiwari. Similarly, In an aerobics task, she got into a physical fight with TV actress, Shweta Tiwari, leaving the latter with visible bruises on her arms. Another contestant, actor Samir Soni, finally took a stand to get Dolly Bindra evicted from the house.
Rakhi Sawant and Kashmeera Shah
Bigg Boss season 1 saw controversial queen and item girl Rakhi Sawant clashing with Kashmeera Shah under one roof. Rakhi and Kashmeera were good friends but things went sour after Kashmeera, who entered with a plan in mind, soon turned everyone against Rakhi. She told other contestants that Rakhi was constantly criticising every one. In this very season, Rakhi also got into a fight with actor Amit Sadh over her mug.
Mahek Chahel and Akashdeep Saigal
Mahel Chahel came under tremendous fire from fellow-contestant Akashdeep Saigal on the show. When the actress got into an argument with him, little did she know that she would end up getting burnt!  In a moment of heated argument, Sky started bringing things from Mahek's past and amidst accusations, he said things like he knows what Mahek does in Goa and how she "scatches men (!)", leaving her stunned and she crumpled down in a heap of tears.
KRK and Rohit Verma
Kamaal Rashid Khan, who was part of Bigg Boss Season 3, is not one to mince his opinions. And it is that, which led him to a spat with his housemate, designer Rohit Verma. Things got so bad between the two that KRK ended up hurling a bottle at Rohit, which led to KRK's immediate eviction from the house.
Kushal Tandon and VJ Andy
TV actor, Kushal Tandon, who fell in love with fellow housemate actress Gauahar Khan in the 7th season of Bigg Boss, got into a physical fight with another housemate, VJ Andy. In one of the tasks assigned by Bigg Boss, wherein Andy had to irk and irritate the housemates and they had to ignore his antics, Andy ended up making unpleasant remarks about Gauahar's lingerie. This caused Kushal to lose his temper and he hit Andy. For his behaviour, Bigg Boss evicted Kushal from the house immediately, and a visibly upset Gauahar volunteered to leave the house with him.
Tanishaa Mukerji and Kushal Tandon
Post a task, when Kushal, along with Sangram Singh, targeted Tanishaa and threw powder, soap water and even contents of a dustbin inside Tanishaa's box, she got infuriated and came out of the box after pushing him. Kushal did not appreciate Tanishaa's attitude and got upset with her act. But she repeatedly kept mocking him. Kushal then removed his mic and asked Bigg Boss to take strict action against her and called her "a flop actress, fatso, 36-year-old aunty who was a black spot in her family". Tanishaa chose not to react.
Ali Quli Mirza and Sonali Raut
In Bigg Boss 8, contestant Sonali Raut slapped her co-contestant, Ali Quli Mirza over some derogatory remarks that he made about her. The incident came into limelight when Ali started packing his bags and even tried to climb the roof of the house making the claim that as per the rules of Bigg Boss house, violence is prohibited. As an action, Bigg Boss nominated Sonali for eviction as long as she stayed in the house.
Urvashi Dholakia-Imam Siddique
Controversy's favourite child, Imam Siddique, who so far has been one of the most controversial wild card entrants of any season of Bigg Boss, got into a fight with TV actress, Urvashi Dholakia, which went on for quite a long time. He even hurled abuses at Urvashi's personal life including her parenting skills, leaving the actress in tears.
Prince Narula and Rishabh Sinha
Although the last season of Bigg Boss (also known as double trouble) started on a slow note, it picked up pace once the wild card entrant, Rishabh Sinha, entered the house. Since his entry, the actor was seen trying to rile up contestants. He got into a heated spat with Roadies winner, Prince Narula, after he made TV actress Kishwar Merchant walk like a dog for three hours straight during a task. Prince and Rishabh's fight continued throughout the episode.