Bigg Boss 10 runner-up Bani Judge: 'Manveer may have got the title, but I still feel like I won'
Bigg Boss 10 runner-up Bani J spoke to Firstpost about the highs and lows of her journey on the Colors TV show
Bigg Boss 10 first runner up, VJ-actor Bani Judge, who often isolated herself, appeared irritated, impatient and self-centred in the house, strangely comes across as very easy going and vulnerable in real life. She is nowhere close to that tough and difficult person, who would walk out snapping when her co-contestants were talking, when you meet her in person. Instead, she patiently listens to barrage of questions thrown at her once the season came to an end and she was declared the first runner up, with Manveer Gurjar walking away with the trophy.
Says Bani, "I had no strategy at all. While inside the house, I was taking it day-to-day and some days when it got really bad, it was minute-to-minute. It becomes really difficult when you don't have a watch inside the house. But I am happy, I have no complaints, no regrets about whatever I said, whatever done or not done."
While inside the house, Bani was forever given this 'selfish' tag, what does she have to say about it? "Oh yeah, I heard this so many times," she says, laughing it off. "I will go home and make a #Selfish t-shirt. I don't know why I was given that tag. But I found it very funny when they called me selfish. We were on the biggest reality show of Indian television. If I don't play the game for myself, then who would I play it for?  So if  I am not selfish about how I am being seen in the house and how I want to play the game, then who would be selfish for me. I will play the game for myself, not any other person. I had no support there."
Bani and television actor Gaurav Chopra's friendship was always the subject matter for discussion. It was felt by many viewers as well as ex-contestants that Bani used Gaurav because he was always there for her, and that he sacrificed his run on the show for her.  Has her friendship with Gaurav been misconstrued?  "I don't want to react to that. This criticism happened inside the house and now it is happening outside as well. But both Gaurav and I know that our friendship was very solid, we both were there and not there for each other because ups and downs do happen. It is very difficult to describe the situation inside the house. As good a job as the show does of portraying what we are feeling, it is so difficult until you are yourself in that situation. I just met Gaurav, it was good to see him and I will hang out with him at Salman's party as well. Let the critics say what they want to say, we know the truth."
Further, Bani was pre-decided to be a finalist and there was this constant buzz on the social media that her chances to win was high since she was a Viacom talent.  To which she says, "If that was the case then I should have won the show."
One of the things Bigg Boss 10 will always be remembered for is the enmity between Bani and Lopamudra Raut. Their rivalry reached a point where the duo got involved in an ugly physical tussle. Though on the show Bani didn't show any change of heart towards Lopa, the Bigg Boss 10 first runner-up revealed that she apologised to Lopa and her family at the grand finale shoot as she regretted her remarks on the show. Bani admitted being at fault for going overboard during the call centre task, which resulted in a scuffle between the two.
"I don't regret getting physical but I regret those things which I told her during the task, which led to that fight. The tussle was a reaction to what she said to me and her anger was a result of my words against her. We both are wrong but I will take the responsibility because it was I who made the first call. So, I feel I shouldn't have initiated that the way I did. I apologised to her, her family, especially her father," Bani said. When asked if she has let go of the grudges against Lopa, Bani asserted she never had any personal issue with her and hopes her apology is accepted. "I have let bygones be bygones with her. I apologised to her a couple of times and told her that I did make a mistake. If she accepts my apology, that's great but if she doesn't, I am not going to push it. I wouldn't force her to be friends with me."
Lastly, was Bani disappointed that she came so far and didn't win the trophy? "Yes, because this was definitely something that I wanted to win. And, I could see the love of my fans every day, so I knew that there was no way I could lose. Since day one of the show I felt I was going to win. Even before going into the house, I had told Gauahar (Khan) that I will be winning the show. At no point did I feel I will lose, not even when I got nominated or did not win a task and people said 'what are you doing'. I had no doubts, I just had this overwhelming feeling that I will win. So, it's definitely disappointing that I didn't. Even now, when Manveer has got the title, I still feel like I have won. I think after a few days, it will sink in."
Bigg Boss Season 10
After a 75-day run on Colors TV's Bigg Boss 10, celebrity contestant Gaurav Chopra was ousted on the 1 January 'Weekend Ka Vaar' episode in a surprise eviction. Now out of the Bigg Boss house, Gaurav chatted with Firstpost about his run on the show. Excerpts from the interview: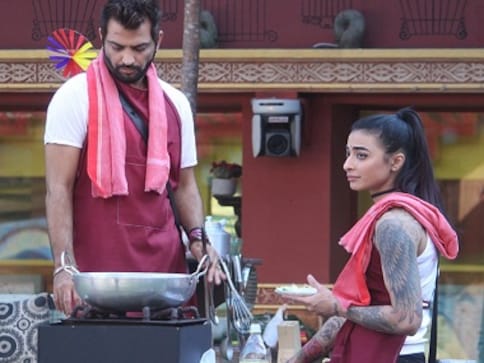 Bigg Boss Season 10
Manu Punjabi, Manveer Gurjar, Ban J, Rohan Mehra and Lopamudra Raut mark Day 100 in Colors TV's Bigg Boss 10 house
Bigg Boss Season 10
The contestants have a chance to increase their prize money as they head into the finale of Colors TV's Bigg Boss 10