Bigg Boss 10, Episode 96, 20 January, 2017: Manveer, Manu, Lopamudra become finalists
After a gruelling task, Lopa, Manu and Manveer were declared the finalists of this season of Bigg Boss.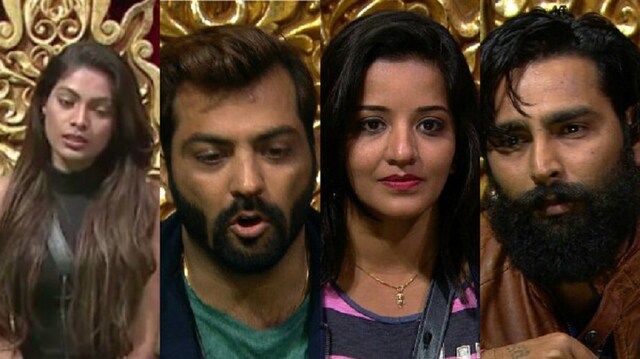 After surviving a herculean task on the previous day, the housemates wake up to another challenging day dancing to the tunes of 'Sultan'. Early in the morning Manu and Manveer are seen celebrating Manveer's victory and appreciating all the efforts he put in to make Team Manu win (Manveer stayed on for over 4 hrs 30 mins glued to the red circle in the Bungy Rod task). But  Manu, Manveer and Lopa say that they have had sleepless night thinking about chilled, cold water being splashed on Manveer's face while he was shivering. Manveer further adds that Bani kept pouring water on his shoulder in spite of him telling her that he was in pain. Additionally, Manu also says that he is regretting the fact that he could not survive for a long time in the task and how Manveer had to assume the mantle to accomplish the task for their team.  They further discuss that Lopa did not play healthy the previous day and she lost out on the chance to win the game owing to her impulsiveness. Manveer adds that he did not appreciate the way she was overreacting and trying to be over protective towards him while he was at it.
Later in the day, a fight breaks out between Lopa and Rohan as they analyze their performance in the task.  Lopa says that Rohan was overdoing many things and was subjecting Manveer to a lot of pain. Lopa confronts Rohan about why he was being so brutal in the task. She tells him that Karma is a bitch, and that what goes around comes around. Rohan says that he was just doing the task and if Manveer did not have a problem with anything, she shouldn't have come in between. Rohan also says that her actions did not go down well with the other housemates and as a result, she did attract heavy criticism. Lopa fails to agree with Rohan's point and tells him that she is not interested in any kind of justification. Irritated with Lopa's behaviour, Rohan leaves the conversation midway and storms out of the room. But soon they forget everything and start joking with each other.
In the garden area, Bani is seen having a conversation with Manveer about what transpired during the task the previous day. She tells him that she will be fine if he irritates her during the task and puts anything under the sun on her but she wants him to keep Lopa away as much as possible. Lopa, on the other hand, starts strategizing along with Manu and decides to prepare a fake snake to scare Team Rohan.  Manu also advises that they will have to displace Mona, Bani, and Rohan by putting lots of oil and eggs on them. Soon after, Bigg Boss announces the commencement of the second leg of the task and Mona, Bani and Rohan gear up to perform it this time. Just like Team Manu, they are also tied to a bungee cord and have to sustain the pressure by putting their hands on the red mark. As the task begins, Manu and Rohan get into an argument as Rohan claims that there is no such rule that they cannot touch the cord.  Manu, on the contrary, tells him that they did perform the task yesterday and are well-versed with all the rules of the task.  Manveer also supports Manu and dismisses Rohan's comments by yelling at him. And finally the task begins. Manu and Manveer show no mercy and keep splashing buckets of water on Bani and Rohan's face in order to distract them. However, they are a bit liberal towards Mona.
While Lopa takes a backseat and gets busy making the fake snake in the kitchen, Manu and Manveer leave no stone unturned to 'torture' Bani and Rohan.  Manu, and Manveer pour oil on Bani and Rohan's shoes so that they slip during the task.  And after few hours, Manu and Manveer pour slippery liquids on their hand and this trick works, and Rohan and Bani slip and lose the task – both at once. Bani applauds the contestants for their smart approach. Thereafter, Manu and Manveer focus on Mona who is the last surviving one in the task. Mona like a true sport holds on…Lopa, Manveer and Manu discuss how the hell did Rohan slip when they weren't even aiming for him at that moment.
It's evening and Mona finally gives up. She is unable to take the smell of egg yolk that is poured on her hand and also finds it difficult to pull the bungee rope. She announces she is done with the task. Instead of letting her slip, contestants hold her, as the bungee chord pulls her back. When there is no tension left in the chord, they set her free. Bigg Boss announces that Mona Lisa, Rohan Mehra, and Bani J – because they lost the task – have been nominated for next week's evictions. Which means, Lopa, Manu and Manveer are the finalists of this season. Bani and Lopa are sent to the Bigg Boss 10 jail, after contestants unanimously decide that they were the weakest players in the task. Captain Manveer expects that the two will chat inside and become good friends when they exit the jail.  Manveer chats with them for some time asking them how has their equation gone so bad inside the house. Rohan feels bad for Lopa and spends some time chatting with her and after that he leaves. Lopa is seen shedding tears while Bani goes off to sleep.
And tomorrow the 'Weekend Ka Vaar' episode will be the most special one with host Salman Khan welcoming Shah Rukh Khan on the show. The friends turned foes turned friends are reuniting once again on-screen. SRK is making an appearance on the reality show to promote his forthcoming film Raees. The superstars will provide us with endless entertainment, one of them being their enactment of an interrogation scene and mouthing funny dialogues. SRK will also enter the confession room and give a secret task to Manveer without identifying himself. SRK will tell Manveer to keep two crates of egg in the store room in front of Bani which will obviously cause a lot of anxiety to the latter.  But it will be interesting to see Manveer's priceless expression when SRK will identify himself, and the actor will be heard saying -- "Now Bani will make an omelette out of Manveer for her breakfast tomorrow."
Bigg Boss Season 10
Alia Bhatt interacts with Salman Khan, the Bigg Boss 10 contestants and reveals that Manu is her favourite contestant.
Bigg Boss Season 10
Additionally, after repeated violation of rules in the house, Bigg Boss has decided to cut down this week's luxury budget as a punishment.
Bigg Boss Season 10
As he leaves the Bigg Boss house, Navin Prakash reveals that Lopamudra and Monalisa have the highest chance of winning the show.