Bigg Boss 10, Episode 101, 25th January 2017: Rohan Mehra evicted; Bani J in final four
As colors Tv's Bigg Boss 10 races towards its grand finale this weekend, one contestant will not be making it to the final four — Rohan Mehra, who was ousted in a mid-week eviction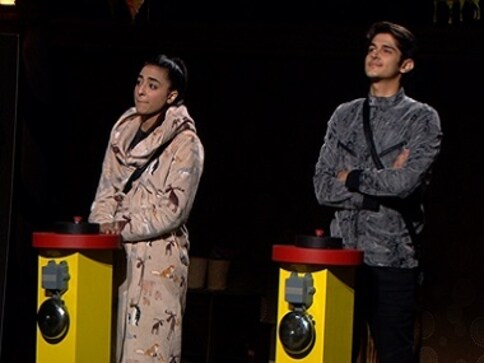 With just four days left for the finale, a new energy seems to be surging inside Colors TV's Bigg Boss 10 house. In the morning, the housemates wake up to the song 'Duniya Hasino Ka Mela' wondering if any hasina will make an entry in the house. Knowing that out of Rohan and Bani, one contestant will be ousted that night owing to mid-week eviction, Manveer and Manu make fun of both of them. They joke that between Rohan and Bani, one of them will be probably banished from the house by a group of hasinas.
Later in the day, Bigg Boss introduces the 'BB Mela' task wherein the garden area is converted into a colorful mela comprising different stalls and interactive games. Each housemate is allotted a stall which they have to run and make money out of. At regular intervals, different guests will enter the house and the housemates have to lure them and get them to visit their stalls. Manu is asked to run the 'Hit the Joker' stall wherein the guests can pick a housemate and hit them with a sponge dipped in soapy water. Manveer is given the responsibility of 'Sawaal and Dare' counter wherein he can ask two hard-hitting questions to the guests and can take a dare in return. Lopa is asked to take care of the massage counter while Rohan is made to dress up like a horse and entertain the guests.
The first guest to enter the house is Bigg Boss Season 9 contestant Mandana Karimi who makes few strong remarks about each and every housemate, leaving them tongue-tied. Posing as a strong Bani supporter, Mandana tells the housemates that there is more to Bani than meets the eye. She says that Bani is not popular only for her tattoos but for many other traits that makes her stand out among the other contestants. She targets Lopa and openly criticises her actions. Mandana also advises Lopa to stop taking pride in her beauty pageant wins all the time as she needs to highlight things that she has achieved during her journey inside the house. She also tells Lopa to stop being critical about Bigg Boss as it amounts to being disloyal.
Lopa gets extremely upset with Mandana for making such strong remarks and cries. Lopa says that she is disappointed with the fact that she is being perceived in a bad light outside the house and maybe she is being portrayed as an out-an-out villain. As Lopa tries her best to get back on track, the second guest, Nitibha Kaul, soon enters the house. The housemates are delighted to meet her and constantly tease her by calling her a celebrity. Nitibha quickly takes a tour of the house reminiscing over all the good times spent there. She visits Manveer's stall and after playing the game, she has a candid conversation with him with a view to sorting out all the differences. She reveals to him that Manu has instigated him about her (Nitibha) and told him lot of things which resulted in cracks in their relationship. She tells Manveer that their fans are going gaga over them and addressing them outside as 'NitiVeer'. She also asks him as to why did he deny the fact that he is missing her when Vikrant questioned him about it. Manveer in his defense tells her that he never denied his fondness for her and even told Bigg Boss that he always wanted Nitibha to stay back until the finale.
As the day comes a close, Bigg Boss asks the housemates to gather in the garden area for the mid-week eviction. Nominated contestants Bani and Rohan are asked to stand in front of a podium with a buzzer attached to it while their statues hang at a distance above them. Bani and Rohan are asked to press the buzzer together and the contestant whose statue bursts after the buzzer goes on will get evicted from the house. But before that Bigg Boss gives both of them the last chance to speak their heart out.
Bani J becomes the fourth finalist after Bigg Boss' announcement. Rohan hugs everyone and leaves the house. Before he leaves, he tells Lopa, "Jeet ka aana!" Lopa tells him, "Just because of you this Bigg Boss journey has been fabulous" and breaks down. Manveer tries to console her and says that she should not cry as only after three days she will get to meet him. He adds that Rohan's exit won't hamper their friendship. Bani, meanwhile, spends time by herself and she is seen in deep thought. And on Thursday, former contestants, Rishabh Sinha, Navin Prakash, and Lokesh Kumari will also re-enter the house for the same 'BB Mela' task wherein Rishabh, known for his volatile behaviour, will target Manu upsetting him no end.