Beyonce's Formation music video faces lawsuit for using New Orleans Youtuber's clips
Beyonce is seeking to dismiss a $20 million lawsuit over the 'Formation' music video filed by the family of late New Orleans-area YouTube star Anthony Barre more popularly known as 'Messy Mya.'
Beyonce is seeking to dismiss a $20 million lawsuit over the 'Formation' music video, filed by the family of late New Orleans-area YouTube star Anthony Barre, more popularly known as 'Messy Mya.'
A report in The Hollywood Reporter says that Anthony Barre's sister claims Beyonce used clips of his voice in 'Formation' without the family's consent.
In the short film 'Formation', Barre is first heard saying, at the very beginning, "What happened at New Orleans" and later in the video, "Bitch, I'm back by popular demand."
The suit claims the samples infringe the rights in two works of Barre's performance art, 'A 27 Piece Huh?' and 'Booking the Hoes from New Wildin.'
His voice is not heard in the sound recording of the track, only in the video. The suit asks for royalties and damages and insists that Barré be given credit for the track.
The motion to dismiss argues that Beyoncé's use of the clips were considered 'fair use' because they were less than 10 seconds. Her lawyer also argues that the family has 'grossly overstated' how much the clips were being used.
"In reality, the snippets from the YouTube Videos were used only in the Music Video and, to a lesser extent, during the Live Performances," the motion filed by Beyoncé's legal team states, adding, "As a result, all defendants without an alleged involvement in the Music Video or Live Performances should be dismissed regardless of the merits of Plaintiffs' claims."
Entertainment
Beyonce was pulled off the stage by a shirtless man during her concert in Brazil on Sunday night.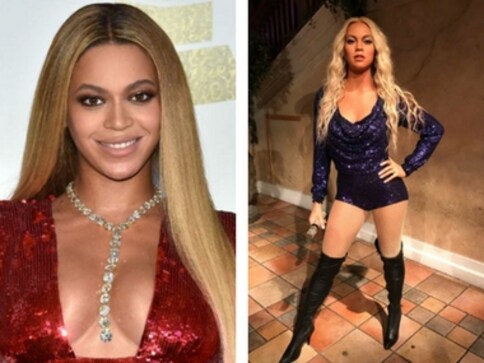 Entertainment
Beyoncé's wax statue at Madame Tussauds museum was "adjusted" after fans said it was much thinner and whiter than the singing sensation in real life.