Barack and Michelle Obama's best pop culture moments: The Tonight Show, Bear Grylls to Gilmore Girls
What do Jerry Seinfeld, Jimmy Fallon, Keegan Michael-Key, Ellen DeGeneres, Amy Poehler, and James Corden have in common?
Besides being really awesome comedians with stellar careers, successful TV shows, and a proximity to the glitzy life that's so quintessentially Hollywood, of course. The unlikely answer — all of them have been part of some super memorable and never-done-before humorous skits/gigs/car rides with the first couple of American politics (and, as it turns out, of the trending phenomenon of politics-meets-pop culture) — Barack and Michelle Obama.
Over the past eight years, both the POTUS and FLOTUS have embraced popular culture as their go-to method to get their messages across, to build their personal brands, and to essentially make all other world leaders feel lacklustre in light of their overwhelming inherent coolness. From their nomination victory fist bump in 2008 to their #relationshipgoals inducing cover photo in 2016, it's been quite a ride. As the President makes his farewell speech and humanity prepares to let an orange-faced buffoon become the leader of the free world, let's look back at some of the best pop culture moments that the Obamas graced us with. In no particular order of preference, because there were so many and they were all so freaking good!
That time when he slow-jammed the news on The Tonight Show
I know I said this list is in no particular order of preference, but dayum! With Jimmy Fallon and The Roots jazzing it up, and approximately 223 days before he left office, President Obama sat on a bar stool with his trademark deadpan expression and gave us the highlights of his presidency. In the process, he also slow-roasted then presidential nominee Donald Trump, natch!
Pop culture highlight: Fallon's nicknames for the President — "prez dispenser" and "commander-in-preach", when Obama slowly lays out the simple truth, ie that "climate change is real, healthcare is affordable, and love is love." Preach!
That time she mom-danced on The Tonight Show to fight obesity. Twice!
To encourage Americans to get off their asses, the FLOTUS launched the Let's Move! initiative in 2010. She appeared on The Tonight Show in 2013 to promote the campaign, and with the help of the ever-ready-to-make-a-fool-of-himself Jimmy Fallon, Mrs Obama indulged in what is now known as the evolution of mom-dancing in pop culture lexicon. A part two of the evolution followed in 2015. The FLOTUS + a shimmy twist + a good cause = all kinds of awesome!
Pop culture highlight: The FLOTUS' "always one step behind in zumba class" moves.
That time he promoted his healthcare plan while driving around in a vintage car
Jerry Seinfeld has done a lot of incredibly funny things in his life — eight seasons of Seinfeld are enough proof. His comedy web series Comedians in the Car Getting Coffee is the perfectly irreverent but hilariously insightful material we'd expect from him — except there are celebrities on each episode. President Obama appeared on one such episode, despite the fact that he's not exactly a typical "celebrity" and certainly not a comedian. Or is he?
Pop culture highlight: POTUS explaining his appeal to kids — "I do really well with the zero-to-eight demographic. They love me partly 'cause, I think, my ears are big and so, I look a little like a cartoon character. And then, little kids love saying my name but it's all one big name. It's 'BarackObama'....it's like a Nickelodeon thing."
Watch the video here.
That time she sang Beyonce and Kelly Rowland classics to boost girls' education
Yup, FLOTUS is so cool she puts together an initiative like Let Girls Learn to help encourage adolescent girls to go get a quality education that'll empower them, then gets into a car with James Corden and casually sings karaoke, and then gets a bunch of strong talented women to come together and sing an inspiring anthem for girls' education. Like, NBD.
Pop culture highlight: Squad goals for strong women (Zendaya, Kelly Rowland, Lea Michele, Kelly Clarkson, Janelle Monae..I mean, come on!).
That time he was the perfect dad and husband by writing an essay on feminism
There are a lot of things President Obama is exceptional at — public policy, public speaking, foreign affairs, etc. You know, usual presidential stuff. Unfortunately, his tendency to make dad jokes and puns don't rank very high on the list. But even when he makes the "dad jokiest" of jokes, nobody can deny the fact that he's a terrific father and husband. So it wasn't surprising when he penned an eloquent, heartfelt essay on feminism and gender equality for Glamour magazine in 2016. It was even less surprising because back in 2014, during his State of the Union message, he'd sent the internet in a sort of frenzy while discussing gender inequality in wages by referring to the back-when-women-were-merely-secretaries-at best period drama Mad Men: "Today, women make up about half our workforce. But they still make 77 cents for every dollar a man earns. That is wrong, and in 2014, it's an embarrassment. A woman deserves equal pay for equal work….It's time to do away with workplace policies that belong in a Mad Men episode."
Pop culture highlight: Twitter's reaction to the Mad Men reference. Also, starting a conversation about equal pay.
That time she continued to encourage girls' education by discussing books with Rory Gilmore
There's probably never been a more bookish heroine (or hero) on television than Gilmore Girls' Rory Gilmore. I'm talking about the "I live in two worlds, one is the world of books" Rory of the original series, not the goes-to-writing/editing-job-interviews-without-a-decent-article-pitch Rory of the Netflix revival. So in June 2016 (five months before the Gilmore Girls revival aired), when the FLOTUS appeared in a short video with Rory (Alexis Bledel) to talk about the Let Girls Learn programme and her then-upcoming trip to Liberia, Morocco, and Spain to promote the initiative, it made perfect sense. What else made sense? That Rory, who's tasked herself with finding the right travel book for the First Lady, walks in carrying a tower of books (followed by an entourage behind her, also carrying individual towers of books) and recommends The Decline and Fall of the Roman Empire to Mrs Obama — as a light "beach" read!
Pop culture highlight: Rory handing the FLOTUS a "gift" from her mom — a packet of pop tarts (ah Lorelai!). Which was funny because Michelle Obama, by then, had been championing healthy eating for a while. Netflix/Gilmore Girls, we see what you did there.
That time he was on the cover of Out (advocating LGBT equality), GQ (discussing healthcare etc.), and appeared on an episode of Running Wild with Bear Grylls (to raise awareness about climate change), in the same year!
In 2015, POTUS was chosen as Out's "Ally of the year" for his role in securing marriage equality and advocating the end of discriminatory practices against LGBT members of society. That same year, he was also on the cover of GQ's Men of the Year issue with an in-depth interview with Bill Simmons. As if that wasn't enough pop culture relevance, he appeared on a special episode of Running Wild with Bear Grylls to raise awareness about climate change (because climate change is real, despite what now-in-office Republican flunkies believe). All this, in the Alaskan wilderness. Again, NBD.
Pop culture highlight: POTUS eating fresh Alaskan salmon that was partially eaten by a bear. Yup, you read that right!
That time she was on Sesame Street, NCIS, and co-hosted the Ellen Show
There's pretty much no genre of television that the FLOTUS doesn't do well with. She appeared on Sesame Street multiple times to help inspire kids to eat healthy as part of the Let's Move! Campaign. Last year, she guest starred on NCIS, as part of her efforts for the Joining Forces initiative that she launched in 2011 with Vice President Joe Biden's wife, Jill. Also last year, the First Lady co-hosted an episode of the Ellen Show, which was a significant step-up from her earlier appearances as a guest. She danced, she joked, she was great as always. The perfect follow-up to that time she won (of course!) a push-up challenge with Ellen on the show.
Pop culture highlight: The Youtube binge this promptly leads you to, for all of the FLOTUS' appearances on Ellen. A gift that keeps on giving. Seriously!
The Obamas understood and used popular culture better than any other President and his family before them. Some of their pop culture savvy even rubbed off on others in the Obama administration; consider VP Joe Biden's TV appearances — fun and breezy on Parks and Recreation, important and profound on Law & Order: Special Victims Unit (to spread awareness about rape kit backlogs and to promote his It's On Us campaign). Of course, because he's Joe Biden, he looks cool doing almost anything — even sneaking into a college party with actor Adam Devine. But, I digress.
As nostalgia for the best first couple, their family, and their time at the White House increases and threatens to overwhelm most people already weighed down by a joke of an upcoming presidency, the answer to The Washington Post's question — "will the United States ever again have a president who drops the mic or a first lady who raps about going to college?" — seems simple. No, it won't. The era has ended. The mic has dropped. The Obamas are out. Lights out.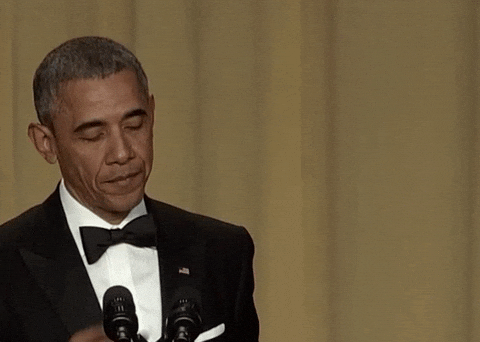 Updated Date: Jan 11, 2017 15:43:39 IST