Avengers: Infinity War sprints past $300 mn mark in China, becoming Disney and MCU's highest-grossing film
Anthony and Joe Russo's boundary-busting blockbuster Avengers: Infinity War has sprinted past the $300 million mark in China, making it the highest-grossing Disney film in the area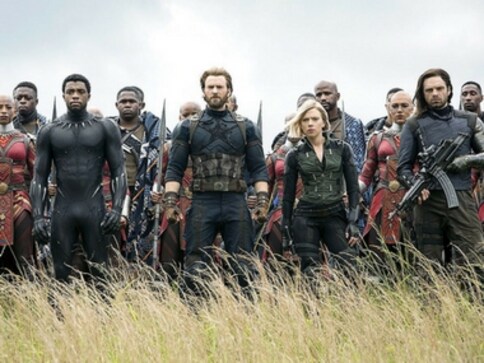 Anthony and Joe Russo's boundary-busting blockbuster Avengers: Infinity War has sprinted past the $300 million mark in China, making it the highest-grossing Disney film in the area. It's also the top-earning movie of MCU (Marvel Cinematic Universe) in the PRC, comfortably surpassing the records set by MCU's 18 films released before Infinity War.
When Avengers: Infinity War landed in China, two weeks after its domestic release, on 11 May, it clocked impressive records in the world's second-largest movie market with a mammoth opening weekend bow of $200 million (1.27 billion yuan). It's been 11 days since the film burst onto mainland screens and the cumulative gross now stands at a peachy $306.5 million.
Avengers: Infinity War breached the coveted $300 million mark on Sunday (20 May), and topped the daily box-office chart for ten continuous days before it was pushed to the second spot yesterday (21 May) by the local fantasy rom-com How Long Will I Love You, which amassed a $5.95 million gross on Monday against Infinity War's $5 million.
Also read:  Avengers: Infinity War dominates global box office again in second weekend, hauls in over $1.2 billion
Now, Infinity War is the fourth highest-earning import film in China, only behind The Fate of the Furious ($392.8 million), Furious 7 ($390.9 million) and Transformers: Age of Extinction ($320 million). While galloping its way to the $300 million mark, the Marvel juggernaut surged past the lifetime takings of other top-grossing imports such as Kung Fu Yoga, Transformers: The Last Knight, Zootopia, Warcraft, Avengers: Age of Ultron and Jurassic World.
Infinity War is now the fourth import film to break into the $300 million club in China after Furious 8, Furious 7 and Transformers 4 and the 11th top-grossing film of all time in the Middle Kingdom. It has also supplanted Steven Spielberg's VFX extravaganza Ready Player One ($220 million) to become the highest-earning foreign film of 2018 in China.
Also read:  Avengers: Infinity War's India success — Result of global hype or change in urban mindset?
Currently standing at 1.96 billion yuan cumulative gross in local currency, Avengers: Infinity War is edging towards the 2 billion yuan mark and is just 17.7 million yuan short of China's third highest-grossing import film Transformers: Age of Extinction. AIW is the third MCU film to surpass the 1 billion mark after Ultron and Captain America: Civil War and will soon become the third import film in the history of China to race past the 2 billion yuan mark after The Fate of the Furious and Furious 7.
John Krasinki's word-of-mouth sensation A Quiet Place debuted in China on 18 May and delivered a good $17.7 million opening weekend bow. The Paramount production, with its $2 million Monday gross in the PRC, has raked in an international total of $122.3 million and the global tally is inching towards the $300 million mark with an excellent standing total of $298.5 million.
The worldwide earnings of Avengers: Infinity War, until the fourth weekend of 20 May, stands at a massive $1.81 billion, with an offshore total of $1.218 billion (67%). It's now the fourth largest global release of all-time, behind such films as Avatar ($2.788 billion), Titanic ($2.187 billion), Star Wars: The Force Awakens ($2.068 billion). The film's overwhelming reception in China helped dethrone Jurassic World's $1.61 billion global earnings to push it to the fifth place in the all-time pantheon.
Also read: Avengers: Infinity War edges past The Jungle Book to become highest grossing Hollywood film in India
The $42 million second weekend theatrical revenue from the Middle Kingdom has propelled Avengers: Infinity War as the third largest international release of all-time, only behind the James Cameron epics — Avatar ($2.02 billion) and Titanic ($1.52 billion).
20th Century Fox's Deadpool 2 registered a mighty $301 million opening weekend bow globally, uncrowning Infinity War from its number one spot in the domestic box-office with a $125 million opening. AIW pulled in nearly $29 million in its fourth weekend stateside, pushing its domestic total to $595 million. It's now the eighth top-grossing domestic release of all-time and is expected to trump the lifetime domestic sales of Star Wars: The Last Jedi ($620 million), The Avengers ($623.5 million) by the end of its month-long run.
Now the billion dollar question is whether Avengers: Infinity War will break into the $2 billion club worldwide. It's currently short of approximately $185 million and with Disney's Solo: A Star Wars Story opening on 25 May and Fox's Deadpool 2 catering well to its viewers as expected, the chances look slim but not impossible.
Entertainment
While Holi is all about playing with bright colours, people also take care of their clothes to look their best and also be comfortable throughout the day. Check out some Bollywood-inspired Holi outfits for this year.
Entertainment
Baldwin's legal team in February sought to disqualify special prosecutor and Republican state Rep. Andrea Reeb of Clovis based on constitutional provisions that safeguard the separation of powers between distinct branches of government.
Entertainment
Martin Garrix, the world's No. 1 DJ, in an exclusive interview with Firstpost, spoke about his shows in India, earliest memories of the country, and what we can expect from him in 2023.