Aquaman director James Wan says he wanted Jason Momoa's superhero to stand out from Superman
Aquaman is strong because, like most Atlanteans, their bodies are built to withstand thousands of pounds of pressure - James Wan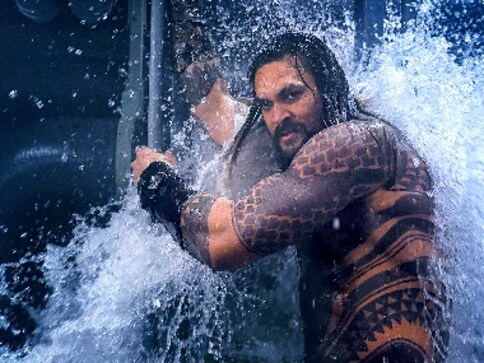 James Wan, the director of Aquaman, says he was eager to make sure that the upcoming DC film's titular superhero was as different as possible from Superman.
As the Man of Steel is often considered the strongest superhero in the DC universe, there's always a temptation to make your other characters a lot like him.
But Wan insists he was cautious in making sure that "Aquaman isn't Superman." In an interview with ComicBook.com, he said, "From a story standpoint there's a reason why Aquaman ultimately is powerful. He's strong because, like most Atlanteans, their bodies are built to withstand thousands of pounds of pressure, they live so far down. So when they come up, their body is... they're not aliens from another planet, but because of the physics of our planet and all that stuff, when they come up to the surface world their body can withstand really strong pressure. And so where bullets literally bounce off the Man of Steel, bullets can graze these guys and maybe break the skin, and break the flesh, but it doesn't necessarily penetrate because they their muscle mass and their body mass is much more dense."
The Furious 7 director recently said before agreeing to helm Aquaman, he had told Warner Bros and DC bosses that he would like give his own treatment to the film.
"I told them that I understand and respect that Aquaman is part of a bigger universe but at the end of the day I have to tell the story I want to tell and want to develop the character because its such a big part of my life as the filmmaker behind it. And that was something the studio was respectful about," he said.
Aquaman features Game of Thrones star Jason Momoa in the title role. The cast also includes Amber Heard as Mera, Patrick Wilson as Ocean Master, Willem Dafoe as Dr. Vulko, Yahya Abdul-Mateen II as Black Manta, Dolph Lundgren as King Nereus and Nicole Kidman as Atlanna.
Entertainment
"Our movie doesn't show the breaking up of the Beatles," Peter Jackson said, "but it shows the one singular moment in history that you could possibly say was the beginning of the end."
Entertainment
Disney film Encanto prioritises the ideas of togetherness and family bonding with spell-binding detailing.
Entertainment
The Morning Show, Season 2 of which wrapped up this week, accentuates that power dressing remains more a money-spinner fashion vertical than a meaningful challenge to male power at the workplace.